Former Donald Trump campaign manager Paul Manafort and his longtime business associate Rick Gates were indicted by a federal grand jury on 12 charges, including conspiracy against the U.S., special counsel Robert Mueller's office announced Monday.
Other charges against Manafort and Gates include money laundering, being an unregistered foreign agent and seven counts of failure to file reports of foreign bank and financial accounts.
The indictment was unsealed Monday after Manafort and Gates were told to surrender to law enforcement.
They both entered not guilty pleas at their arraignment inside a federal courtroom in Washington, D.C., on Monday afternoon.
In addition, George Papadopoulos, who had been a foreign policy adviser to Trump during the campaign, pleaded guilty to making false statements to the FBI, according to Mueller's office. He entered the guilty plea in Chicago three weeks ago.
The unsealed indictment stated that Papadopoulos misrepresented "the timing, extent, and nature of his relationship and interactions with certain foreign nations whom he understood to have close connections with senior Russian government officials."
The indictment against Manafort and Gates statedthat, "in total, more than $75 million flowed through offshore accounts" and it refers to Manafort's "hidden overseas wealth to enjoy a lavish lifestyle in the United States."
The indictment says that both men generated tens of millions of dollars as a result of their lobbying work for the Ukraine. They hid the payments, from 2006 through 2016, by laundering the money through scores of U.S. and foreign corporations, partnerships and banks, according to the charges.
Their work included lobbying "multiple Members of Congress and their staffs about Ukraine sanctions" and "the validity of Ukraine elections," according to the indictment.
Manafort laundered more than $18 million, which the indictment says he concealed from the federal government.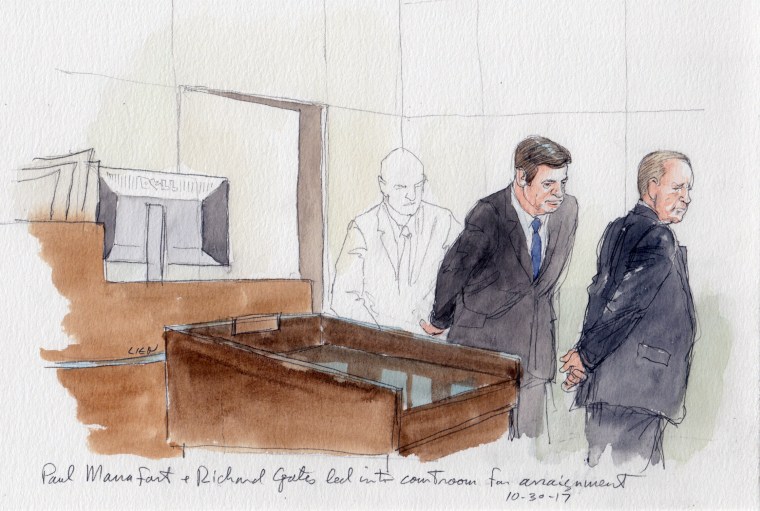 From 2008 to 2014, Manafort wired $12 million to vendors for personal items, including $5.4 million on home improvements in the Hamptons, $934,350 to an antique rug store in Virginia, $520,440 to a clothing store in Beverley Hills and $655,500 for landscaping in New York, according to the indictment.
He also spent millions more on homes: $1.5 million on Soho condo; $3 million on a Brooklyn brownstone and $1.9 million on a Virginia house.
The indictment says that Manafort used his offshore accounts to directly wire payments for his personal expenses, which allowed him to avoid paying taxes on that income.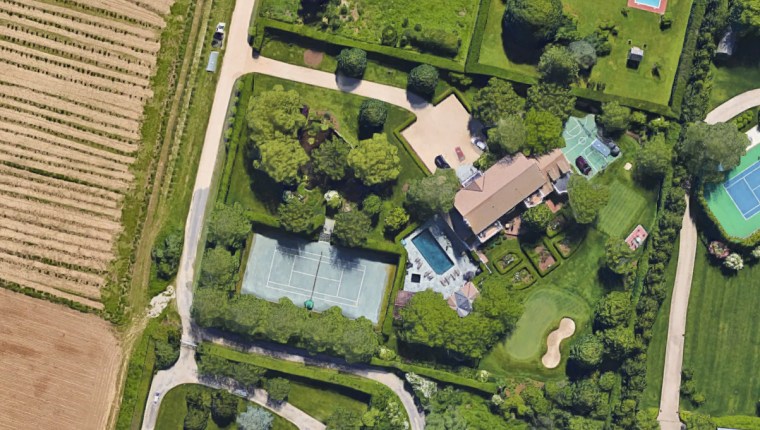 It also indicates that the U.S. will seek asset forfeitures of Manafort's Hamptons home and other New York properties he has invested in.
The two men are the first known people to be charged and Papadopoulos the first to plead guilty in the investigation by Mueller into the Trump campaign's alleged ties to Russia and Moscow's interference in the election last year.
Four sources told NBC News that there was a statute of limitations issue in play that may have helped drive Monday's charges by Mueller.
Read the full indictment here
The sources said the indictment does not preclude other charges being filed against Manafort in the future.
The news was first reported by The New York Times.
Manafort and Gates were ordered to home confinement and must surrender their passports. Manafort's bond was $10 million and Gates' $5 million.
In a statement outside the U.S. District Court in Washington, D.C., Manafort's attorney, Kevin Downing, called the charges "ridiculous."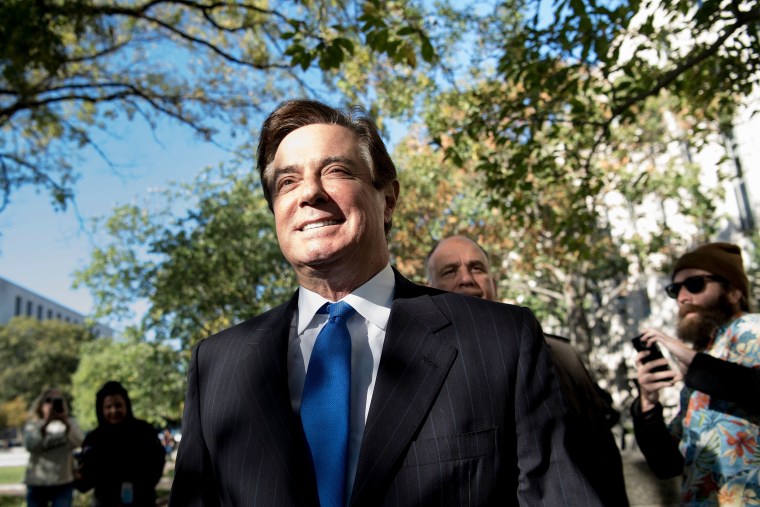 "I think you all saw today that President Donald Trump was correct: There is no evidence that Mr. Manafort or the Trump campaign colluded with the Russian government," he said.
Downing said Manafort's lobbying in the Ukraine showed that his client "was seeking to further democracy to help the Ukraine come closer to the United States and the EU."
A spokesman for Gates, Glenn Selig, said Gates "welcomes the opportunity to confront these charges in court" and that "this fight is just beginning."
Meanwhile, Papadopoulos, the indictment stated, provided false information about an interaction he had a with a Russian professor who claimed that Moscow had "dirt" on then-candidate Hillary Clinton in the form of "thousands of emails."
Papadopoulos lied to the FBI that he had "learned that information prior to joining the campaign," the indictment said, but in fact the adviser had interacted with the professor after he already had joined the Trump campaign.
Trump tweeted Monday, "Sorry, but this is years ago, before Paul Manafort was part of the Trump campaign. But why aren't Crooked Hillary & the Dems the focus?????" he added.
"Also, there is NO COLLUSION!" the president wrote.
A White House source said officials there are "not surprised" to see movement from the special counsel, adding: "The White House has been saying for weeks the special counsel is moving far more quickly and deliberatively than people have been reporting. The fact that the special counsel is actively performing its duties does not come as a surprise to the White House."
White House lawyer Ty Cobb said in a statement that "the White House continues to fully cooperate with the special counsel regardless of indictments."
Hillary Clinton had no immediate comment, her spokesman said.
Other Democrats, however, immediately pounced on the news.
House Minority leader Nancy Pelosi, D-Calif., said, "Even with an accelerating special counsel investigation inside the Justice Department, and investigations inside the Republican Congress, we still need an outside, fully independent investigation to expose Russia's meddling in our election and the involvement of Trump officials."
"Defending the integrity of our democracy demands that Congress look forward to counter Russian aggression and prevent future meddling with our elections," she added.
Senate Minority Leader Chuck Schumer, D-N.Y., said that "these reported indictments show that the special counsel's probe is ongoing in a very serious way. The rule of law is paramount in America and the investigation must be allowed to proceed unimpeded."
"The president must not, under any circumstances, interfere with the special counsel's work in any way. If he does so, Congress must respond swiftly, unequivocally and in a bipartisan way to ensure that the investigation continues," Schumer added.
NBC News confirmed on Friday that a federal grand jury in Washington had approved the first criminal charges in the special counsel's probe, marking a significant milestone in an inquiry that's roiled Trump's presidency.
Manafort, who served on the Trump campaign from April to August 2016, has long been under investigation in connection with his lobbying work for a Russian-backed Ukrainian political party that also involved his former partner, Gates.
Legal experts have long predicted that Manafort would be charged and speculation ramped up after the FBI conducted an early morning search in July at his Alexandria, Virginia, apartment using a "no-knock warrant."
Gates is a lesser-known figure, who worked with Manafort in Ukraine and flew to Moscow for meetings with associates of Oleg Deripaska, a Russian oligarch who paid Manafort and Gates tens of millions of dollars, NBC News has reported.