WASHINGTON — Fallout from President Donald Trump's alleged attempt to meddle in the investigation into a former White House aide played out on Capitol Hill Wednesday with a growing chorus of elected officials calling for former FBI Director James Comey to testify on Capitol Hill while talk of possible impeachment seeped into the conversation.
And as Republicans and Democrats continued to debate the need for outside oversight of the Russia probe, Justice Department officials said late in the day that Deputy U.S. Attorney General Rod Rosenstein has appointed former FBI Director Bob Mueller as special counsel overseeing the investigation.
Related: Special Counsel Will Take Over FBI Russia Investigation
Signaling a shift among Republicans earlier Wednesday, Senate Majority Leader Mitch McConnell, a shrewd tactician who usually stays above the fray, called for Comey to testify Wednesday. "I think we need to hear from him as soon as possible in public to respond to the issues that have been raised in recent days," he told the Wall Street Journal.
And multiple committees showed they are also anxious for Comey to appear.
Reports that Comey, who Trump fired May 9, kept a paper trail of his conversations with the president, along with Monday's bombshell that Trump shared classified information with Russian officials, have ratcheted up scrutiny on Capitol Hill.
The Senate Intelligence Committee announced they have extended an invite to Comey, as well as acting FBI Director Andrew McCabe, to appear before the panel for both an open and closed-door session. They have also requested a copy of the memo in which the director states Trump told him he hopes Comey is close to "letting this go," referring to an investigation into Flynn.
"We've reached out," said Sen. Richard Burr of North Carolina, chair of the committee, adding that "we hope to have a response."
Two other committees have also requested to either hear from Comey or see a copy of the memo he wrote about his conversation when Trump asked then-FBI Director James Comey to shut down an investigation into now-fired National Security Advisor Michael Flynn. The Flynn investigation is linked to ongoing probes of Russia's efforts to disrupt the 2016 election.
The House Oversight and Government Reform Committee, lead by Rep. Jason Chaffetz of Utah, already scheduled a meeting for next Wednesday. He's attempting to reach Comey to invite him to testify.
Chaffetz had already sent a letter to the FBI requesting all documents pertaining to communications between Trump and Comey.
And the Senate Judiciary Committee has also asked for "all memos relating to" Comey's contacts with both Trump and former President Barack Obama. The committee is also wanting to see records and any recordings of Trump's meetings with Comey.
"The next time you'll hear from me about this is after Comey testifies and we're trying to get him in front of the committee as soon as possible," Sen. Linsdsey Graham, chair of the Judiciary Committee subcommittee conducting an investigation.
Republicans are increasingly expressing concern, including Sen. Tim Scott, R-S.C., who has been less critical of the president during the series of controversies. Scott called the recent allegations "very serious" and said he hopes Comey comes to testify.
Nearly every Republican in the Senate, and many in the House, are on board with wanting to hear from Comey. It's also giving them some cover to avoid further comment until more information is known.
House Speaker Paul Ryan, along with a number of rank-and-file Republicans, urged caution before jumping to conclusions.
"We need the facts. It is obvious there are some people out there that want to harm the president," Ryan told reporters at a news conference. "But we have an obligation to carry out our oversight regardless of which party is in the White House."
An Independent Investigation
Prior to the announcement of the new special counsel, the overwhelming majority of Republicans were opposed to an independent third-party investigation. But some in the GOP were breaking ranks, saying that the growing pile of allegations call for one.
Rep. Adam Kinzinger became one of Republicans to switch his position and join the call for an independent commission or special prosecutor.
"What has worried me out here, is that in such a very serious time with such a very serious position, immediately the left jumps on and starts screaming impeachment. Some on the right jump on and start saying this is nothing but a conspiracy of the media. The truth is probably somewhere in the middle, and let's figure out what that is," Kinzinger said on MSNBC.
And Sen, Lisa Murkowski, R-Alaska, also was in favor of an independent probe.
Republican Sen. John McCain, who has long called for an select committee to oversee the Russia probe, has taken to comparing the White House troubles to Watergate.
"It's just another scandal that unfortunately continues every — it's now accelerating. Watergate took months. This thing seems to be taking hours," McCain said Wednesday.
RELATED: Follow Live Developments as White House Scrambles After Comey Memo
Many Republicans opposed the idea because it would take too long, they say, and they trust the ability of the investigations ongoing in Congress and at the FBI.
"If we bring in a special prosecutor now it's at least 8 months just to stand them up - just to get security clearances, get an office, to get staff hired. Within 8 months the FBI will probably be done with this investigation," said Sen. Lankford, R-Okla., who is also a member of the Intelligence Committee.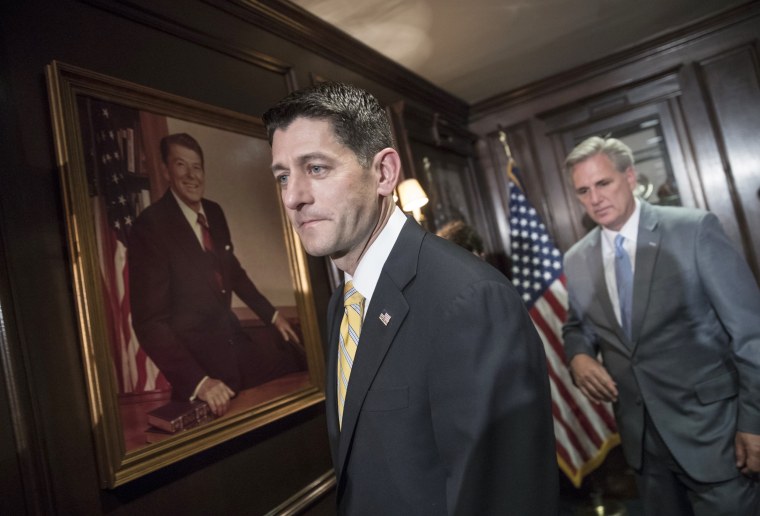 House Democrats on Wednesday were attempting to force a vote in the House to form an independent commission to handle the investigation, similar to the 9/11 Commission.
"Speaker Ryan has shown he has zero — zero — zero — appetite for any investigation of President Trump," Democratic Rep. Elijah Cummings said.
Impeachment
Impeachment calls have also gained some steam on Capitol Hill, with Rep. Al Geen, D-Texas, going to the floor Wednesday morning to call for Trump's impeachment.
Republican Rep. Justin Amash, a vocal GOP skeptic of Trump, also told reporters the memo would merit impeachment if accurately portrayed by media reports.
"I think it's pretty clear I have more confidence in Director Comey [than Trump]," the Michigan congressman told a reporter.
Asked by NBC News about the comments later in the day, Amash said he has "nothing more to add."
Cummings and Democratic Rep. Adam Schiff, the ranking member of the House Intelligence Committee, said they are hoping to get more information before calling for the president's ouster.
Ryan meanwhile defended the White House's questions about why it took Comey's dismissal to learn about the record of the conversations.
"I'm sure we're going to go on to hear from Mr. Comey about why, if this happened as he allegedly describes, why didn't he take action at the time," Ryan said.
The Wisconsin Republican said he would not "micromanage" investigation and repeatedly said there are three separate ongoing Russia investigations when asked if he thought a special prosecutor is necessary.
Asked on his way out of the room if he still had full confidence in the president, Ryan replied "I do."