WASHINGTON — North Dakota "could do a whole lot better" than Sen. Heidi Heitkamp, Vice President Mike Pence said Tuesday at a private fundraising event for her Republican rival.
"Sen. Heitkamp voted no on tax cuts, no on repealing and replacing Obamacare, no on cracking down on sanctuary cities, no on repealing the anti-energy methane rule — she voted no on a 20-week abortion ban," Pence said, according to a person at the small gathering of political luminaries and donors in Fargo.
"I mean, it's time that North Dakota voted no on Heidi Heitkamp's re-election," the vice president added in support of her challenger, GOP Rep. Kevin Cramer.
With Republicans trying to maintain or expand their 51-49 majority in the Senate, North Dakota is one of their best pickup opportunities for the GOP in the country this year. Heitkamp won her seat by about 3,000 votes in 2012. And while President Donald Trump's presence isn't seen as a boon for many Republicans this year, he won North Dakota with 63 percent of the vote in 2016.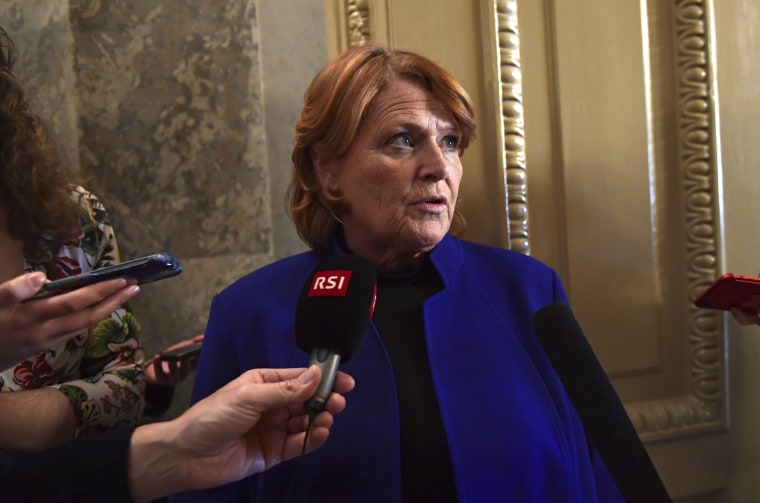 Speaking to a group that included oil tycoon Harold Hamm, Gov. Doug Burgum and Sen. John Hoeven, R-N.D., Pence framed the campaign as a contrast between a sitting senator who often opposes Trump and a challenger who marches in lock step with him.
To get Trump's policies enacted — from tax cuts to regulatory reductions and increased defense spending — "the key to all of it is that we have partners" in Congress, Pence said.
"North Dakota could do a whole lot better than Sen. Heidi Heitkamp," he said, according to the person in the room. "Heidi's nice. I've got a great relationship with her. I'd just like her to have a little more free time."
Pence said the North Dakota race is particularly high on Trump's priority list because Cramer was one of his earliest political supporters and has been one of his most loyal allies on Capitol Hill.
"We've got competitive Senate races all over the country, but I lost count of the number of times the president said to me, 'What about Kevin Cramer? Have you talked to Kevin Cramer lately?'" Pence said, according to the person in the room. "There's something about him from early on that just really connected with the president."
And that's why North Dakotans can expect to see Trump in their state soon. "I promise you the president of the United States will be back in North Dakota," Pence said.
Known for his message discipline, the vice president delivered remarks at a public appearance later in the day that were similar to those he gave behind closed doors.
"The truth is Heidi Heitkamp hasn't been putting North Dakota first, and I don't know about the rest of you, but I think the people of North Dakota deserve better," Pence said at the public event, which was staged by America First Policies, a tax-exempt group started by former Trump campaign and White House advisers to promote his agenda.
"It wasn't too long ago that Vice President Pence came to North Dakota and praised Heidi as a 'strong leader,' touting the 'great relationship' both he and President Trump have with her — and it sounds like not much has changed," said Heitkamp campaign spokeswoman Julia Krieger.
"That's because she's earned respect from both sides of the aisle by putting partisan politics aside and putting North Dakota first — standing up for working Americans by fighting against tax hikes and health insurance premium increases, protecting access to quality health care for seniors and families, and voting for President Trump's Supreme Court nominee Neil Gorsuch. And she'll keep working with Republicans, Democrats and with the White House — no matter who is in office — to get real results for North Dakota."