News analysis
CANONSBURG, Pa. — Democrats now have a national model for victory in the midterms.
And it looks and sounds a lot more like Conor Lamb than the lions of the left.
Early Wednesday morning, NBC declared Lamb the apparent winner over Republican state Rep. Rick Saccone in a special election here in southwest Pennsylvania's 18th Congressional District. If the squeaker holds up — as of mid-morning Wednesday, Lamb led by less than 700 votes with absentee ballots still being counted and Saccone unwilling to concede — it will be a Trump-country coup for Democrats.
They don't even need to capture districts as once solidly Republican as this one to take control of the House in November.
But they will need to field an army of candidates who run disciplined, well-funded campaigns and figure out how to harness Democrats' energy without inflaming Republicans. That's what Lamb did in turning a district President Donald Trump won by 20 percentage points into an even battlefield.
"We can win even the reddest districts if we recruit candidates who fit them," said Democratic strategist Lis Smith. "We cannot and should not expect Democrats who run in western Pennsylvania to espouse West Village political views."
To make the race close, Lamb had to combine the security profile of a Marine Corps veteran and former prosecutor with a slate of policy positions moderate enough to blunt Republican attacks that he was a pawn of Washington liberals like House Minority Leader Nancy Pelosi, D-Calif. He supports abortion rights but says he personally opposes abortion; he wants to expand background checks for guns but lets everyone know he's a gun owner and a believer in the Second Amendment.
More important, perhaps, he let Trump work for him. The president is so deeply unpopular with Democrats that Lamb didn't have to remind them of what they were coming out to vote against.
Trump dropped into the district last Friday and delivered a campaign stump speech that not only essentially ignored GOP candidate Saccone, but gave Democrats here a close-up look at the bombast and policy prescriptions they find so unsettling.
While Democrats at the national level are arguing over how to contend with a street-fighter of a president, Lamb contrasted with Trump and Saccone by example. He ran as a moderate in tone, temperament and platform.
"Candidates matter. The Democrats smartly nominated a very conservative Democrat that reflected the district — pro-gun, personally pro-life and publicly anti-Pelosi," GOP strategist Mike DuHaime said.
Washington Republicans say Saccone is a singularly terrible candidate — which absolves Trump of responsibility for the fact that Democrats have over-performed in election after election since he won the presidency. While Trump would surely have cited himself as Saccone's savior if the Republican had won following his visit, there can be little doubt that Republicans would have had an easier time holding the district if Democrats weren't so inspired to vote against the president.
"Blame it on the candidate — blame it on the weather for that matter — but the truth is Donald Trump won this district by 20 points and that ground has been lost," said former Republican National Committee Chairman Michael Steele. "The question is why and where else? Which raises an even bigger warning for Republicans: Democrats have been able (so far) to animate voters beyond Trump's core base with a combination of competitive candidates and staying out of their own way."
Democrats can win the House without taking seats as solidly red as this one, which Republican Tim Murphy had won easily in every election since 2002. There are several dozen districts that are less heavily Republican than Pennsylvania's 18th, and, if Lamb's victory holds up, they'll need to win a net of 23 seats in November to flip the House.
"As much as some may want to deflect from or outright ignore tonight's results, Republicans voted against the Republican nominee for this seat," Steele said.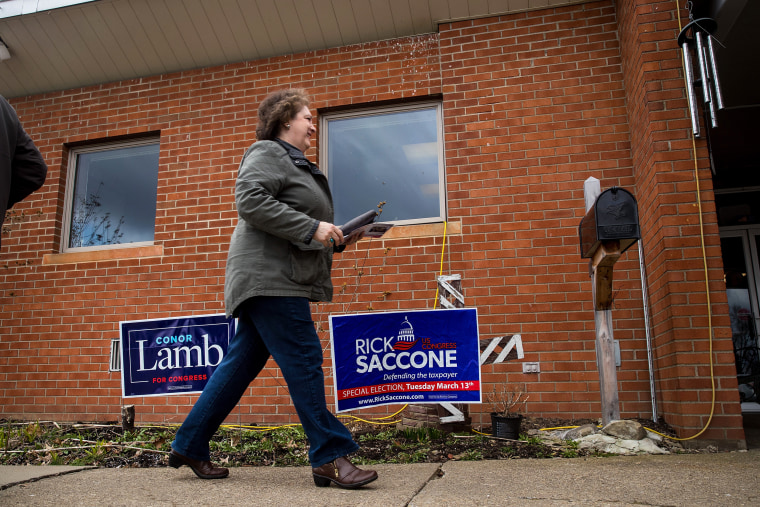 But some Democratic strategists say that to take full advantage of the combination of GOP apathy and, in some cases, frustration with Trump, they know they need to field candidates who are acceptable alternatives to disaffected Republican voters. That means candidates who couldn't win a Democratic primary in most districts because they would fail progressive litmus tests.
"Conor Lamb is the perfect example of a great candidate who is competitive because he fits his district," said Democratic strategist Kristen Hawn, a former aide to the centrist Blue Dog Coalition in the House.
DuHaime, the GOP strategist, noted the puzzle for Democrats, as well.
"I question whether such conservative Democrats will win Democrat primaries this year against more traditional liberals," he said. "But it is also incumbent on Republicans to nominate better candidates as well."
Trump will take care of energizing the Democratic base.