Gen. David Petraeus faces a unique hurdle while auditioning for the job of Donald Trump's secretary of state: His guilty plea for mishandling classified information.
The former CIA director and retired general insisted Sunday on ABC's "This Week" that he has learned from what he called a "serious mistake" while seeking to place the scandal in the context of his career.
"Five years ago I made a serious mistake," Petraeus said. "I acknowledged it, I apologized for it, I paid a very heavy price for it and I've learned from it. And again, they'll have to factor that in and also obviously 38 and a half years of otherwise fairly, in some cases, unique service to our country in uniform and at the CIA."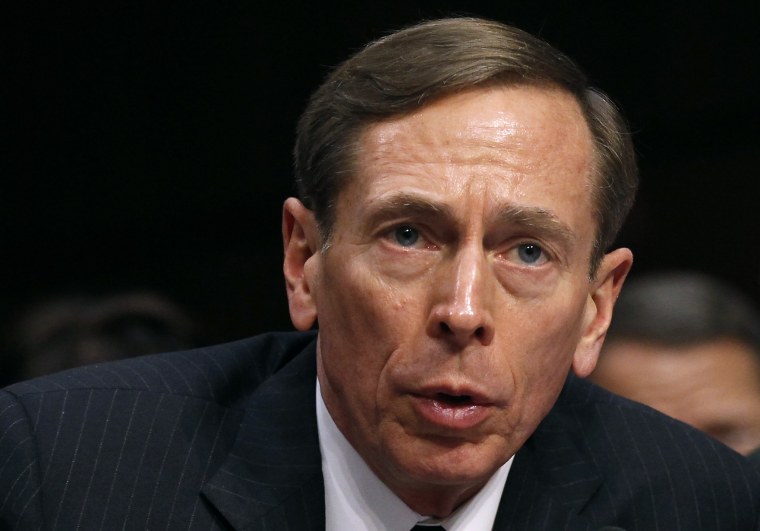 CNN reported Friday that Republican senators had privately expressed concern that a political fallout could ensue if Petraeus was nominated to be secretary of state. One senator told reporters that a "high level of angst" was present over a potential confirmation battle in the first weeks of Trump's administration.
Related: Trump Meets Petraeus as Battle Over Secretary of State Continues
Petraeus was the country's most prominent general during the Afghanistan and Iraq wars. However, it became known in 2012 that he shared classified information with his biographer, with whom he was having an affair. The scandal damaged Petraeus' reputation and wrought legal consequences as well.
The general was sentenced to two years' probation and a $100,000 fine in 2015 for admitting to providing classified information to his mistress. Additionally, FBI Director James Comey testified over the summer that Petraeus lied to federal agents during the probe.
"Obviously I made a false statement," Petraeus said. "At the time I didn't think it was false. And frankly, if they had, they might have pursued that more. ... The FBI in the agreement acknowledged that nothing that was in my journals that I shared, certainly improperly, ended up in the biography or made it out to the public. I think that's a fairly significant point."
Related: Donald Trump's Cabinet Picks So Far
On the subject of his Monday meeting, Petraeus said that he found Trump to be "quite pragmatic" and that they discussed how to place campaign rhetoric "in a strategic context," specifically when it comes trade and the proposed Mexican border wall. The general also revealed that he did not vote.
"I don't vote," Petraeus said. "I also did not support him nor did I oppose him, nor did I support or oppose any other candidate. I've truly tried to be apolitical, nonpolitical."
Petraeus' critics have noted that it was Democratic nominee Hillary Clinton's actions as secretary of state that afforded Trump some of his most effective attacks against her on the campaign trail. Clinton has been investigated by the FBI for her handling of classified information due to the fact that she used a private email server while secretary of state. No criminality was found and she apologized for using a private server, calling it "a mistake."
Still, Trump argued that her handling of classified information was "disqualifying" and used the investigation as evidence that she was untrustworthy.
"The very consideration of Petraeus for a senior position reveals that the Trump campaign's rhetoric regarding Hillary Clinton was totally bogus," Steven Aftergood, a specialist on government classification at the Federation of American Scientists, told Politico. "Candidate Trump was generating hysteria over Clinton's handling or mishandling of classified information that he likely never believed or took seriously himself."
As to whether a conviction for mishandling classified information disqualifies Petraeus from serving as secretary of state, Vice President-elect Mike Pence said, "that will be up to the president-elect."
There is no indication that Trump is close to a decision. Sunday morning, Trump aide Kellyanne Conway said the search had widened.