Pennsylvania's squeaker of special election could be headed to a recount.
Democrat Conor Lamb, who maintains a more than 600 vote lead with 99 percent of votes counted, was declared the apparent winner in Tuesday's race to represent the state's 18th Congressional District. But his opponent, Republican state Rep. Rick Saccone, has not conceded — and a source familiar with his campaign's efforts told NBC News it's "probable" that they'll mount a challenge.
State law doesn't automatically mandate a recount because it is a single district and not a statewide race, according to Wanda Murren, a spokeswoman for the Pennsylvania Department of State. But before anyone can officially protest the results, a few things have to happen.
First, on Friday, election officials for Pennsylvania's 18th Congressional District must convene for a canvass — something that is done after every election to review the unofficial votes. Election officials will re-tabulate all the votes cast on Election Day as well as review absentee ballots and provisional ballots.
Saccone's campaign can't ask for a recount directly — the recount petitions must be filed by voters, not candidates. However, in the past, candidates have identified voters to file complaints.
A recount can only be triggered if three voters from a precinct file a petition, and petitions can only be filed once counties are done confirming the vote count as part of the regular canvass process. In this case, voters could file petitions as early as Wednesday.
The canvass process usually concludes by Wednesday morning, according to Kevin Greenberg, a Democratic election lawyer based in Philadelphia who is the former general counsel for the city's board of elections.
If the voters successfully file their petitions, then the board of elections in each county would oversee the recount process. The recount would resemble Friday's canvass, Greenberg said.
"In my practice, I have never seen a recount procedure move dozens or hundreds of votes," Greenberg told NBC News. "The kinds of mistakes that get caught when we review the votes in the canvass in this process may be one or three or five, but it's not 600."
Murren said if it were a statewide race, a recount would be triggered if a candidate loses by one-half of a percent or less of the votes cast for the office.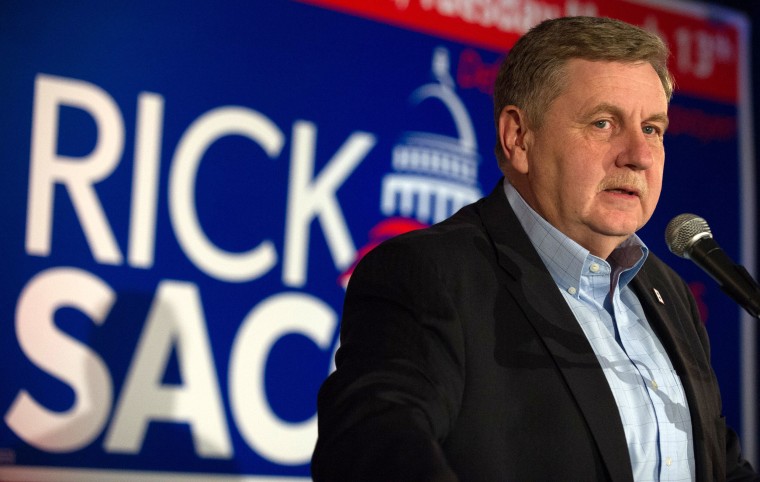 Saccone's campaign has made claims of voting irregularities and said it plans to file a number of related lawsuits — but had yet to do so by late Wednesday afternoon. It also has not provided evidence to back up its suggestion of irregularities.
The campaign said that individuals in Allegheny County reported that while voting on the county's election machines, the wrong candidate appeared, not the candidate the voter selected. The Saccone campaign claims election officials were unable to remedy the issue and the voters ended up casting their ballots for the wrong candidate.
However, the county vehemently disputed this.
"We received no reports whatsoever from any of the precincts," said Amie Downs, a county spokeswoman. After people vote, she explained, they get a second screen that says who they voted for, and they can get help from an official on site if they have any questions.
The campaign also alleged that its attorney was improperly removed from part of the review process of absentee ballots in Allegheny County. This county disputed this, as well.
Observers must have "written authorization from the chair of that party's committee," Downs said, adding that the Saccone campaign's attorney did not initially have that authorization, but was later allowed in after providing the authorization.
Greenberg noted that candidates can contest the outcome of an election by alleging fraud, negligence or other serious problems at the hands of election officials that may have impacted the outcome. That process can begin within 20 days after the election is certified by the secretary of state, which is roughly within three weeks after the canvass is completed.
According to Greenberg, Pennsylvania's most recent election contest came courtesy of Green Party candidate Jill Stein, who tried to fight the 2016 presidential election results in the state by claiming voting machines and systems had been hacked and the election result manipulated. But her claim was dismissed by a judge.
"It is very unusual for there to be that kind of negligence or malfeasance," he said. "I have not been aware of anyone alleging those kinds of problems on Tuesday."
CORRECTION: (March 16, 1:37 p.m.) An earlier version of this article misstated the day when voters could petition for a possible recount in Pennsylvania's special election. The petition process can begin as soon as Wednesday, not Friday.