By day, Stacey Abrams is a trailblazing Georgia politician and the newly minted Democratic nominee for governor. But when she's not legislating, she becomes Selena Montgomery, crafter of novels filled with suspense, secrets and lies.
Under her nom de plume, Abrams, 44, has published eight romantic thrillers with titles such as "Hidden Sins," "Secrets and Lies" and "The Art of Desire."
Her first novel, "Rules of Engagement," about an intelligence operative who is tasked with infiltrating a terrorist group but unexpectedly falls in love with her brooding, seductive male partner, was published in 2001 and written during her third year at Yale Law School.
According to her biography on the website of publisher Avon, an imprint of HarperCollins, Abrams is "a lawyer by day and a writer during every waking hour."
Abrams, who served as minority leader of the Georgia House of Representatives, is attempting to make history by becoming the nation's first black female governor and Georgia's first woman governor.
She won about three-quarters of the vote in the Democratic primary on Tuesday against Stacey Evans, a former state representative.
According to her Avon biography, Abrams "is also an obsessive consumer of political biographies, every genre of fiction, good television, and film and movies (which are different). She is still mourning the passing of Buffy and the end of the 'Star Trek: The Next Generation' franchise."
Abrams told the website Super Lawyers in 2006 that her interest in writing was inspired by the ghost stories her father told her as a child, and that she chose to publish her steamy, suspenseful fantasies under a pen name because she thought that if people knew she was a politician, it might ruin the magic.
"In fiction, it's very important to brand yourself," she said. "If I wrote under Stacey Abrams and people searched for my novels under that name, they'd also pull up articles on the charity income tax. It would be like reading a romance novel by Alan Greenspan. You probably wouldn't."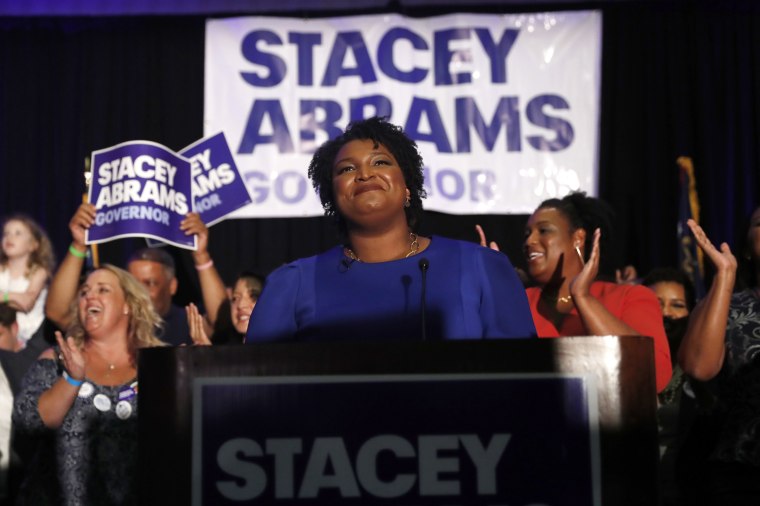 According to the website created for her alter ego, the books have sold more than 100,000 copies. She has also won some critical acclaim, including "Best New Author" from the organization Romance In Color, which promotes African-American romance authors.
Her biography also claims that she "draws upon her interest in and experiences with social and economic policy, politics and creative writing to fuel her novels."
Abrams isn't the first politician to publish fiction. Susan Combs, a former Texas state representative who was considered by President Donald Trump to be an assistant interior secretary, published an erotic novel called "A Perfect Match" in 1990.
Jim Webb, a former U.S. senator and failed Democratic presidential candidate, published a war novel titled "Fields of Fire" in 1978.