A majority of Americans say racism remains a major problem in American society and politics, according to the latest NBC News|SurveyMonkey poll.
Overall, 64 percent said racism remains a major problem in our society. Thirty percent agreed that racism exists today, but it isn't a major problem.

The poll coincided with an MSNBC town hall airing Tuesday night titled "Everyday Racism in America," where hosts Joy-Ann Reid and Chris Hayes addressed the complex issue of racial bias in America and what can be done to address it. The town hall took place in Philadelphia, where two black men were arrested while waiting for someone in a Starbucks last month, prompting days of protests and accusations of racism against the coffee chain, and on the same day the chain closed 8,000 stores nationwide for "racial bias training."
The Starbucks arrests were just one in a string of high-profile episodes in recent weeks involving minorities who appeared to have been racially profiled while doing something innocuous — sitting in a coffee shop, barbecuing in a park, or taking a nap in a Yale common room. These incidents, which caught fire on social media, have set off a wave of protests and prompted a national conversation about facing racism in everyday life.
Pluralities of Americans said race relations in the United States are getting worse (45 percent) and think that too little attention is paid to race and racial issues (41 percent).
Overall, a 30 percent plurality think race is the biggest source of division in America today, up from 26 percent in February. Racial tensions can be tied to large national events, but the poll also finds stark differences by race focused on everyday experiences.
Four in 10 African-Americans say they have been treated unfairly in a store or restaurant because of their race in the last month, compared to a quarter of Hispanics and only 7 percent of whites.

Earlier this month, three black Airbnb guests in Southern California were detained after a white neighbor called the police. About a week later, a white Yale University student called the police when she found a black student napping in the common room of their dorm. Also in May, a video of a white woman who called the police on a black family barbecuing by a lake in Oakland, California, went viral.
In February, the restaurant chain Applebee's apologized and fired three employees for their involvement in racially profiling two African-American customers, falsely accusing them of not paying their check. A video of the incident went viral, prompting the apology.
In April, another viral video showed two black men in Philadelphia being arrested after Starbucks employees called 911 to say the men were trespassing. The company apologized and is closing stores for the afternoon on May 29 for racial sensitivity training.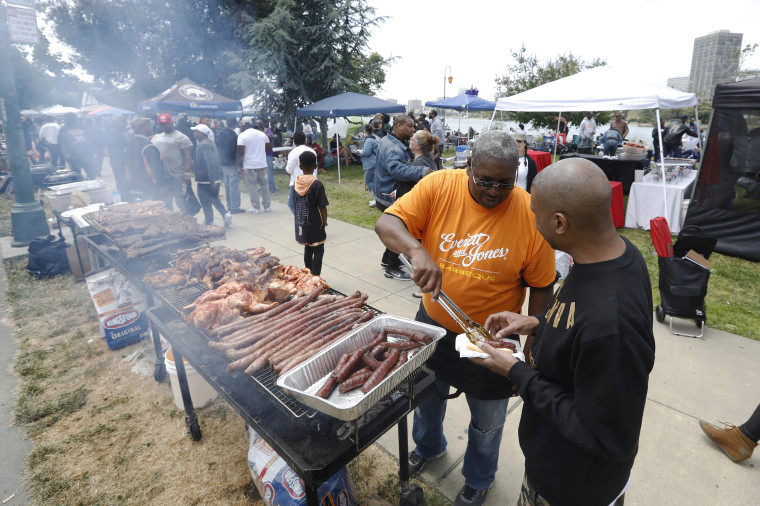 Other recent incidents include ordinary citizens being harassed or questioned for speaking Spanish, such as the Manhattan attorney who berated restaurant employees on camera for speaking the language and threatening to call immigration authorities, and the Border Patrol agent who detained two women for speaking it at Montana gas station.
Racial discrimination isn't just felt in public spaces. Just under a quarter of Americans said they have experienced discrimination in the workplace based on their race, but blacks are more likely than any other racial subgroup to experience it. About half (48 percent) of African-Americans said they've experienced workplace discrimination based on their race compared to 36 percent of Hispanics and only 14 percent of whites.

There are further divides among racial subgroups when asked specifically about how each race is perceived in society. A whopping 72 percent of Americans think that racial discrimination against blacks is a serious problem in this country. While 89 percent of blacks and 81 percent of Hispanics share that sentiment, 68 percent of whites said it's a serious problem and 30 percent said it's not a serious problem.
Overall, a majority think white people benefit from advantages in society that black people do not have. Among blacks, 84 percent said white people benefit a great deal or fair amount. Among Hispanics, 71 percent said white people benefit and 25 percent said they do not. But half of white people said they don't enjoy any advantages, as compared to 47 percent of white people who said they did.

Day-to-day, overwhelming majorities of blacks (71 percent) and Hispanics (69 percent) said they interact with a mix of people from different races at work or school. A majority of whites also said they interact with a mix of different races (59 percent), but 20 percent of whites said they interact with mostly whites.
Majorities across all racial subgroups also said that during social activities in person, including time with friends, they interact with a mix of people from different races. However, 39 percent of whites said they socially interact with mostly whites.

The poll also found that Americans are split on how often they personally engage in discussions about race with family and friends. A bare majority of Americans (51 percent) say they often or sometimes talk with their friends and family about race relations, while 47 percent say they rarely or never have these types of discussions with friends and family.
The NBC News|SurveyMonkey poll was conducted May 14-21, 2018 among a national sample of 6,518 adults. Respondents for this nonprobability survey were selected from the nearly 3 million people who take surveys on the SurveyMonkey platform each day. Results have an error estimate of plus or minus 1.5 percentage points. For full results and methodology, click here.