Millennials are disillusioned about political institutions and the 2018 midterms, according to results from a new NBC News/GenForward survey.
The bimonthly survey found that in the past year, millennials' impression of the Democratic Party remained split between favorable and unfavorable views.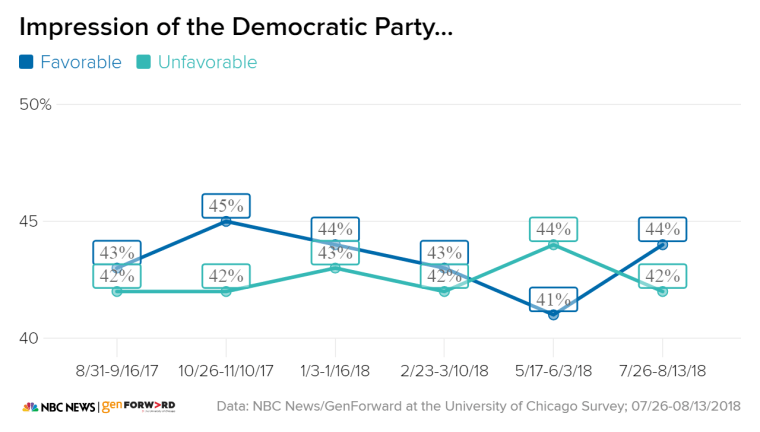 Unfavorable ratings of the Republican Party have been somewhat steady among millennials in the past year. Roughly 6 in 10 millennials have consistently expressed unfavorable impressions of the Republican Party, with consistently less than 3 in 10 expressing favorable views.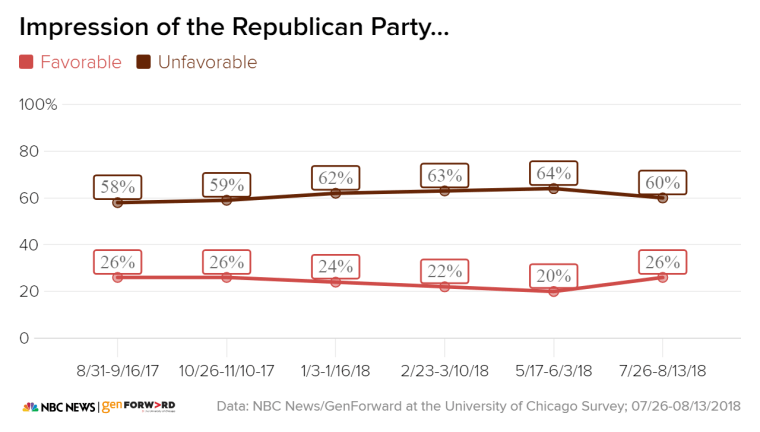 A plurality of millennials have consistently said they plan to vote for the Democratic candidate in the 2018 congressional elections in the past year, and around a quarter have said they plan to vote for the Republican candidate. A quarter have also said they don't plan to vote for either party, or are not sure what they'll do.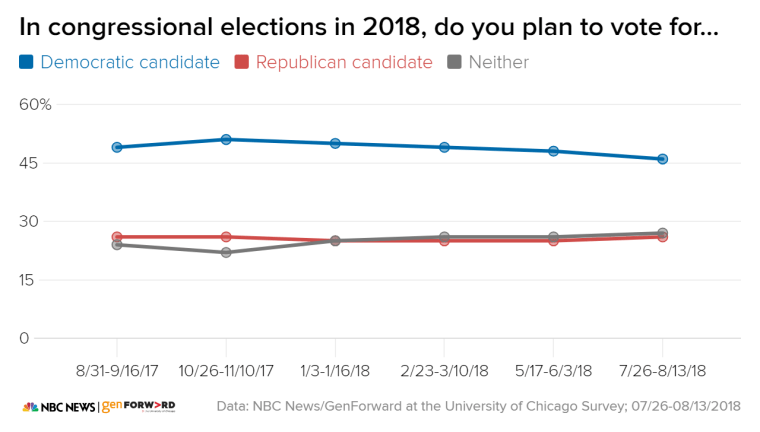 Despite Democrats maintaining higher favorable ratings than Republicans and being the favored party candidates for the 2018 midterms across time, Democrats still face a challenge when it comes to inspiring enthusiasm among young people ahead of November.
In 2014, voters under 30 made up just 13 percent of the midterm electorate, according to NBC News exit polls. In 2010, voters under 30 made up 12 percent of the electorate. Those numbers indicate that turnout among young people this year may be just as problematic.
Millennials have unfailingly had a more positive outlook toward the Democratic Party than toward the Republican Party in NBC News/GenForward survey trend data. They are not overwhelmingly enthused to vote in November, however.

While a majority (55 percent) of millennials say they will probably or definitely vote in the midterm election this November, 19 percent of millennials say they definitely or probably will not vote. Another quarter are uncertain about whether or not they'll vote.
Even though a majority of millennials say they are likely to vote, a large portion also say voting this year is not more important than other midterm election years.
Forty-seven percent say voting in the midterms this year garners about the same level of importance for them as past midterm elections. White millennials are driving that sentiment — 53 percent say voting this year is just as important as voting in past midterm elections. Among African-American millennials, a 45-percent plurality say this year's midterms are as important as previous years.
Perhaps a bright spot for Democrats, a plurality of Asian American millennials (47 percent) and a third of Latino millennials say this year's midterms are more important than past elections. Still, 32 percent of Asian Americans and a 38-percent plurality of Latinos say this year's midterms are as important past midterms.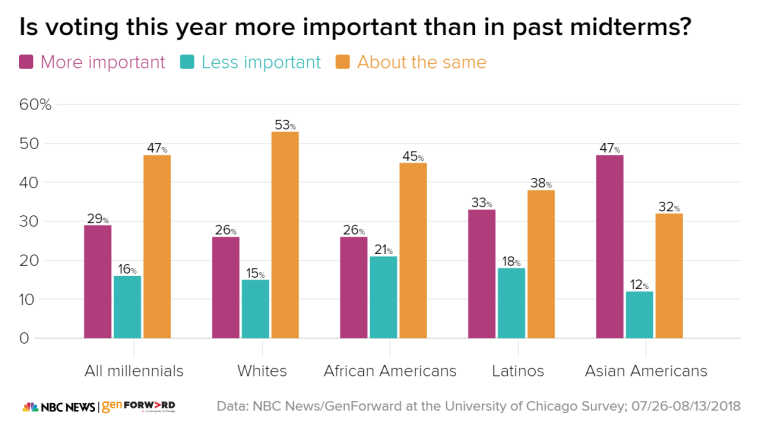 Only 16 percent of millennials say they have a great deal of interest in politics and elections, a number that is rather stable across all racial subgroups. Thirty-eight percent say they have a fair amount of interest in politics and elections, but 31 percent say they have only a little interest and 13 percent have no interest at all.
The sense of disillusionment and division is seemingly both anti-Trump and anti-establishment, signifying that perhaps millennials see Trump as a political insider.
The candidate quality that matters most to millennials' vote in the upcoming midterms is someone who can bring about needed change, signifying that young people are still on the hunt for someone they feel can make a difference.
The latest poll finds that 42 percent of millennials say their midterm vote will be in opposition to President Donald Trump. Only 14 percent say their vote in this year's midterm election will be to express support for Trump. Just under a quarter (24 percent) say the president isn't an important factor in their vote one way or the other.

The NBC News/GenForward at the University of Chicago Survey was conducted July 26-August 13, 2018, among a nationally representative sample of 1,910 adults ages 18-34, recruited and administered by NORC at the University of Chicago. The overall margin of sampling error is +/-3.80 percentage points. For full results and methodology, click here.