Former Secretary of State Mike Pompeo, who has cast doubt on President Joe Biden's 2020 victory, repeatedly praised Jan. 6 as an example of a "peaceful transition" of power in an interview Thursday.
"We delivered a peaceful transition on January 6, 2021, exactly as our Constitution requires," Pompeo, a potential 2024 presidential candidate, told Sky News.
Pompeo was responding to questions about why his new book — "Never Give an Inch: Fighting for the America I Love" — does not focus more on the Jan. 6 attack on the Capitol and former President Donald Trump's efforts to overturn the election, because it reflects on his four years working in the Trump administration.
Pompeo, who said the book was centered on "how we delivered security abroad," condemned the violent aspects of Jan. 6 but defended the outcome in speaking with Sky News.
"It's terrible when folks commit these kinds of acts of violence, and I hope they'll be prosecuted appropriately for doing that. But make no mistake about it, that night America also showed its strength. Vice President Pence finished the election. We had a peaceful transition of power," Pompeo said.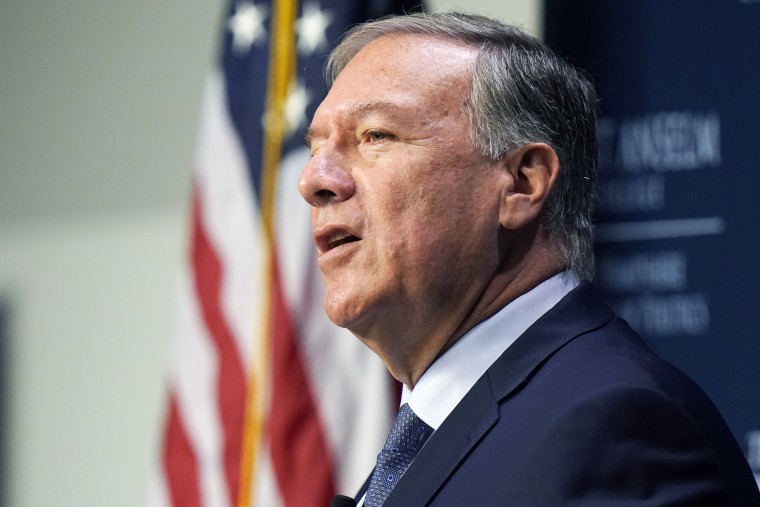 He blamed security officials, and not Trump, for the violence at the Capitol. "There was a bad day at the Capitol. The security team there failed to prevent these guys from rioting there," Pompeo said.
Pompeo was also asked about his comments days after the 2020 election that there would be a smooth transition to "a second Trump administration." In a Fox News interview at the time, Pompeo made no mention of handing over power to Biden.
Pompeo argued Thursday that his remarks were taken out of context.
"To read the whole statement I made that day, I spoke decently about the United States of America," Pompeo said. "And I don't describe it as being stolen. But there are lots of anomalies in our election. And we can't have that in the United States."
Nikki Haley, another former Trump administration official, is expected to officially announce a White House bid in mid-February, which would make her Trump's first GOP opponent.
Asked about Trump's candidacy, Pompeo said the former president will "make his case to the American people."
"I'm confident that there will be many others from both parties who will also believe they should be the next leader," he added. "I have enormous confidence in the American people that they'll sort it all out."
In an interview Thursday morning, Trump declined to say he would support another Republican if he or she were to win the GOP nomination next year.
"It would depend," Trump told conservative commentator Hugh Hewitt on his radio program. "I'd give you the same answer that I gave in 2016 during the debate — the first question I was asked. … It would have to depend on who the nominee was."