WASHINGTON — A potential effort by President Donald Trump to limit civil rights protections for transgender people has burst into the fore of the national political debate just as Republicans and Democrats are making their final push to get voters to the polls.
The possible move is part of a broader adoption of the priorities of the religious conservatives who form the spine of Trump's political base. It is also providing new fodder for religious conservatives and LGBT advocates to rally voters for the Nov. 6 House and Senate elections.
The Trump administration's consideration of a change in policy is meeting with approval from evangelical leaders.
"What they are trying to do, I certainly believe, is do the thing that is normal and right for society and for upcoming generations," said Franklin Raddish, the South Carolina-based pastor who founded Capitol Hill Independent Baptist Ministries.
From his perspective, President Barack Obama transgressed by creating rights for transgender people under Title IX.
"To try to change that, that's not God's purpose but that's man's purpose — to do something really very, very abnormal," he said, adding that he thinks LGBT advocates are making a political issue out of the policy, not Trump. "The main goals of the LGBT (community) is to turn America into another Sodom and Gomorrah."
The New York Times reported Sunday that the Department of Health and Human Services is organizing an effort across several agencies to redefine gender as binary — male and female — based on the assignment at birth. The potential policy is outlined in a draft memo, which is subject to change.
Shortly after he took office, Trump withdrew Obama-era guidance to schools to provide accommodations, including access to bathrooms and locker rooms, based on their self-identified gender. Trump also has tried, and so far failed, to ban transgender people from serving in the military.
A former White House aide said news of a possible change in transgender policy will benefit Republicans.
"This is a smart political fight for Trump to pick," the official said. "Remember, the battle for House and Senate control is being fought in Montana, Michigan, Indiana and Minnesota, not Malibu or Manhattan."
With just 15 days until the midterm elections, some Democrats have accused Trump of turning back the clock in an effort to drive a cultural wedge between Americans.
"With all of the challenges we face as a nation, these kinds of divisive policies are not what America needs," Sen. Tom Udall, D-N.M., wrote on Twitter. "Once again, the Trump administration is rolling back hard-fought progress when what our country really needs is to keep moving forward."
Supporters of transgender rights demonstrated outside the White House on Monday and used the hashtag #WontBeErased to protest administration plans to delete transgender people from Title IX protections.
"We have to stand up, speak out, support each other, stand tall," Mara Kiesling, executive director of the National Center for Transgender Equality, told the crowd.
HHS has declined to discuss the proposal outlined in a memo, which NBC has not reviewed.
"We do not comment on alleged, leaked documents that purport to indicate the status of deliberations or the focus of the department," an HHS spokesperson said Monday.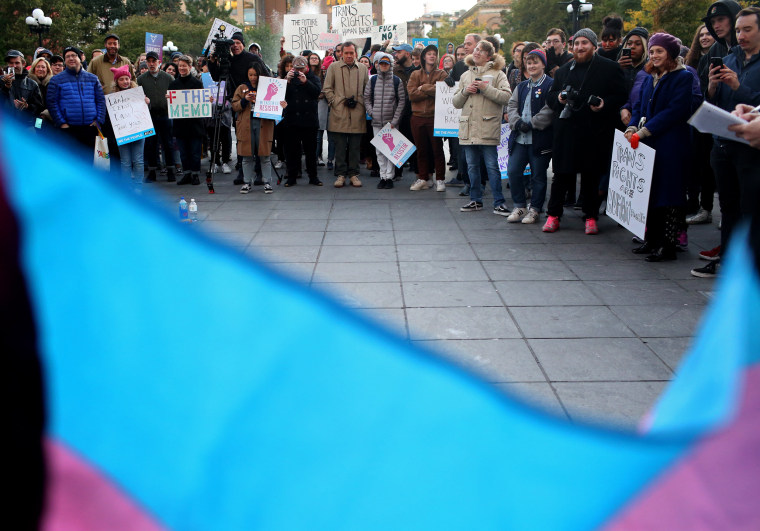 But it's the definition of "sex" — whether it applies to gender identity — that is at issue.
Whether Trump intended to have this fight now — as both parties are trying to gin up voters in the stretch run before the midterms — it's now firmly on the undercard of an election that he has cast as a referendum on undocumented immigrants, the brawl over Supreme Court Justice Brett Kavanaugh, preserving law and order, and taxes.
Like Raddish, Gregory T. Angelo, president of the Log Cabin Republicans, said he believes Trump's adversaries want to make the issue a political test.
"If this was something that was truly politically motivated, it would have been rolled out by the White House and been announced as such," he said.
More important, he said, it should be a sign to LGBT advocates on the political left that their energies are best focused on Congress because the promise of locking in victories through control of the White House and favorable Supreme Court decisions disappeared when Trump defeated Hillary Clinton in the 2016 presidential election.
The left expected that, with a Clinton election, "a decade's worth of regulations that recognized and equated gender identity to sex would be de facto policy," he said. "And that's clearly not the case."
While Angelo certainly isn't making the case for the election of Democrats, LGBT advocates across the country will have an opportunity to weigh in on the composition of Congress soon. So will the evangelical Christians Trump needs to turn out to preserve Republican majorities in the House and Senate.
Senate Minority Leader Chuck Schumer, D-N.Y., tweeted that "we will not stand for this discrimination."
An aide to House Minority Leader Nancy Pelosi, D-Calif., who has not commented on the potential transgender change, said her response is the Equality Act, a bill that would expand protections in the 1964 Civil Rights Act to include gender identity and sexual orientation. Pelosi indicated this month that the Equality Act will be a high priority for her if Democrats win control of the House.