In the last words before his death, President George H.W. Bush told his son, former President George W. Bush, "I love you."
The 41st president, who died late Friday, was on speakerphone with his son to say goodbye Friday night before his death. The last words were first reported by the New York Times.
George W. Bush told his father that he had been a "wonderful dad" and that he loved him, and George H.W. Bush replied "I love you, too."
George H.W. Bush, 94, had a disease similar to Parkinson's.
The Times reported that Bush's health had been fading in the past several days, and his former secretary of state and longtime friend James A. Baker III arrived at his Houston home to check on him.
Bush grew alert and reportedly asked Baker, "Where are we going, Bake?" and Baker replied "We're going to heaven," the Times reported.
"That's where I want to go," Bush said, according to the Times. He died barely 13 hours later, surrounded by friends and members of his family, the newspaper reported.
Baker told the Times that "It was as gentle a passing as I think you could ever expect anyone to have. And he was ready."
In a statement issued after Bush's death, Baker called him a person who "led with strength, integrity, compassion and humility" and whose legacy "will be forever etched in the history of America and the world. It is a lifelong record of selfless patriotic service to our nation."
"His passion was a deep love of family and our country," Baker said. "It was my pleasure and great joy to have had him as my special friend for more than 60 years."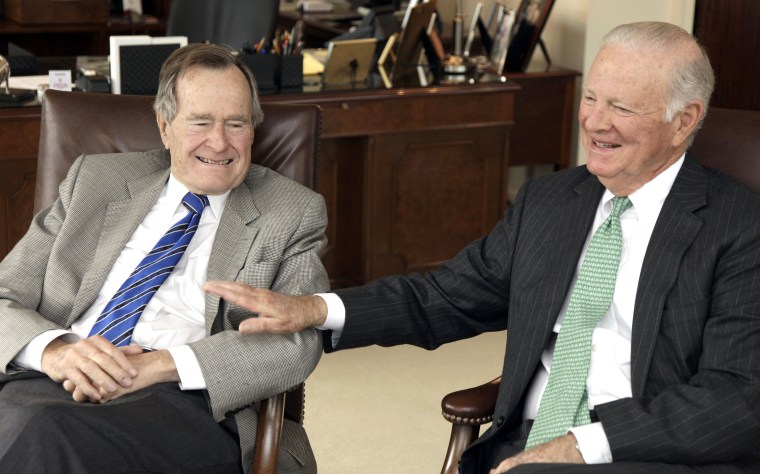 Jeb Bush tweeted Saturday that "I already miss the greatest human being that I will ever know. Love you Dad!"
His son, Jeb Bush Jr., said nothing gave his grandfather more joy than service to others. "His leadership taught us to be kinder and gentler, to love each other," Jeb Bush Jr. said. "We will miss him dearly."
Bush will lie in state at the Capitol Rotunda in Washington beginning on Monday, and the public will be able to pay their respects through Wednesday morning, it was announced by Congressional leaders.
President Donald Trump and First Lady Melania Trump will attend a state funeral which is being arranged, White House Press Secretary Sarah Sanders said.
Wednesday will be declared a national day of mourning for the former president, she said.