New Jersey Gov. Chris Christie knew about a 2013 plan to close traffic lanes of the George Washington Bridge as it was happening in order to punish a local mayor for withholding political support, federal prosecutors said Monday.
The claim came during opening statements at the trial of two former Christie administration officials, who are charged with carrying out the lane closures then covering them up. A federal prosecutor told jurors Monday that David Wildstein, a former Port Authority official, will testify that Christie knew about the plan.
Wildstein pleaded guilty last year in the scheme.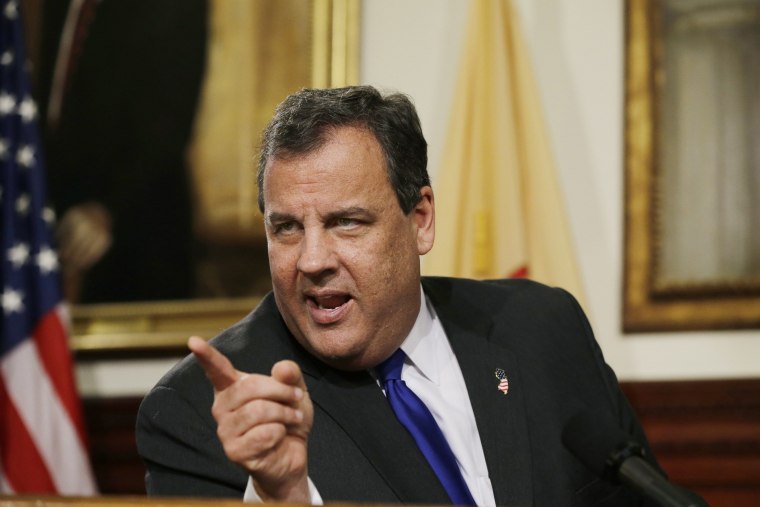 The governor has said in the past that he had no knowledge of the 2013 closures. He has not been charged with any crime.
Related: Bridgegate Trial: 5 Things to Know as Christie Traffic Scandal Reaches Court
Federal prosecutors allege that the two former officials, Bill Baroni and Bridget Kelly, closed the lanes in Fort Lee, N.J. leading to the George Washington Bridge in order to create traffic problems and thereby punish Mayor Mark Sokolich, a Democrat who had declined to endorse Christie in his re-election bid that year.
Kelly sent an email to Baroni in August 2013 declaring: "Time for some traffic problems in Fort Lee."
After the lane shutdown began on September 9, causing severe gridlock, Baroni ignored numerous pleas from Sokolich to re-open the lanes. Baroni later testified that the closures were part of a traffic study. Federal authorities have called that an excuse meant to cover up the effort to punish Sokolich.
Related: Chris Christie Aide Accused Him of Lying on Bridgegate, Documents Say
Prosecutor Vikas Khanna told jurors Monday that it was Wildstein's idea to close the lanes, but that Kelly "instructed him to take that action and Baroni blessed it." Kelly and Baroni are charged with conspiracy, wire fraud, deprivation of civil rights and fraudulently using an agency that receives federal funds.
Wildstein's lawyer, Alan Zegas, has previously said that "evidence exists" showing Christie was involved in the closures.
Baroni's attorney says Wildstein is vindictive and a habitual liar.
Christie, a Republican, unsuccessfully sought his party's 2016 presidential nomination. He has since become a top surrogate for Donald Trump. The Trump campaign did not immediately respond to a request for comment from NBC News.