WASHINGTON — Jenny Gonzalez, 16, a student at Woodrow Wilson High School here, insists she and her peers are ready to vote.
"We know about the issues, and we deserve a voice," she said.
Jenny is one of dozens of invigorated teens who are part of Vote16USA, a nationwide campaign created by Generation Citizen, a national civic engagement organization, and led by youths fighting to lower the voting age with the help of Charles Allen, a Democrat on the D.C. Council.
Allen in April reintroduced the Youth Vote Amendment Act of 2018. For the first time, it would give 16- and 17-year-olds the right to vote in local races, as well as in presidential elections — all as soon as 2020.
Alik Schier, 16, said teens are one of the country's most energized voting blocs. "We want to have a say," Alik said. "So many issues that affect eligible voters now affect us."
While the movement faces resistance and procedural obstacles, it has gained traction after recent school shootings, like the killings of 17 people at Marjory Stoneman Douglas High School in Parkland, Florida.
"I think Parkland's a great example of adults' realizing that we're informed, that we know and that it was a wakeup call for adults, that there are issues and there are policies that politicians are making every day that affect our lives," Alik said.
For Jessica Parks, 16, it's about school violence and community safety.
"Outside of my school, two young males were shot and killed," she said. "They were only ninth-graders. Things like this happen every day, and we don't even have a voice or say in how to put a stop to it."
Theirs isn't the first generation to push for lowering the voting age; teens have been advocating for the change for years.
They've had some success, with a few Washington suburbs in Maryland, like Takoma Park, Greenbelt and Hyattsville, already allowing 16-year-olds to vote in local elections. More than a dozen countries, including Brazil, Scotland and Austria, meanwhile, allow voters that young in national elections.
Several other cities and states have also proposed bills on both the local and the state levels, most of them as state constitutional amendments. The issue has come up in school board elections in Berkeley, California, and in state elections in Arizona, Minnesota and, most recently, North Dakota and Michigan.
Since April, Washington teen activists have been meeting after school to map strategy, campaign in their neighborhoods and speak with parents, teachers and peers. They're also meeting with Allen and preparing for a council hearing on Wednesday.
So far, the 16-year-olds have convinced seven of the 13 council members that they deserve to vote, but they still need to persuade the rest of America.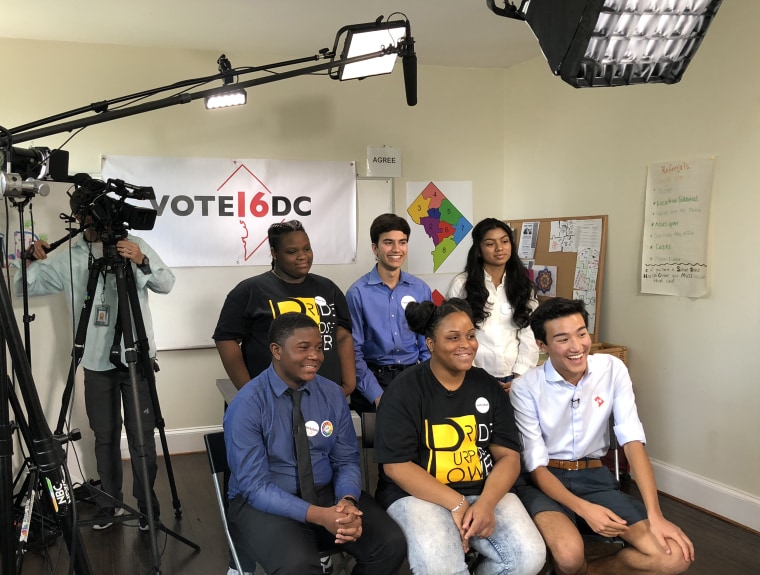 In all other U.S. cities, voting ages can be lowered only for local elections, while elections for federal offices are managed at the state level. Washington, D.C., which preregisters the age group during school-based registration, uniquely has authority over both local and federal elections and therefore would be the first place where 16- and 17-year-olds would vote for president.
If the measure is approved at Wednesday's hearing, it will proceed to a legislative session in September for full council action. Mayor Muriel Bowser has endorsed it.
Critics say the teens are just single-issue voters, hoping to move the needle only on issues such as legal marijuana or college loans. But Elijah Robinson, 16, said they care about violence, climate change, affordable housing — all issues that will affect future generations.
"Not only that, we do things like adults," he said. "We pay taxes. We have jobs. We have to be at those jobs on time. We have to be at school on time, or there'll be penalties."
David Davenport, a research fellow in politics and law at the Hoover Institution at Stanford University, said young people may get excited about one issue, like guns on campus, but lack political knowledge to be effective voters.
"My concern is if 16-year-olds were allowed to vote on any kind of broad scale, what we'd actually be doing is bringing the least politically informed, the least politically experienced, the least mature in terms of making long-term judgments and trade-offs, directly into and potentially affecting our voter turnout and results," Davenport said.
In the Washington suburb of Takoma Park, Maryland, youth turnout has skyrocketed since 16- and 17-year-olds were given the vote in 2013, with teens voting at more than twice the rate of older registered voters every time.
"We started looking at ways to create more turnout in the city election," said Tim Male, a former member of the City Council. "Scotland at the time had started an independence referendum and let 16-year-olds vote, and it just seemed like an obvious thing that we could talk about doing."
Teens in Takoma Park are advocating for dog parks, holding mock debates after school and showing up at candidate debates. "When someone says 'I want to vote; I'm in a democracy; I want to vote; I know who the candidates are,' how do you say no to them?" Male asked.
To advocates, lowering the voting age would also lead to greater lifelong civic engagement.
"If 16- and 17-year-olds actually had the right to vote, they'd be more motivated to learn how the process works and schools would be incentivized to include experiential civics education as a core part of their curriculum," said Scott Warren, chief executive and founder of Generation Citizen.
As the teens prepare for the D.C. Council hearing on Wednesday, they're anxious about what could be a milestone. "We're all in this community together, but we still don't have a say in that," said Jenny Gonzalez, the Wilson High School student. "We hope that changes for the better."