Secretary of State Rex Tillerson said he told Russian President Vladimir Putin on Wednesday that relations between the two countries are at "a low point" as clear divides remain over Syria, Moscow's alleged meddling in U.S. elections and a host of other major issues.
While Russian Foreign Minister Sergei Lavrov and Tillerson expressed agreement when they met on Wednesday on what the future of Syria should look like, they laid out vastly different paths to get there.
Both Tillerson and Lavrov said they support a political solution in Syria, with the secretary of state declaring that Syrian President Bashar al-Assad's reign is "coming to an end."
But throughout the press conference, Lavrov continued to cast doubt on the U.S. assertion that Assad ordered a chemical weapons attack last week that killed over 100 Syrians, including dozens of children.
He agreed, however, that an "honest investigation" should be conducted with cooperation from both countries.
Tillerson seemed to back off earlier comments that Russia was either "incompetent or complicit" in the attack.
"With respect to Russia's complicity or knowledge of the chemical weapons attack, we have no firm information to indicate that there was any involvement by Russia, Russian forces, into this attack," he said Wednesday.
Lavrov said Russia would be willing to reinstate communications with the U.S. during military operations in Syria, which were cut in response to the U.S. strike.
Shortly after the press conference ended, Russia vetoed a U.N. Security Council resolution to condemn the deadly attack and compel Assad to comply with international efforts to investigate the strike.
Throughout the press conference, the Russian official made frequent references to intelligence failures that led to the U.S. invasion of Iraq, as well as other instances of regime change supported by America.
Lavrov also expressed skepticism about the U.S. intelligence findings on Moscow's cyber intrusions into the 2016 presidential election.
"We want to hear concrete proof and then we will respond accordingly," Lavrov said.
"As to the question of the interference with the election, that is fairly well established in the United States and I think that has been spoken to on the Hill as well with the Congress. It's a serious issue," Tillerson said, noting that it had spurred additional sanctions under the Obama administration.
The Tillerson and Putin meeting, which lasted almost two hours, comes after officials in Moscow initially said Putin would not meet with Tillerson during his first visit to Russia, later hedging to say a sit down was possible.
Relations between the Cold War adversaries have become even more volatile following a U.S. strike against a Syrian airfield last week that officials believe launched a chemical attack that killed more than 80 civilians in northwest Syria. Russian leaders have expressed skepticism that Assad was behind the attack and offered warnings to the U.S. not to take such military actions again.
Tillerson began the press conference relaying that he told Putin the relations between the two countries must change going forward. Both sides, Tillerson said, need to "put an end a steady degradation" of the other.
"I expressed the view that the current state of U.S.-Russia relations is at a low point. There is a low level of trust between the two countries," Tillerson said. "The world's two foremost nuclear powers cannot have this kind of relationship."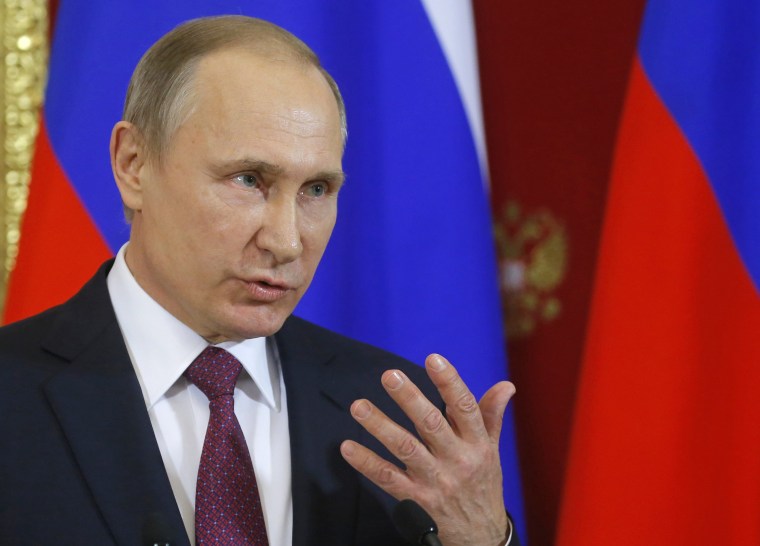 The joint press conference was less explosive than the rhetoric officials used leading up to the meeting. Earlier in the day, Russian officials leveled a barrage of criticism against President Donald Trump's administration.
Tillerson's Russian counterpart warned the U.S. diplomat that Moscow believes it is "fundamentally important not to let these actions happen again in the future."
"Putin is backing a person that's truly an evil person. I think it's very bad for Russia," Trump said in an interview with Fox Business on Wednesday.
Meanwhile Putin, who had an infamously icy relationship with President Barack Obama, said in an interview that U.S.- Russian relations have actually gotten worse since Trump took office.
"One could say that the level of trust on a working level, especially on the military level, has not improved, but rather has deteriorated," Putin said in an interview released on the Kremlin website.