Incoming White House chief of staff Reince Priebus said President-elect Donald Trump's administration hasn't yet decided whether it will allow the news media to continue to work in the White House.
Speaking Sunday on NBC's "Meet the Press," Priebus confirmed reports that Trump's team was considering moving the daily news briefings conducted by the White House press secretary to the Eisenhower Executive Office Building, a short walk away from the White House.
"What I'm talking about, what we're talking about — and the only thing that was even discussed about this — was whether or not you want to take that [press briefing] room that only holds 50 people ... and whether you want to go 50 feet to the EOB and have for the first few weeks or the first month or so the press conferences where you can fit three or four times the amount of people. It's about more access," he said.
Related: Rep. John Lewis: 'I Don't See Trump as a Legitimate President'
White House news briefings have been held outside the building itself at times throughout history, but the modern press briefing room has been used since the 1960s. Trump's hostility toward the media throughout his campaign — and the unprecedented lack of media access during his transition period — has many critics worried that Trump could cut the media off from his administration when he takes office.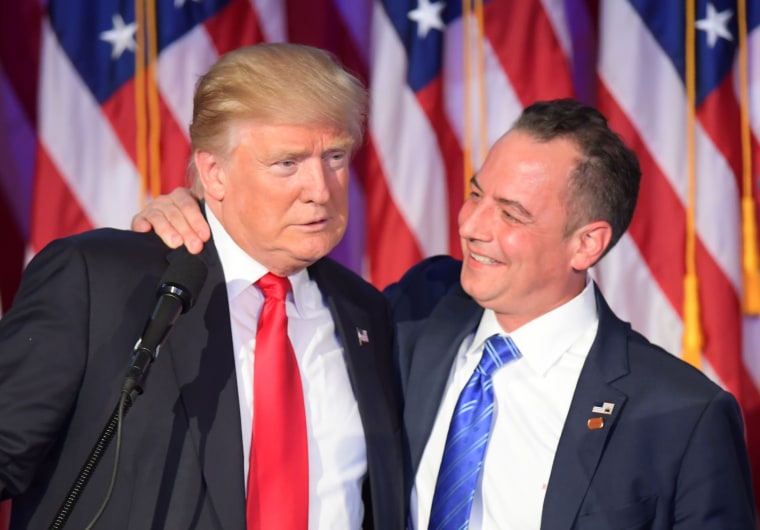 A report by Esquire magazine on plans to move the media out of the White House, published Saturday, quoted an unnamed transition source calling the media "the opposition party."
Priebus said conversations about media access have focused solely on moving the daily briefings out of the building. But when asked directly whether the Trump administration would allow reporters to continue to work in the White House, Priebus left the door open to a change in precedent.
"That hasn't been determined," he said.
The president of the White House Correspondents' Association, Jeff Mason, released a statement Sunday afternoon decrying "any move that would shield the president and his advisers from the scrutiny of an on-site White House press corps."
Mason said after meeting with Spicer on Sunday: "Sean expressed concern that journalists adhere to a high level of decorum at press briefings and press conferences. I made clear that the WHCA would object, always, to a reporter being thrown out of a briefing or press conference."