WASHINGTON — Democratic Rep. Elijah Cummings, the sharecroppers' son who fought for racial justice in his beloved Baltimore and in recent years took on the Trump administration, died Thursday.
He was 68.
Cummings succumbed to what his office described as "complications concerning longstanding health challenges" around 2:30 a.m. at a hospice affiliated with Johns Hopkins Hospital, his office said in a brief statement.
Cummings had represented Maryland's 7th Congressional District since 1996, and was at the center of the impeachment inquiry into President Donald Trump in his role as House Oversight Committee chairman.
The congressman hadn't taken part in a roll call vote since Sept. 11, failing to return to work after a medical procedure he had said would only keep him away for a week, according to The Associated Press.
Download the NBC News app for breaking news and politics
Cummings last spoke on the House floor in late July before the House went on a six-week recess. For months, he had been seen moving around Capitol Hill on a motorized scooter. In 2017, he was sidelined for months following heart surgery and later told his staffers his recovery renewed his focus on the importance of his work.
Cummings, known for his soaring oratory, said during the pivotal hearing in February when the president's former lawyer and personal fixer, Michael Cohen, testified before his committee, "When we're dancing with the angels, the question we'll be asked: In 2019, what did we do to make sure we kept our democracy intact? Did we stand on the sidelines and say nothing?"
As Democrats have ramped up the impeachment inquiry in recent weeks, Cummings had been absent from a number of closed-door depositions with key witnesses who testified before his panel and two other congressional committees. He did, however, issue a subpoena earlier this month to White House chief of staff Mick Mulvaney to hand over documents for the inquiry.
He first ascended the heights of political power in his native Baltimore, never moving away from the inner-city, and serving for 14 years in the Maryland House of Delegates and became the first African American in Maryland history to be named Speaker Pro Tem.
Cummings was one of seven children whose parents were South Carolina sharecroppers who moved north for better opportunities. The congressman credited his parents — both preachers — with instilling in him a moral code that led him into public service.
In 2015, when riots erupted on the streets of Baltimore after the death of a 25-year-old black man in police custody, Cummings called for justice while urging calm.
He had been the victim of what Democrats said were racist attacks by the president, who tweeted that his congressional district covering parts of Baltimore was "a disgusting, rat and rodent infested mess."
"Congressman Elijah Cummings has done a very poor job for his district and the City of Baltimore," Trump tweeted over the summer, claiming that the congressman had "failed badly."
And when Cummings' home was burglarized in August, Trump tweeted, "Really bad news! The Baltimore house of Elijah Cummings was robbed. Too bad!"
In a Thursday tweet, the president offered his "warmest condolences to the family and many friends of Congressman Elijah Cummings."
"I got to see first hand the strength, passion and wisdom of this highly respected political leader," Trump said. "His work and voice on so many fronts will be very hard, if not impossible, to replace!"
Despite this era of deep partisanship, Cummings highlighted his friendships with members across the aisle such as Rep. Mark Meadows, R-N.C., who up until a few months ago, had served as chairman of the conservative House Freedom Caucus.
Cummings had served in Congress since he won a special election in 1996 to fill the seat previously held by Kweisi Mfume.
As members introduced Cummings on the House floor in 1996, Rep. Steny Hoyer, D-Md., now the majority leader, said, "These words represent the heart of what Elijah Cummings is all about: A consummate legislator, a dedicated public servant, a consensus builder, a fighter for what is right; a man, as you will all find, of drive and determination, a man who has ascended to leadership through integrity, hard work, and a belief in the good in mankind."
Cummings graduated Phi Beta Kappa with a bachelor's degree from Howard University, where he served as student government president, and also graduated from the University of Maryland School of Law.
He had been an active member of New Psalmist Baptist Church, according to a biography on his congressional website, and is survived by his wife, Dr. Maya Rockeymoore Cummings, 48, who serves as the chairwoman of the Maryland Democratic Party.
"Congressman Cummings was an honorable man who proudly served his district and the nation with dignity, integrity, compassion and humility," she said in a statement. "He worked until his last breath because he believed our democracy was the highest and best expression of our collective humanity and that our nation's diversity was our promise, not our problem. It's been an honor to walk by his side on this incredible journey. I loved him deeply and will miss him dearly."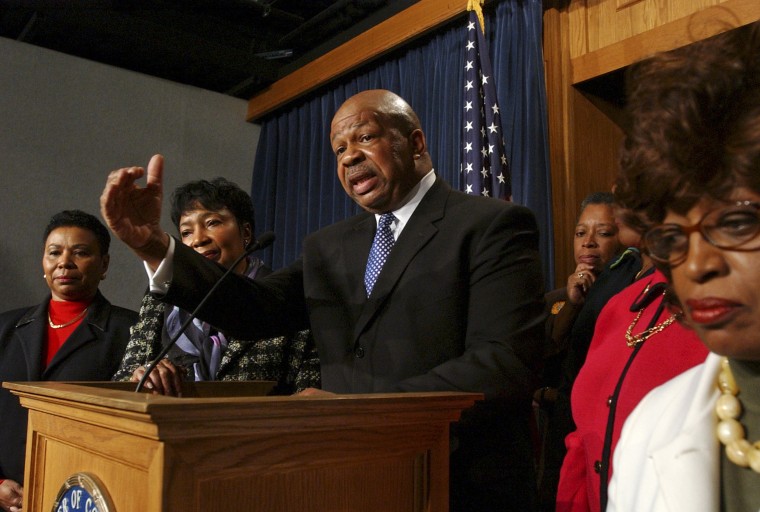 Reacting to the news of his death, several members mourned their longtime colleague and friend, saying that his loss is not only a loss for Baltimore, but also for the country.
"We lost a giant today," Sen. Kamala Harris, D-Calif., tweeted. "Congressman Elijah Cummings was a fearless leader, a protector of democracy, and a fighter for the people of Maryland. Our world is dimmer without him in it."
Rep. Debbie Wasserman Schultz, D-Fla., said in a statement, "When our nation can ill-afford to lose such a kind, principled leader, one of my dearest friends and mentors has left us. My heart is broken, as I weep personally and for his family and community."
Sen. Marco Rubio, R-Fla., tweeted, "My condolences to the family of Rep. Elijah Cummings of Maryland who went to be with the Lord early this morning at 68 years of age. May God grant his family strength & peace in these difficult moments & his soul eternal rest."