As Republicans position themselves in their wrestling match with President Barack Obama on how to avert the year-end tax increases and spending cuts, their refrain has been that the president must be the one to propose cost-cutting reforms to the government's entitlement programs -- Medicare, Medicaid and Social Security -- which now account for 42 percent of all federal spending.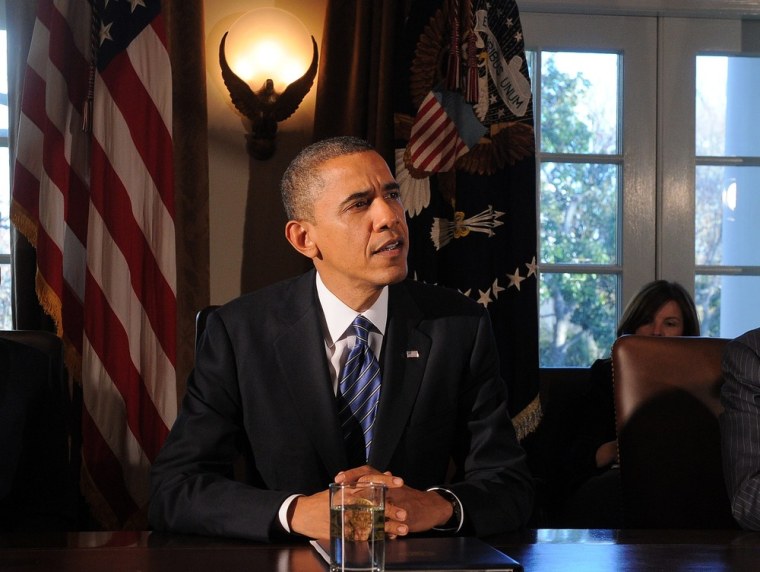 Despite Republican protestations however, the president has not only made past proposals to curb Medicare spending but has even enacted some measures designed to do so – just not in the context of this current negotiation.
"We all know what drives federal spending is the entitlement programs and so far we've seen no proposal from the president – no meaningful proposal – when it comes to reforming entitlement programs and getting putting them on a sustainable path," said Sen. John Thune, R-S.D., the third-ranking Senate Republican.
In a statement after meeting Thursday with Obama's fiscal cliff negotiator, Treasury Secretary Tim Geithner, Senate GOP leader Mitch McConnell said, "To date, the administration has remained focused on raising taxes and attending campaign-style events, with no specific plans to protect Medicare and Social Security or reduce our national debt in a meaningful way."
House Speaker John Boehner isn't insisting on specific entitlement cuts before Dec. 31. What he wants, he told reporters Thursday, is Obama's agreement on "setting up a process for entitlement reform next year."
He said that "we're willing to put revenue on the table" that is, an increase in federal tax revenues, perhaps as a result of limiting tax deductions, but "revenue was only on the table if there were serious spending cuts as part of this agreement."
To demonstrate how large the fiscal challenge is, by the end of the Congressional Budget Office's 10-year budget forecasting period in 2022, Medicare outlays will be more than $1 trillion a year. For the entire ten-year period, 2013-2022, Medicare will cost taxpayers $7.7 trillion.
But Obama has already signed into law the 2010 Affordable Care Act which includes some devices intended to curb Medicare's cost growth.
Even though the Medicare cost-cutting mechanisms in that law are unproven so far and might have damaging effects on hospitals and thus on Medicare recipients, they are at least an effort at cost containment.
The Affordable Care Act (ACA), or "Obamacare," includes measures to curb payments to hospitals, hospices and other providers by using a productivity benchmark, in other words by assuming that medical care providers can match productivity improvements in the broader economy.
But chief Medicare actuary Richard Foster said in 2011 that "it's doubtful that many health care providers can match or have their own productivity increased at the same rate as in the economy at-large, where you have manufacturing and other high-productivity sectors." That's because health care, Foster said, is so labor intensive.
Despite Republican demands that Obama come up with new entitlement cost-cutting ideas, the Republicans were successful in the 2010 campaign by crusading against Obamacare and especially against its Independent Payment Advisory Board, the 15-member Obama-appointed panel of outside experts. IPAB's job is to recommend ways of cutting Medicare spending which then would get fast-track consideration by Congress. The GOP attacks on IPAB were one reason Boehner has his House majority.
Since signing the ACA into law Obama has proposed another entitlement cost-curbing idea: make more affluent Medicare recipients pay more. In his Fiscal Year 2013 budget blueprint Obama proposed higher premiums and co-payments for higher-income Medicare recipients, cutting $28 billion in federal spending over ten years.
But liberal Democrats such as Rep. Allyson Schwartz, D-Pa. and Sen. Ben Cardin, D-Md., oppose this idea, saying it would undermine popular support for Medicare among the upper-come people and lead them to opt out of the program.
"This will end Medicare as we know it," said Schwartz last spring when Republicans adopted Obama's higher premium and co-pays idea as part of the negotiations over how to offset the cost of cutting the Social Security payroll tax.
Cardin pointed out that the Medicare payroll tax applies to all earned income, unlike the Social Security payroll tax which applies only to the first $110,000 of earned income. "We ask those who make more money to pay more -- for the same benefits," Cardin explained. "Medicare benefits are comparable for all seniors, but we ask those who…have higher income to contribute more" by paying higher Medicare taxes while they're working.
Cardin argued that higher-income Americans are already paying enough for their Medicare benefits. "The more that we put these types of payment structures in place, the more that people who are well off will choose to not enter the Medicare Part B system," Cardin said. This would be  "a dangerous path for us to go down."
So what Medicare cost-curbing ideas are left?
One idea: forcing manufacturers of brand-name prescriptions drugs purchased by lower-income Medicare recipients to pay rebates to the Treasury. This idea would cut Medicare spending by about $112 billion over ten years, according to the CBO, which has warned that this might reduce drug makers' investment in research and development of new drugs.
Another idea: Raise the age of Medicare eligibility from 65 to 67, an idea which the CBO says would cut spending by $125 billion over 10 years, which is about one quarter of what Medicare spends in one year.
But Senate Majority Whip Dick Durbin, D-Ill., and Sen. Ron Wyden, D-Ore., warn that if the Medicare eligibility age is increased, then lower-income people would need to be protected. "Any time you talk about just raising the age... how would you deal with those individuals...who are having a great deal of difficulty even reaching the age of eligibility as it stands now," Wyden told the publication Inside Health Policy.
Then there's the Paul Ryan approach: federally subsidized insurance premiums for older people, with greater subsidies to sicker and older people. Democrats, of course, reject this and they might regard the election outcome as a repudiation of the idea.