Secretary of State Rex Tillerson continued talks with Mexican officials on Thursday ahead of a planned meeting with President Enrique Peña Nieto — a trek that President Donald Trump himself acknowledged was "going to be a tough trip."
Tillerson, the new head of the State Department, and administration officials are working to smooth over tensions sparked by brash rhetoric, plans to build a border wall, and most recently the Department of Homeland Security's new immigration guidelines. The plans unveiled Tuesday would consider almost all undocumented immigrants subject to deportation, and includes sending those who enter the U.S. illegally via the southern border back to Mexico, even if they aren't from there.
On Thursday, Trump administration officials sought to assuage concerns.
"Let me be clear, there will be no mass deportations, everything we do in DHS will be done legally," DHS Chief John Kelly said during a press conference following meetings with Mexican officials. "The focus of deportation will be on the criminal element, all of this will be done in close coordination with Mexico."
Videgaray, Mexico's lead negotiator with the Trump administration, pushed back against the deportation plans on Wednesday stressing "we also have control of our borders and we will exercise it fully."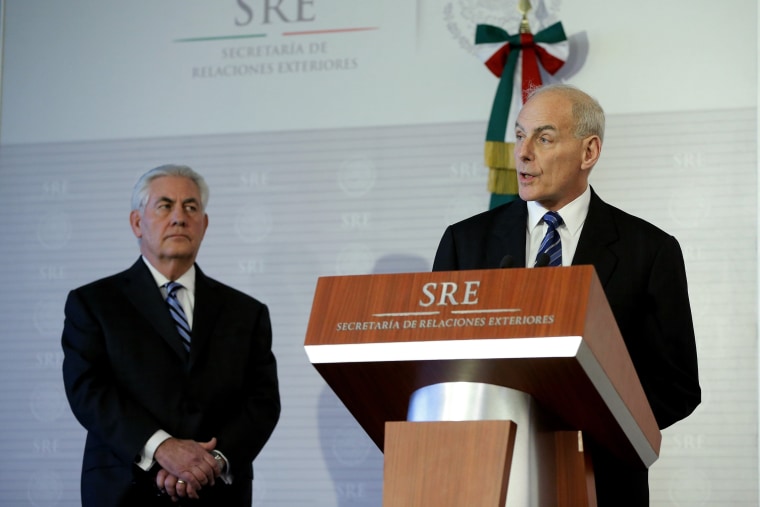 On Thursday, the tone was more collegial.
Videgaray described his in-person talks with Tillerson as "productive" and the two officials discussed getting to the source of the Central American migration issue, the implication of U.S. policies on Mexico and preventing terrorism and criminal activity.
"This visit takes place at a complex time for relations between our two countries," Videgaray said after his meeting with American officials.
"At a time when both of our countries and our governments have notable differences, the best path to solving them is dialogue," he added.
Mexico Relationship 'Phenomenal Right Now'
White House press secretary Sean Spicer on Wednesday denied that Tillerson's trip to Mexico with Kelly was an effort to repair any ill will created by the new president. He described the relationship between the two countries as "phenomenal right now."
"I would argue that we have a very healthy and robust relationship with the Mexican government and Mexican officials," Spicer told reporters during the daily press briefing. "And I think they would echo that same sentiment."
Tillerson had begun laying the groundwork to help strengthen the U.S.-Mexico relationship before this trip. But he has his work cut out for him.
"A trip to Mexico by the secretary of state is like a layup. It's when a Big Ten school plays a small college in preseason and wins by 40 points," Richard Stengel, a former State Department official under Secretary John Kerry, said on MSNBC. "This shouldn't be a hard thing. The president has made it very hard."
Last month, a planned visit by Peña Nieto to the White House was cancelled in the wake of a fiery spat over which nation will pay for Trump's contentious border wall. The pair later spoke by phone after the cancellation, calling the conversation "constructive and productive"
Though Mexican leaders continue to say they will not pay for the wall, the war of words between the heads of state has largely subsided for now. Mexican leaders say Trump pledged he would stop speaking publicly about the barrier and walked back a proposal to add a 20 percent tax to Mexican products imported into the U.S.
Administration officials have said the Tillerson trip will be focused on the areas where the two countries can find agreement. Paying for the wall is just one aspect of the vast range of issues facing the two countries.
But the political detente has not settled passions in either country.
Related: What to Know About the New DHS Illegal Immigration Crackdown
Widespread anti-Trump protests were held in 18 cities across Mexico earlier this month. Cities in the U.S. held a "Day Without Immigrants" protests to showcase the importance of immigrants.
"Clearly the relationship between Mexico and the United States is the worst it's been in 25 years," James Jones, a former U.S. ambassador to Mexico under President Clinton, told MSNBC.
"At a time when we have great cooperation with Mexico both on economics, as well as national security this is something that has to be mended and I think both Secretary Tillerson and Secretary Kelly are the ones to deliver the message and to try to get it back on track," he added.
The article and a headline misattributed quotes to Secretary of State Rex Tillerson that were spoken by DHS Chief John Kelly.