Former Secretary of State Condoleezza Rice gave a spirited defense of free trade, foreign aid, a welcoming immigration policy, and a robust national defense Wednesday night at the Republican convention.
Both Rice and 2008 Republican presidential candidate Sen. John McCain, R-Ariz., who spoke earlier in the evening, mocked the Obama administration for the remark an unidentified Obama adviser last year made to describe the U.S. role in the effort to overthrow Moammar Gadhafi in Libya: "leading from behind."
Rice started her speech on a subdued note with a brief recollection of the Sept. 11, 2001 attacks.
She then invoked the "freedom agenda" of her old boss, President George W. Bush, saying that "the desire for liberty and freedom is indeed universal" among all people in the world but acknowledged that "the promise of the Arab Spring is engulfed in uncertainty."
And she listed some discouraging international trends:
"Internal strife and hostile neighbors are challenging the young, fragile democracy of Iraq,"
"Dictators in Iran and Syria butcher their people and threaten regional security,"
"Russia and China prevent a response" to the oppression in those countries.
Rice said these developments cause people abroad to wonder, "where does America stand?" She said, "when friends or foes, alike, don't know the answer to that question — unambiguously and clearly — the world is likely to be a more dangerous and chaotic place."
She seemed to imply that President Obama had not done enough to champion freedom and democracy in the Arab world.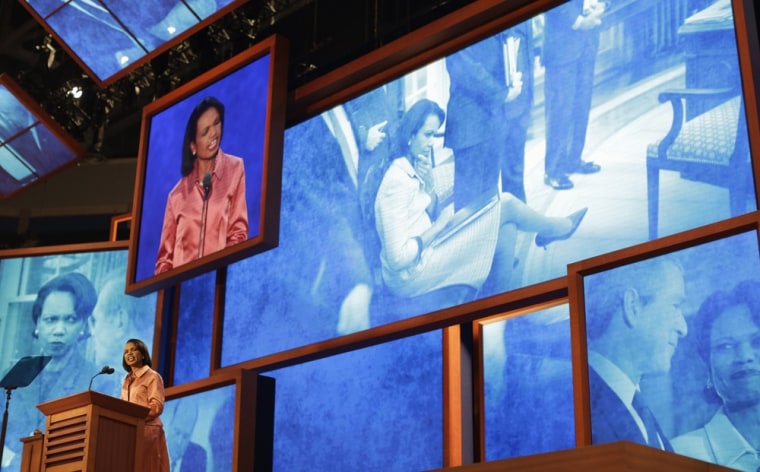 But her speech seemed as much a rebuke to isolationist or anti-global engagement forces in her own party as to Obama.
Earlier in the evening, the delegates saw a short video tribute to Rep. Ron Paul, R-Texas, one of the few Republicans who voted to oppose the Iraq invasion. Paul has also been a critic of foreign aid.
Defending foreign aid, Rice explained that it is often "hard to muster the resources to support fledgling democracies and to intervene on behalf of the most desperate — the AIDS orphan in Uganda, the refugee fleeing Zimbabwe, the young woman who has been trafficked into the sex trade in Southeast Asia," she said. Yet "this assistance — together with the compassionate work of private charities — people of conscience and people of faith — has shown the soul of our country."
She added, "I know too that there is a weariness — I know that it feels as if we have carried these burdens long enough."
But if America turns inward, she warned, "no one will lead and there will be chaos, or someone will fill the vacuum who does not share our values. My fellow Americans, we do not have a choice. We cannot be reluctant to lead — and you cannot lead from behind."
Touching on a topic that divides Republicans, she delivered an argument for an open-hearted immigration policy. "We must continue to welcome the world's most ambitious people to be a part of us," she told the delegates. "In that way we stay young and optimistic and determined. We need immigration laws that protect our borders, meet our economic needs and yet show that we are a compassionate nation of immigrants."
Two hours earlier, McCain gave the delegates a more pointed criticism of the man who defeated him four years ago.
"At our best, America has led. … We have led, when necessary, with the armed might of freedom's defenders. And always we have led from the front, never from behind," McCain said. 
"By committing to withdraw from Afghanistan before peace can be achieved and sustained, the president has discouraged our friends and emboldened our enemies, which is why our commanders did not recommend that decision and why they have said it puts our mission at greater risk," he said.
McCain accused Obama of "playing no leadership role" in preventing defense spending cuts mandated by last year's Budget Control Act.
And McCain said Obama "missed a historic opportunity to throw America's full moral support behind an Iranian revolution that shared one of our highest interests: ridding Iran of a brutal dictatorship that terrorizes the Middle East and threatens the world."
He added, "The situation is far worse in Syria. What began as peaceful protests has now become, 18 months later, a savage and unfair fight" as Bashir Assad uses tanks, helicopters, and fighter jets to kill his opponents.
"Sadly, for the lonely voices of dissent in Syria, and Iran, and elsewhere, who feel forgotten in their darkness, and sadly for us, as well, our president is not being true to our values."
Although he did not mention it in his speech Wednesday, in June McCain advocated helping the Syrian opposition to establish safe havens inside the country, using U.S. airpower to defend the safe areas in Syria, and using the safe havens as "platforms for increased deliveries of food and medicine, communications equipment, doctors to treat the wounded, and other non-lethal assistance. They could also serve as staging areas for armed opposition groups to receive battlefield intelligence, body armor, and weapons."