Former Secretary of State Condoleezza Rice and 2008 presidential nominee Sen. John McCain, R-Ariz., will present the Republican case on national security and foreign policy to the Republican National Convention Wednesday evening.  In a campaign dominated by the economy, jobs and the proper role of government, foreign policy has not been a featured issue but Rice and McCain will attempt to draw contrasts between the Republicans and President Obama.   
In a speech Wednesday morning to the Ohio delegation, Rice hit some themes she may reprise in her convention address.
"When the United States is not feeling strong and confident at home, it shows abroad," she said. "And when the United States is not willing to speak with a robust voice for free peoples and free markets, the world is a pretty chaotic place. And so the rebuilding of America here at home and the rebuilding of an American voice abroad is really right at the core of what we have to accomplish, and Mitt Romney and Paul Ryan are the people to do that."
Both Rice and McCain advocated the 2003 U.S. invasion of Iraq to overthrow Saddam Hussein -- Rice was President George W. Bush's national security adviser at that point. The presence of Rice and McCain on the platform Wednesday night will be a reminder of the costs of the prolonged U.S. military deployment in Iraq.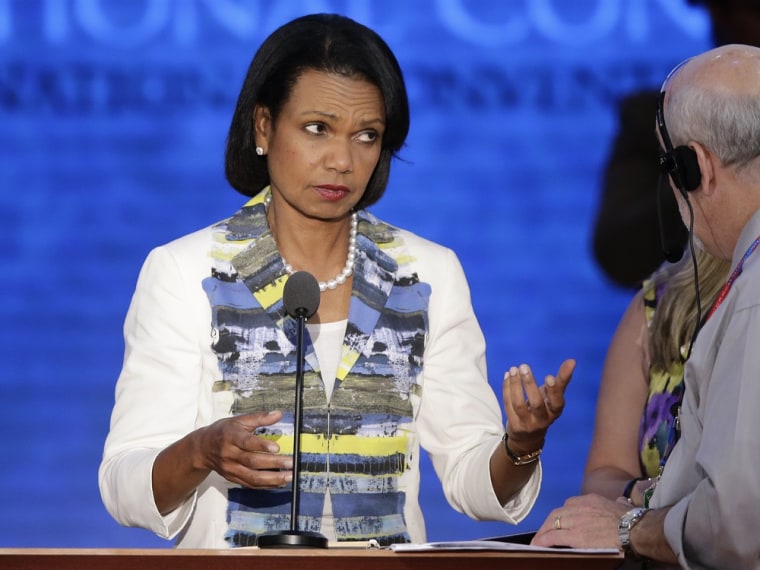 Next Thursday night at their convention in Charlotte, N.C., the Democrats will also highlight foreign policy and national security, with the focus likely to be on the killing of Osama bin Laden and the withdrawal of U.S. military forces from Iraq, and President Barack Obama's planned troop drawdown in Afghanistan.
The Democrats' 2004 presidential candidate Sen. John Kerry, D-Mass., whom Republicans mocked in 2004 for his vacillating support for the Iraq war, will be the featured speaker.
Economic malaise and not national security has so far been the dominant theme of the 2012 campaign, but to the degree that voters pay attention to foreign affairs and national security, Romney and the Republicans find themselves in an unaccustomed position: for most of the years from 1972 to 2004, Republican presidential candidates enjoyed an advantage over Democrats on national security.
But this fall Romney is running against a Democratic president who seems to be proving that the United States doesn't need to garrison 150,000 troops for a multi-year stay in an Arab country in order to have a robust national security and counterterrorism policy.
Mostly dispensing with the need for "boots on the ground," Obama has made it standard policy to use drones to kill terrorist suspects, even U.S. citizens living abroad such as Muslim cleric and champion of violent jihad Anwar al-Awlaki who was in Yemen last year when a U.S. drone killed him.
Obama's targeted killing policy has drawn protests from the likes of Rep. Ron Paul, R- Texas, but not from most Americans or most members of Congress.
"We're fighting them over there so that we don't have to fight them over here," was the refrain of Obama's predecessor, George W. Bush in making the case for his intervention in Iraq. Obama is showing that "fighting them over there" doesn't necessarily require Marines and Army soldiers running the risks of IEDs and ambushes.
In the most recent NBC News/ Wall Street Journal poll, conducted Aug. 16 to Aug. 20, 54 percent of respondents approved of Obama's handling of foreign policy.
Even the survey done last week by Republican pollster Whit Ayes for the group Resurgent Republic indicates that a plurality of people, 39 percent, think America is safer from terrorists under Obama than it was in January 2009 when he became president. Only 20 percent said America is less safe from terrorist attack now than it was in 2009.
Given this data, it seems that the two former advocates for the Iraq war speaking tonight at the Tampa convention may not be exactly aligned with the 2012 electorate. It will be interesting to see if either of them gives Obama some credit for his drone policy.
Although Bush will be making a brief appearance via video at Wednesday night's session of the convention, Bush's "freedom doctrine" seems to have faded from the public's awareness.
"As Americans, we believe that people everywhere -- everywhere -- prefer freedom to slavery, and that liberty, once chosen, improves the lives of all," Bush declared in 2005. He said, "The seeds of freedom have only recently been planted in Iraq, but democracy, when it grows, is not a fragile flower; it is a healthy, sturdy tree."
Now seven years after Bush said those words and after a costly American investment of lives and money, events in Iraq indicate that democracy and respect for political opponents aren't "healthy" or "sturdy' in Iraq. More than 300 people died in car bombings and other Sunni-versus-Shia violence in Iraq last month. And many Americans have stopped paying attention to Iraq. So at the very least the Bush freedom doctrine is no longer serving as an inspirational appeal.
Romney has said the Defense Department bureaucracy is "bloated to the point of dysfunction," but he has also called for a larger Navy – increase the shipbuilding rate from nine per year to fifteen per year – and for building a ballistic missile defense system. But this additional cost would bump up against the need for fiscal restraint.
The foreign policy challenge that may be most daunting to either Obama or Romney may be Iran's attempts to develop nuclear weapons.
Romney predicted in March that if Obama were elected to a second term, "Iran will have a nuclear weapon and the world will change."
Voters must weigh how much an Iranian nuclear arsenal might threaten the United States, and whether they believe that Romney, Obama -- or perhaps neither one of them -- would be able to deter, persuade or use force to prevent the Tehran regime from getting nuclear weapons.
Romney said in March that Obama had failed to communicate that military options are "on the table and in fact in our hand," although Obama and his spokesman have said a U.S. military response is one possibility if Iran is on the brink of getting nuclear weapons.
NBC's Andrew Rafferty contributed to this report.