ALEXANDRIA, Va. — Prosecution witness Rick Gates, a former business partner of Paul Manafort, testified Monday that he joined Donald Trump's former campaign chairman in committing crimes.
"Did you commit any crimes with Mr. Manafort?" prosecutor Greg Andres asked.
"Yes," Gates answered.
Gates is the prosecution's star witness in Manafort's federal fraud trial — a man special counsel Robert Mueller's team says was heavily involved in helping hide millions overseas. He pleaded guilty to reduced charges in February and agreed to cooperate with the government.
Gates, who usually sports a beard, was clean-shaven and wearing a blue suit. He testified that he began working with Manafort directly in October 2006, and the pair conspired between 2008 and 2015.
When Andres asked what he did for Manafort, Gates said that over the years, Manafort directed him to make payments through wire transfers. The income and the accounts, however, were not reported.
Gates also said that he did not report 15 foreign offshore bank accounts to the government. In addition, he testified, he did not submit the required forms at Manafort's direction. Gates said the money in these accounts was earned from Manafort's political campaign work.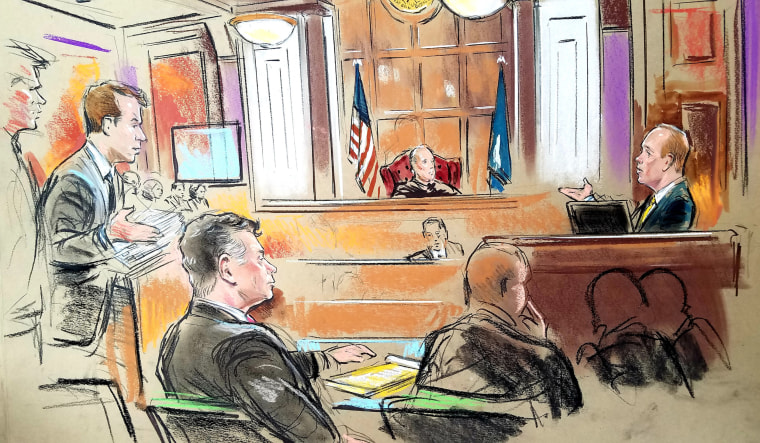 Gates also testified on Monday that he lied to Manafort's accountants by not reporting the income or accounts because Manafort requested he not disclose them.
Gates said when income came into the company, Manafort directed they be treated as income or loans. But the loan money came from offshore accounts, not from work conducted by Davis Manafort Partners. Gates said Manafort asked him to do this to reduce Manafort's tax liability.
Gates admitted to not being truthful to Heather Washkuhn, Manafort's bookkeeper, and to Philip Ayliff and Cindy Laporta, Manafort's accountants.
Andres also asked Gates about crimes he committed on his own behalf. Gates said he increased his income level on credit card applications and submitted false expense reports, which he said Manafort didn't know about. He said that he transferred money from Cyprus to the U.K., then to the U.S., and did not report the income. He also said he had his own offshore account in the U.K.
He said he did not use the same accountants as Manafort.
During the questioning, Judge T.S. Ellis scolded the prosecution and urged them to move more quickly, telling Andres, "Let's get to the heart of the matter."
"Your honor, we've been at the heart of the matter," Andres replied, before Ellis could finish his sentence. Ellis then told him not to interrupt when he's speaking.
Gates also admitted that he had embezzled money from Manafort by creating false expense reports on his own behalf. He didn't state an exact dollar amount, but estimated it to be "in the hundreds of thousands."
Gates said he had authority on some of the offshore accounts to move money, and did so through wire transfers. He said Manafort was unaware.
However, Gates also praised Manafort, calling him "one of the most politically brilliant strategists that I've ever worked for."
Manafort's attorneys had cited the embezzlement in an earlier attempt to discredit Gates prior to him taking the stand. Kevin Downing, a lawyer for Manafort, went after Gates' credibility during his cross-examination of Laporta on Monday.
"Had you known that Rick Gates was embezzling from Mr. Manafort, would you trust anything he says?" Downing asked Laporta, Manafort's accountant on his 2014 and 2015 tax return. She testified that even if Gates had embezzled, the accountants are usually the last to know.
Laporta had testified Friday that she helped Gates falsify tax and bank documents. She has been granted immunity and testified that she was in on discussions to falsify a loan document at the direction of Gates, so that Manafort could afford to pay his 2014 income taxes.
Monday marks Day 5 of Manafort's trial, the first of two he is scheduled to face.
The tax and bank fraud charges in this trial have nothing to do with Manafort's work on the Trump campaign. Instead, prosecutors for Mueller, who is leading the investigation into Russian interference in the 2016 election, accuse Manafort of hiding at least $30 million that he earned while representing Russia's neighboring country of Ukraine and its president, Viktor Yanukovych, an ally of Russian President Vladimir Putin.
Both Gates and Manafort were indicted last October by a federal grand jury on 12 charges, including conspiracy against the U.S. Manafort has pleaded not guilt to all charges.
Dartunorro Clark reported from New York, and Charlie Gile reported from Alexandria.