With little fanfare, Florida Gov. Ron DeSantis signed legislation Monday allowing residents to carry a concealed loaded weapon without a permit.
DeSantis signed the bill in a nonpublic event in his office with only bill sponsors, legislative leaders and gun rights advocates, including the National Rifle Association, in attendance. 
It was a notable departure for a governor who regularly holds splashy news conferences and bill-signing ceremonies. 
Florida is now the 26th state to pass some form of permitless carry legislation. The signing comes one week after six people, including three children, were gunned down at The Covenant School in Nashville, Tennessee.
"This is a momentous step in the Constitutional Carry movement as now the majority of American states recognize the Constitution protects the right for law-abiding Americans to defend themselves outside their homes without fees or permits," Randy Kozuch, interim executive director of the NRA-ILA, the lobbying arm of the National Rifle Association, said in a statement, which included a picture of the event. "The carry movement began decades ago and the NRA has been working to get this legislation passed throughout America. Therefore, today is indeed a day to celebrate."
Opponents of the proposal have said that it will increase gun violence and that it was telling that DeSantis did not hold a public-signing ceremony like he has done in the past for other high-profile bills.
"Governor DeSantis just signed permitless carry into law behind closed doors, probably because he knows it's dangerous and unpopular," tweeted Giffords, a gun safety group founded by former Arizona Rep. Gabby Giffords, who is a gun violence survivor.
The group spent more than $125,000 on a media campaign opposing the bill.
DeSantis' office issued a brief statement hours after the bill was signed, saying only that "Constitutional Carry is in the books."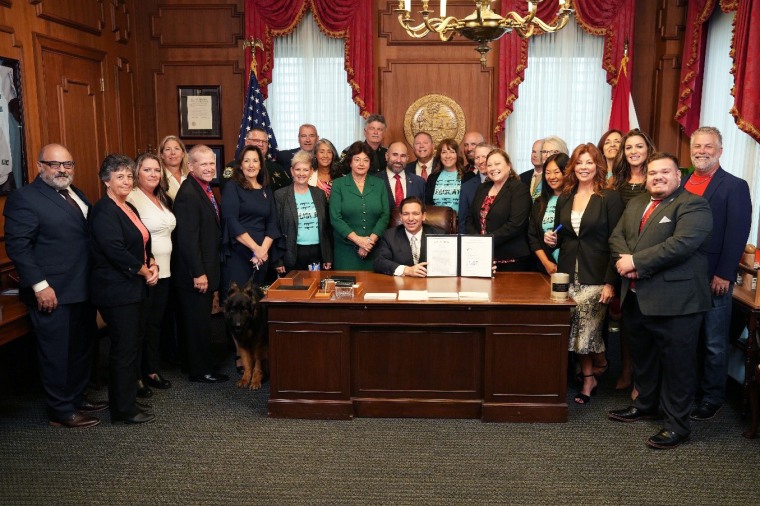 Even as DeSantis pushed the proposal ahead of his expected bid for president, public polling on the issue has shown it to be widely unpopular with both political parties. Last month, a poll conducted by the University of North Florida showed 77% of the 1,492 respondents were somewhat or strongly opposed to the permitless carry legislation, a number that included 62% of Republicans.
"Not only is there bipartisan opposition to this 'constitutional carry' bill, but folks seem to feel passionately about it with the majority (67%) saying they strongly oppose the bill," Michael Binder, the director of the University of North Florida's Public Opinion Research Laboratory, said when the poll was released. "Even among Republicans, most people are against carrying weapons without a permit."
The White House also weighed in Monday with a statement saying what DeSantis did was "shameful."
"It is shameful that so soon after another tragic school shooting, Florida Governor Ron DeSantis signed into law a permitless concealed carry bill behind closed doors, which eliminates the need to get a license to carry a concealed weapon," White House press secretary Karine Jean-Pierre said.
The legislation, which passed the state House and Senate on mostly party-line votes, got pushback on both sides of the political spectrum. While Democrats framed the proposal as dangerous and said it would increase gun violence, ardent Second Amendment rights supporters pushed the Legislature to include a provision that would allow people to openly carry firearms. 
DeSantis had said he would support open-carry legislation but did not advocate for it as forcefully as he has on other issues. During lengthy committee hearings on the bill, Second Amendment groups lined up and blasted Republican lawmakers for not including the open-carry provision, criticism DeSantis was not immune from. 
"If the governor cannot get a very friendly Legislature to add open carry to this bill, then how do we think he will try to convince Congress to act on anything if he were to become president?" Matt Collins, an open-carry supporter, told a Florida Senate committee last month. "If open carry isn't added to this bill, it shows political impotence on the part of Gov. DeSantis."