DANA POINT, Calif. — Ronna McDaniel won re-election to a fourth term as Republican National Committee chairwoman on Friday, besting insurgent challenger Harmeet Dhillon in a secret ballot vote at the party's annual winter meeting.
McDaniel easily secured a majority of the 168 votes needed to win, with 111 votes compared to 51 for Dhillon, four for MyPillow founder Mike Lindell and one for former Rep. Lee Zeldin, R-N.Y., who was not a candidate.
McDaniel is now on track to be the longest-serving GOP chair since the 19th century. She joins Senate Majority Leader Mitch McConnell, R-Ky., and House Speaker Kevin McCarthy, R-Calif., in staving off challenges to their leadership following Republicans' disappointing performance in the November midterm elections.
The contest was seemingly a foregone conclusion for months. McDaniel released an endorsement letter from more than 100 of the RNC's 168 members shortly after the midterms — support that led to Zeldin deciding not to launch his own bid to lead the RNC.
But with the vote held by secret ballot, and Dhillon's aggressive campaign arguing that McDaniel should not be re-elected after GOP shortcomings in November, members did not write Dhillon off ahead of the vote. Publicly, roughly 30 RNC members had committed to Dhillon ahead of the ballot.
Lindell, a leading election conspiracist, launched a long-shot bid but never picked up much momentum.
McDaniel's supporters argued she was best positioned to move the party forward because of her resource allocation and solid working relationship with state party leadership.
After the tally was announced, McDaniel, Dhillon and Lindell appeared on stage together in a show of unity. In a statement, McDaniel said she was "deeply grateful that our members have entrusted me with another term in this role."
"I look forward to working alongside conservative leaders, including Harmeet and Mike, from across our party to deliver on our promises to the American people," she said.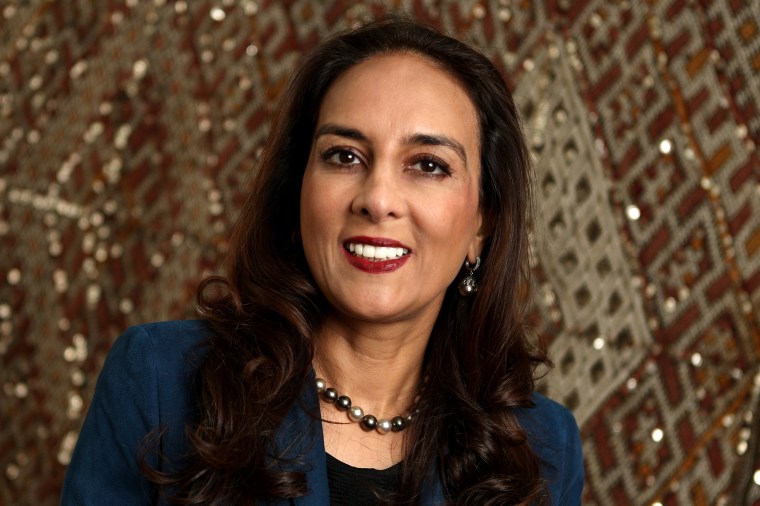 Even with McDaniel in place as the next chair, many RNC members say they expect tensions to remain.
"After this is over tomorrow, it's not over," said Jonathan Barnett, an RNC committeeman from Arkansas who backed Dhillon to lead the party, ahead of the vote. "It's going to take some time to do some rebuilding, and Harmeet still has a strong voice. All of us who are supporting Harmeet are not going away."
Speaking to reporters after the vote, Dhillon said she was "disappointed" in the outcome but reiterated her pledge to put the defeat behind her and work with McDaniel to advance Republican causes.
But she said the party will "have to deal with that fallout of being in a disconnect from the grassroots." She added she believes some members "are going to feel a little different [about their votes] when they go back to their homes, particularly if they come from a state or a county, which voted overwhelmingly to support change in the RNC."
Some Dhillon backers were quick to share their discontent with the vote. Charlie Kirk, a conservative activist and founder of Turning Point USA, tweeted after the election that he was "truly shocked at how disconnected the RNC country club is from the people they beg for donations."
"There is a club of consultants who make insane $ off YOUR donations and are now proud of how they can defy the 90% of the party who wanted to see change," he added.
The chair vote wasn't the only order of business on Friday for the party. The RNC also approved a package of nine resolutions on Friday in a voice vote. The resolutions included measures condemning antisemitism, opposing ranked-choice voting, calling for President Joe Biden to be held accountable for his administration's handling of the U.S. border with Mexico, pushing for the U.S. to "shut down" any "Chinese police station" operating in the country and to broadly discourage the use of TikTok — including encouraging a ban on its use on federal government devices.
The antisemitism resolution directly called out hip-hop artist Kanye West and white supremacist Nick Fuentes, who dined with former President Donald Trump late last year, as well as Reps. Cori Bush, D-Mo., Ilhan Omar, D-Minn., and Rashida Tlaib, D-Mich.
Oscar Brock, a Dhillon supporter, said he will continue to push for more party transparency following the election and committed to working with McDaniel moving forward.
"She's not a bad person," he said. "I mean, she's not evil. I just wanted to win more elections."
Looking ahead to 2024, Brock said the RNC has "the ability to get on track," but it remains an open question whether the party will.
As for his message to voters back home, Brock said: "We did everything in our power to get people to vote for change."
"And in the end of the day, we just didn't win," he said. "So, that happens."