VESTAVIA HILLS, Ala. — Roy Moore, in his first public appearance since the Washington Post reported he forced a woman into a sexual encounter when she was 14 and he was 32, vehemently denied the claims against him and vowed to soldier on through the Dec. 12 special election for the state's Senate seat.
Moore, speaking at a standing-room-only Veterans Day event at a public library in this town outside of Birmingham, slammed the allegations as "completely false and untrue" and "very hurtful to me personally."
"I am not guilty of sexual misconduct with anyone," Moore said toward the end of his speech, which had focused mostly on the importance of military service.
Moore, the GOP candidate for the U.S. Senate race in Alabama, ripped the allegations as "absolutely unbelievable" and said they "contradict my entire career in law." He also suggested they were the result of nefarious efforts by his political opponents and the the media.
"We do not intend for the Democrats or establishment Republicans or anyone else stop this campaign," Moore said to hoots and hollers from the packed room. "They are desperate."
"This is a prime example of fake news," he said.
Related: In Alabama, Republican Voters Stand by Roy Moore
Moore also said there "will be revelations about motivations and context of this article" coming out "in the coming days." He did not elaborate.
"Isn't it strange that after 40 years, people have waited four weeks before the general election to bring their claims," he said, prompting more applause.
Moore left the event through a back entrance immediately after he finished speaking, avoiding all questions and jumping into a waiting car.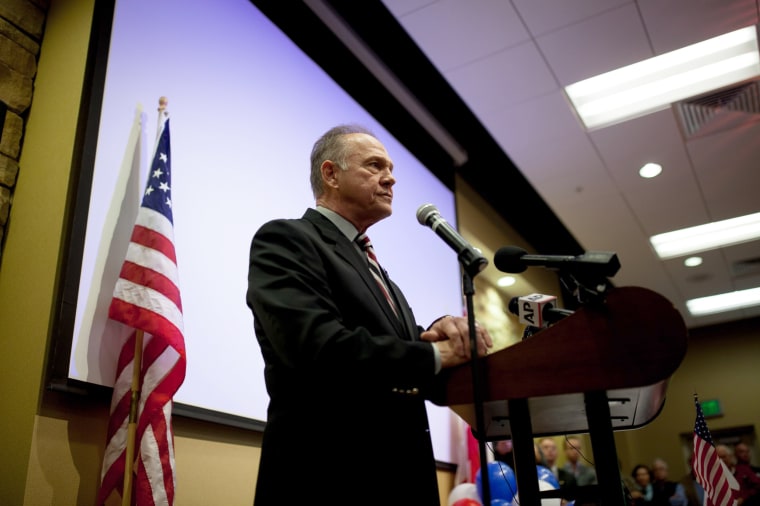 His remarks were his first in a public setting since the Post published its story on Thursday, and largely echoed his prior denials against the claims that he's made in written statements and in radio interviews.
Moore, according to the Post, forced a 14-year-old girl into a sexual encounter in 1979 when he was 32. The woman, Leigh Corfman, now 53, told the Post that Moore took off her "shirt and pants and removed his clothes," touched her "over her bra and underpants" and "guided her hand to touch him over his underwear." The Post also interviewed three other women who claim Moore "pursued" them when they were 16 to 18 and when he was in his early 30s.
The report, which comes just a month before the special election, has prompted more than a dozen Republican senators, as well as the White House, to urge Moore to drop out of the race if the allegations are proven true.
In Alabama, however, Moore remains a conservative hero and maintains the feverish support of his fellow Cotton Staters. He served twice as a chief justice of the state Supreme Court but was suspended without pay in 2016 for instructing probate judges to deny same-sex couples marriage licenses, in contradiction to a landmark U.S. Supreme Court ruling. Moore has also unsuccessfully run for governor twice.
Alabama's governor does not intend to delay the special election, a spokesperson said. "Governor Ivey is not considering and has no plans to move the special election for US Senate," Daniel Sparkman, press secretary for Alabama Gov. Kay Ivey, said in an email Saturday.
The New York Times reported on Friday that one approach some Republicans were considering was asking Ivey to order a new date for the election, in order to give the party time to ease Moore from the race.
Supporters attending Saturday's event rallied behind Moore.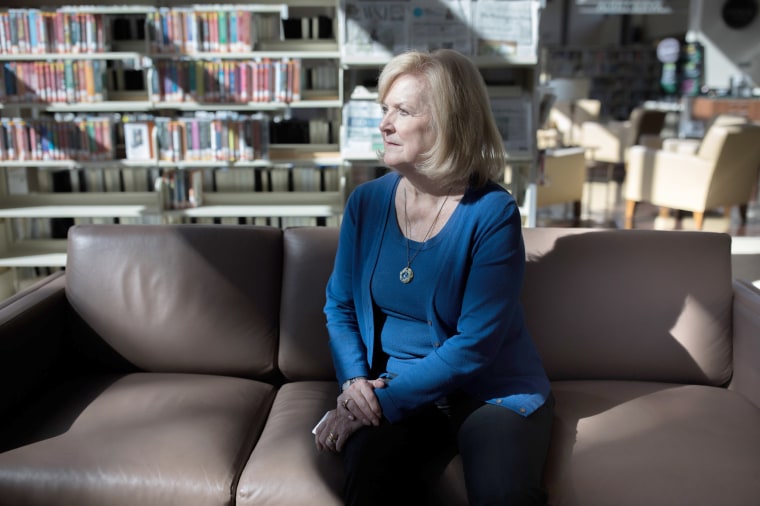 Judy Berneske, a 66-year-old retired computer programmer from Birmingham, admitted that the allegations "would bother me — but only if there was any truth to it."
She accused the media of "fabricating" the story and said she would only back away from Moore "when they have proof."
Sallie Bryant, the chairwoman of the Jefferson County Republican Party, who was also at the event, said "these kinds of allegations are made against people constantly" and that there was no reason to see them as true in Moore's case. "I've know him for 17 years," she said, "and never heard allegations like this against him before."