The highly anticipated debate between Republican Mark Sanford and Democrat Elizabeth Colbert Busch in South Carolina's 1st Congressional District special election didn't disappoint. Sanford accused his opponent of being a Trojan horse for House Democrats, while she accused the former governor of deserting the state for his personal satisfaction.
Both candidates were incredibly feisty at times, and the vitriol between the two in their only meeting before their May 7 faceoff to succeed now-Sen. Tim Scott, R., was palpable.
Sanford repeatedly hammered Colbert Busch — a Clemson University administrator and the sister of comedian Stephen Colbert — for the financial support she's getting from the Democratic Congressional Campaign Committee, the House Majority PAC and donations funneled to her through ActBlue, and for accepting campaign contributions from labor groups.
Sanford's fallback, time and again, during Monday's debate was to tie Colbert Busch to House Minority Leader Nancy Pelosi. When his Democratic opponent only agreed to one face-to-face encounter, Sanford took to debating a cardboard cutout of the former House Speaker on the streets last week.
"It's not believable to me that someone gives you a million dollars and not expect something in return," said Sanford, arguing his Democratic opponent would be a reliable vote for Pelosi.
It's a wise strategy, given that the Lowcountry district is heavily Republican and voted 18 points in favor of GOP nominee Mitt Romney last fall.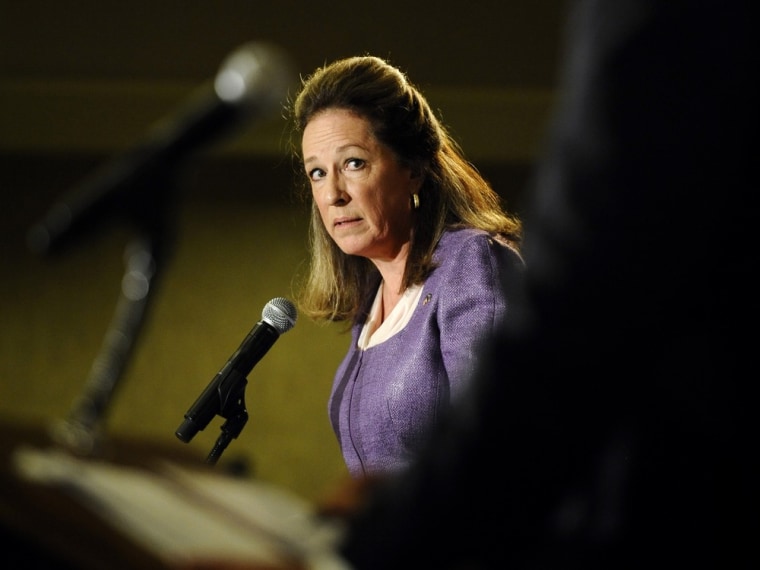 But Sanford's past transgressions and his recent missteps have put the outcome in jeopardy. He navigated a GOP primary despite his 2009 highly public admission of an affair with an Argentinian woman and the following spectacle which seemingly ended his political career until this attempt at a comeback.
Some reported surveys have shown Colbert Busch with a lead over Sanford but operatives on both sides believe the race remains close.
After a recent accusation of trespassing at his ex-wife's home, national Republicans pulled their financial support from Sanford's candidacy.
During a question on the sequester and how to slash federal spending Monday, Colbert Busch saw her chance to pounce on Sanford's affair, and leapt at it.
"When we're looking at fiscal responsibility," said Colbert Busch, "it doesn't mean you take the money we saved and leave the country for a personal purpose."
Sanford said he didn't hear Colbert Busch's rebuttal and turned the question back to the sequester.
At one point in the debate, ideological stars seemed to be crossed, as Colbert Busch compared herself to former Vice President Dick Cheney, while Sanford equated his quest for redemption to that of former President Bill Clinton
On the issue of gay marriage, Colbert Busch acknowledged she was for "full equality," calling the issue "a matter of civil rights and equal protection under the law." And quoting the former vice president, whose daughter is openly gay, argued "Freedom is freedom for everyone."
When he was asked about voting in favor of President Clinton's impeachment when he was asked, Sanford gave one of his most direct answers of the evening about his affair and subsequent disappearance from the state, asking  "Do you think that President Clinton should be condemned for the rest of his life based on a mistake he made in his life?"
Colbert Busch argued repeatedly that she would take pledges from no one each time Sanford said she was too cozy with congressional Democrats. Talking of her struggles as a single mother and how she rose in the business world, at the end of the debate she even promised she would donate 10 percent of her salary back to taxpayers if elected.
"I want to be very clear," Colbert Busch said forcefully at one point. "No one tells me what to do, except the people of South Carolina's 1st Congressional District."
Sanford also criticized his opponent for accepting donations from labor groups, including ones who opposed Boeing's move to Charleston because the state is a right-to-work state.
Colbert Busch said the National Labor Relations Board was wrong in opposing the Boeing move.
Sanford championed the fiscally conservative voting record he amassed during his time in Congress -- "I was in essence against earmarks before being against earmarks was cool," said Sanford -- but Colbert Busch said sometimes that came at the expense of local voters, and pointed often to his vote against funding the dredging the Port of Charleston.
One of Sanford's earliest swipes at his opponent was over a $500 donation she had given to his first campaign for governor, deadpanning that his vote on the Port "must not have bothered her that much."
Colbert Busch rebutted that Sanford "didn't tell the truth...you turned around and did the opposite in supporting the Port."
Sanford made a states' rights argument in his opposition to a federal definition of gay marriage. 
And he criticized Colbert Busch for a series of tweets that had been deleted from her campaign twitter account, including one where she said she was pro-choice. The Democrat didn't back off her position, even in the GOP district though, arguing that such a choice was "an incredibly personal decision between a woman, her doctor, her family and her God.
Sanford said he also would have voted against the gun background check bill, proposed by Sens. Joe Manchin (D-W.Va.) and Pat Toomey (R-Pa.), while Colbert Busch said she supported some increased background checks.
"The Second Amendment isn't there to shoot a duck or a deer," said Sanford. "It's the teeth behind every other right Americans enjoy. You need to be very careful treading upon rights that were guaranteed by our Founding Fathers."