President-elect Donald Trump's pick for secretary of state, Rex Tillerson, said it was a "fair assumption" that Vladimir Putin was involved in Russia's hacking program — adding weight to the chorus of Trump supporters this week pointing to Putin's likely involvement.
Tillerson said a U.S. intelligence assessment that Russia waged cyberattacks to influence the 2016 presidential election "clearly is troubling," but noted that he does not yet have the security clearance to view the full report.
After prodding, he acknowledged during Wednesday's confirmation hearing that such a cyber intrusion would not have happened without Putin's sign off. But the longtime Exxon Mobil CEO told the committee he has not yet spoken to Trump about one Russia, one of the top foreign policy challenges facing the U.S.
"That's pretty amazing," Democratic Sen. Bob Menendez said.
Some of the sharpest questions came from Republican Sen. Marco Rubio, who could be a key vote for Tillerson's confirmation.
"Is Vladimir Putin a war criminal?" Rubio asked, shortly after noting Russia's involvement in the Syrian civil war.
"I would not use that term," Tillerson responded.
Tillerson is facing tough questions from senators on both sides of the aisle about his business dealings with Russia and the president-elect's foreign policy views during his confirmation hearing Wednesday.
Russia's Cyber Attacks 'Clearly Troubling'
Sen. Ben Cardin of Maryland, the committee's top Democrat, said he found it troubling that Tillerson did not mention the Russian hacking in his prepared opening statement or how he will deal with a president-elect who ignored the findings of 17 intelligence agencies and may want to make a quick ally of Putin.
Trump originally called into question the finding of the report that was supported by multiple U.S. intelligence agencies. After being briefed on the matter last week, Trump said nothing hackers did impacted the outcome of his victory.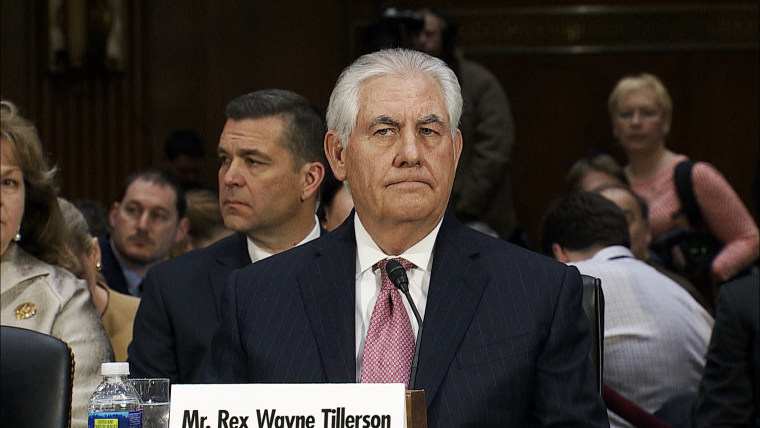 When pressed by Rubio, the secretary of state nominee would not say whether he supports the executive actions taken by President Barack Obama in retaliation to the intrusion.
Sanction Are a 'Powerful Tool'
As a businessman, Tillerson has questioned the effectiveness of sanctions that could negatively impact his company. But on Wednesday said, "Sanctions are a powerful tool, and they're an important tool."
However he would not say whether he would advise the incoming president to support the sanctions put forward in response to the Russian cyber-attacks.
Tillerson has resisted Democrats' claims that he ever lobbied against sanctions, with senators entering multiple lobbying disclosure forms and news reports into the record as proof Exxon lobbied against sanctions.
"It is difficult to think you actually don't know that Exxon was lobbying on the issues of sanctions," Menendez said. Tillerson has previously spoken out against sanctions.
An Openness to Muslim Registry?
The potential next head of the State Department did not rule out support for a registry of Muslim Americans.
"I would need to have a lot more information around how such an approach would even be constructed," Tillerson told Democratic Sen. Jeanne Shaheen. "And if it were a tool for vetting than it probably extends to other people as well, other groups that are threats to the U.S. It would just require me much more information around how that would even be approached."
Alabama Sen. Jeff Sessions dismissed the idea of a registry during his confirmation hearing to become the next attorney general on Tuesday. He did, however, support taking immigrants religion into consideration when determining who can enter the country.
'Weak Response' to Russia's Incursion of Crimea
Tillerson said Russia viewed the reaction to its 2014 incursion into Crimea as a "weak response" that only emboldened Moscow.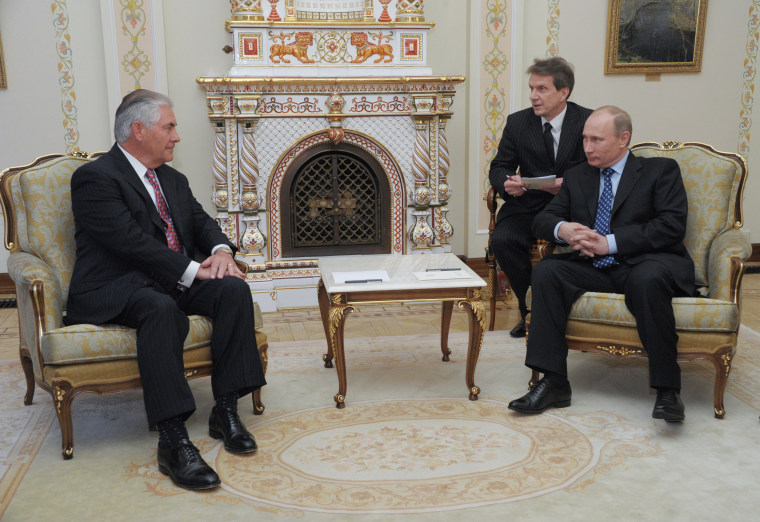 The U.S. should have advised Ukraine to put its entire military might on the Crimea border while providing intelligence support.
"It required a proportional show of force," Tillerson said of the intrusion.
Tillerson: I Won't Tell Trump What to Say
Tillerson did not have much of an answer to concerns from Republican Indiana Sen. Todd Young that Trump could undermine his authority as the nation's top diplomat with a tweet.
"There cannot be space between what you are saying, the policies you are putting forward, and the ones that are embraced by now the president-elect," Young said.
"I don't think I'm going to be telling the boss how he ought to communicate with the American people. That's going to be his choice," Tillerson responded.
Though he has yet to take office, Trump has already taken to Twitter to preview his possible approach to foreign policy. Without warning, he has chided China for not doing more to prevent North Korea from obtaining nuclear weapons and promised the country will not develop nuclear capabilities able to reach the United States under his administration.
When asked if he had any plan to combat Trump possibly undermining him on social media, Tillerson simply said he has the president-elect's cell phone and would call him.
Potential Conflicts With Tillerson's Business Dealings
Tillerson's wealth and his ability to separate his business interests from the interests of the nation will also likely be a major focus of the hearing. The oil man holds almost $500 million in total assets, some of which are in Russian and Chinese companies.
He is an unconventional pick to become the next head of the State Department. But proponents of the businessman say his experience making deals around the globe have prepared him to become one of the nation's top diplomats.
Texas Sens. John Cornyn and Ted Cruz helped introduce Tillerson, along with former Georgia Sen. Sam Nunn and former Secretary of Defense Robert Gates and lauded the businessman's experience as an asset for the position.
"To those who suggest that anyone who can run a successful business can of course run a government agency do a profound disservice to both," Cardin said in his opening remarks.
Cardin said he has "grave concerns" about what Tillerson sees when he looks into Putin's eyes not because Tillerson is naïve, but because Exxon's money helped fund Russia's crushing of opposition voices thru a Putin slush fund.
Risk of Climate Change Does Exist
Tillerson said the risk of climate change does exist and "action should be taken", a departure from Trump's pick to head the Environmental Protection Agency, Scott Pruitt, who questions the impact of climate change.
"The increase in the greenhouse gas concentrations in the atmosphere are having an effect. Our ability to predict that effect is very limited," he said.
However later in the hearing, Tillerson was clear to say there will be no space between him and the president on climate change agreements and all will be under review.