Senator Susan Collins, R-Maine, announced on Sunday that it is "very difficult" for her to envision a scenario in which she would vote for the Graham-Cassidy health care bill, potentially driving a final stake into the heart of the GOP's recent attempt at an Obamacare repeal.
The Republican-controlled Senate would need Collins' vote to pass the bill, as two other Republican senators — John McCain of Arizona and Rand Paul of Tennessee — have already said that they would vote against it.
With 48 Democrats in opposition of Graham-Cassidy, three Republican defections would kill the GOP's latest hope for a repeal.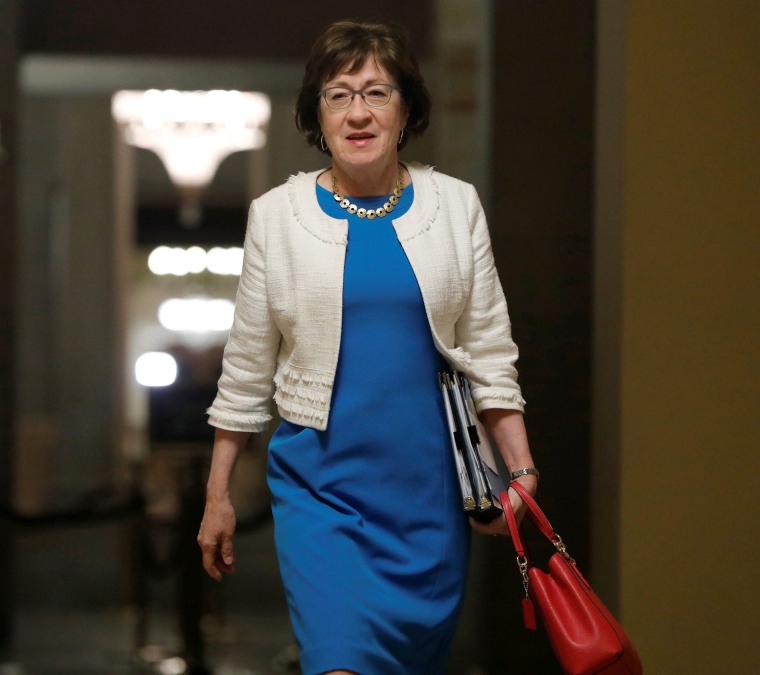 "I have a number of serious reservations about it," Collins told CNN's Jake Tapper, focusing her attention on the bill's impact on Medicaid, insurance costs and coverage.
"We already have a problem under the Affordable Care Act with the cost of premiums and deductibles," Collins added. "And finally I'm very concerned about the erosion of protections for people with pre-existing conditions — like asthma, arthritis, cancer and diabetes — and what it would mean for them."
The new bill, sponsored by Republican Sens. Lindsey Graham of South Carolina and Bill Cassidy of Louisiana, aims to end the Affordable Care Act's requirement for individuals to buy health insurance, would end Medicaid expansion, place new caps on Medicaid spending and force each state to build its own individual health care system with the help of federal block grants.
A Brookings Institution study concluded that 21 million fewer people would have insurance by 2026 if the Graham-Cassidy Health Care Bill passed, though the report claims that their number might understate potential turmoil caused by this change to the health care system.
Brookings also found that if certain federal block grants expired, as they are set to do in 2027, the 21 million without insurance would rise to 32 million people.
Related: Study: 21 Million More Uninsured Under Graham-Cassidy Health Care Bill
Ignoring the divisions over Obamacare repeal, President Donald Trump seemed to escalate tensions with the senators voting against the bill. Trump focused his anger on McCain during a campaign event on Friday, calling the Arizona senators defection "terrible, honestly, terrible."
"It's a little tougher without McCain's vote, but we've got some time," Trump claimed on Friday, prior to Collins' announcement. "We are going to do it, eventually."
Graham and Cassidy seemed to be more confident than the president on Sunday, suggesting that the bill could still pass.
"The only way you'll know how people vote is when you actually vote. We thought we had the votes last time and we didn't," Graham said on ABC's "This Week."
However, shortly after Graham made that statement, Sen. Ted Cruz, R-Texas, told an audience at the Texas Tribune Festival that he isn't yet ready to vote for the bill.
"Right now they don't have my vote and I don't think they have Mike Lee's either," Cruz said at the event, referring to the Republican senator from Utah.
Nevertheless, White House Director of Legislative Affairs Marc Short said on Sunday's "Meet The Press" that the White House expects the Senate to vote on the Graham-Cassidy bill this week.
Legislators would have to pass the Obamacare repeal by Sept. 30 if they want to avoid going through a reconciliation process in January.
Despite the president's continued desire to repeal, Treasury Secretary Steven Mnuchin seemed to change the language a bit on Sunday — suggesting a desire to "fix" ACA rather than repealing it.
"We're about fixing Obamacare," Mnuchin said on CNN after claiming that Trump hoped Democrats would come to the table. "It's broken and it requires people to do a lot of things that they shouldn't be forced to do."
But Graham said that collaborating with Democrats wasn't an option, because he believed that they considered Obamacare as the groundwork for a single-payer health care system.
"[Democrats are] never going to give in to changing Obamacare," Graham claimed on ABC. "They're going to single-payer health care. There is no bipartisan solution to health care that fundamentally changes Obamacare, because there are stakeholders for single-payer health care."