CLEMSON, S.C. — Republican Sen. Lindsey Graham faced a barrage of frustration from rowdy constituents Saturday as questions continued to swirl around the Trump campaign's communications with Russia and the future of replacing Obamacare.
Despite remaining one of President Donald Trump's fiercest intra-party critics, Graham was bombarded by 1,000 mostly anti-Trump attendees at a town hall on the campus of Clemson University. He soaked in cackling jeers as he defended his vote to confirm Education Secretary Betsy DeVos, potential support for the repeal and replacement of the Affordable Care Act and resistance to the issuance of a subpoena for Trump's tax returns.
"I didn't know there were this many liberals in South Carolina," Graham quipped.
His rancorous town hall came one week after four fellow Republican senators visited their home districts for events and received similarly clamorous responses.
Such gatherings are putting a spotlight on how the GOP Party is grappling with how to move forward with several of its key agenda items after a decisive November election victory.
Related: Sen. Rand Paul Is Hunting for the GOP Health Care Bill
Graham, when asked about the future of the Affordable Care Act, told the frustrated crowd that other Republicans have not included him in the bill-drafting process.
"Can I tell you a secret? I don't even know what the GOP plan is," Graham said.
He followed with a message directed toward the Republican lawmakers crafting the possible replacement proposal: "Don't give Lindsey Graham take it or leave it options. Cause I'll leave it. I want to be a part of this. I want you to know what we're doing," he warned.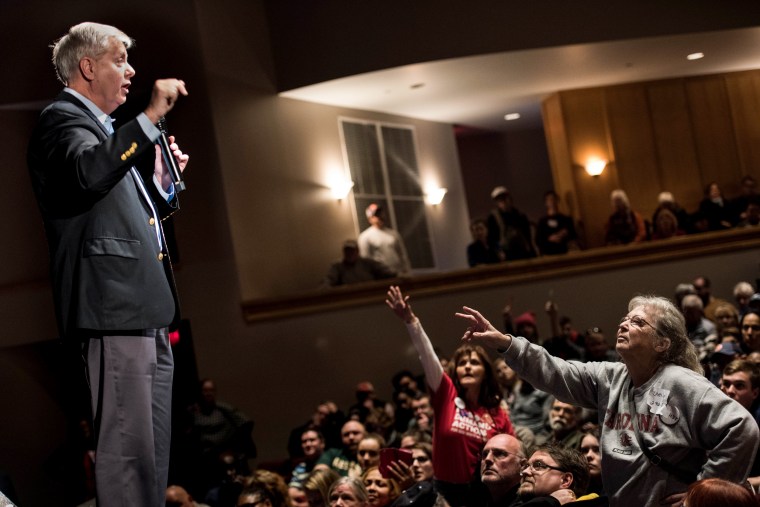 A day earlier, Vice President Mike Pence told reporters to "expect in a matter of days" a "very brisk pace of legislative activity."
But Health and Human Services Secretary Tom Price remained mum Friday about a health care-related proposal when asked by reporters.
It wasn't just Obamacare that had people upset Saturday. Graham found himself in contention with the crowd over the investigation into the Trump campaign's alleged connections to Russia before the November election. He said he met with FBI Director James Comey on Friday and iterated that there is "no evidence" of collusion at this point.
Related: Obama Spokesman Disputes Trump's Wiretapping Claim
But Graham told the gathering that a congressional subcommittee, which he chairs, will investigate Russia's interference in the election and insisted Congress would pass a bill strengthening sanctions on Russia as punishment.
"It's my job as a United States senator to get to the bottom of this," Graham said from the stage.
The attendees asked him five separate times about potential efforts to gain access to the president's tax returns as a way to help understand any ties with foreign entities.
"We can subpoena his tax return," Graham suggested to cheers, before interjecting: "I will do that when I believe there's a reason to do that."
The theater hollered in response, believing there already is a reason to act as many shouted: "Russia!"
Graham was just the fifth Republican senator to hold a town hall in his home district since Trump was sworn in as president on Jan. 20.