Sen. John McCain, R-Ariz., has been diagnosed with brain cancer, the Mayo Clinic said Wednesday in a statement released on behalf of the senator and his family.
Doctors removed a blood clot from above McCain's left eye on Friday.
"Subsequent tissue pathology revealed that a primary brain tumor known as a glioblastoma was associated with the blood clot," the Mayo Clinic said in the statement.
The Mayo Clinic said in the statement that "scanning done since the procedure (a minimally invasive craniotomy with an eyebrow incision) shows that the tissue of concern was completely resected by imaging criteria," or cut out.
"The Senator and his family are reviewing further treatment options with his Mayo Clinic care team. Treatment options may include a combination of chemotherapy and radiation," it said.
The senator's office said in a statement that McCain, 80, is in good spirits.
"Senator McCain appreciates the outpouring of support he has received over the last few days. He is in good spirits as he continues to recover at home with his family in Arizona. He is grateful to the doctors and staff at Mayo Clinic for their outstanding care, and is confident that any future treatment will be effective," the statement said.
"Further consultations with Senator McCain's Mayo Clinic care team will indicate when he will return to the United States Senate," it said.
A glioblastoma is a very aggressive type of brain tumor, said MSNBC's medical correspondent, Dr. John Torres. "It's a malignant tumor, and the problem with it [is] it has arms that spread out from the tumor center itself," he said.
"They [the Mayo Clinic] say in their report they gave us that they got most of the tumor, or at least they think they did. It's very difficult to do that," Torres said.
Support for the Arizona Republican, a former Navy pilot and prisoner of war, spanned both sides of the political aisle. The Republican and Democratic leaders in both houses of Congress wished him well, and former presidents Barack Obama and George H.W. Bush were among those expressing their support.
McCain's daughter Meghan McCain said in a statement: "Cancer may afflict him in many ways: But it will not make him surrender. Nothing ever has."
Related: Colleagues, Admirers Express Support After McCain Diagnosis
President Donald Trump said his thoughts and prayers were with McCain and his family. "Senator John McCain has always been a fighter," Trump said in a statement. "Melania and I send our thoughts and prayers to Senator McCain, Cindy, and their entire family. Get well soon."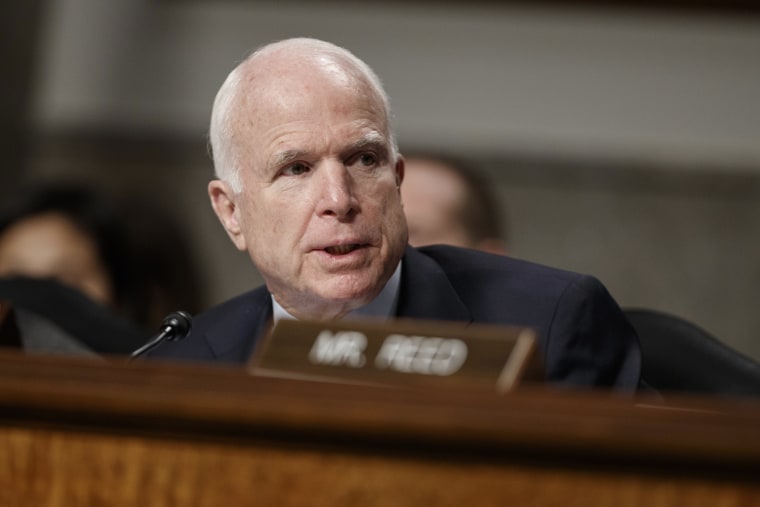 McCain, chairman of the Senate Armed Services Committee, is regarded as a tell-it-like-he-sees-it voice open to crossing the aisle to reach bipartisan agreement.
McCain during the Vietnam War was shot down and was held as a prisoner of war by the North Vietnamese from October 1967 until March 1973. McCain's captors tortured him and held him in solitary confinement. Still, he declined an offer of early release until those who had been at the prison longer than he were let go.
Doctors said last week that the 5-centimeter blood clot was removed at the Mayo Clinic Hospital in Phoenix in a minimally invasive operation following an annual physical. The Mayo Clinic said at the time that the procedure went "very well," and it said Wednesday that "the Senator's doctors say he is recovering from his surgery 'amazingly well' and his underlying health is excellent."
McCain has a history of melanoma, an aggressive form of skin cancer.
In a statement, Senate Republican leader Mitch McConnell of Kentucky called McCain an American hero and said the entire Senate's thoughts are with him.
"He has never shied from a fight and I know that he will face this challenge with the same extraordinary courage that has characterized his life," McConnell said. Senate Democratic leader Chuck Schumer of New York also expressed his support and prayers.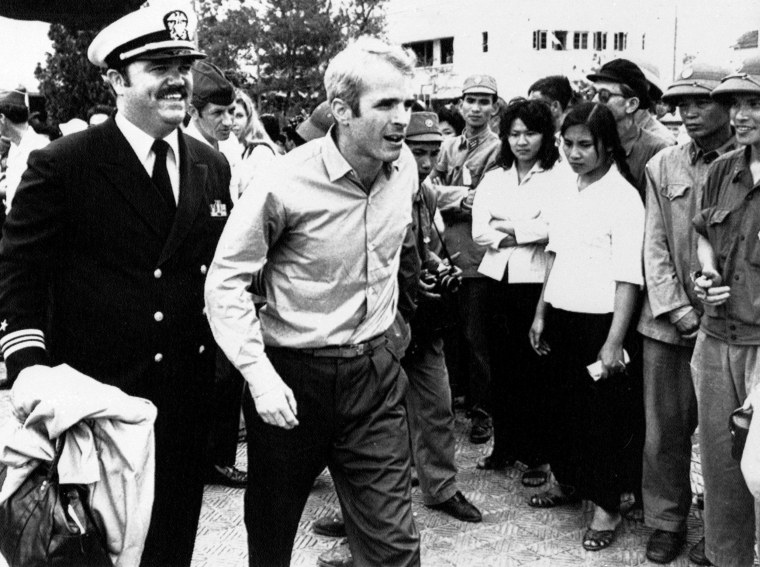 Former President Barack Obama, who defeated McCain in the 2008 presidential election, called his onetime rival an American hero and "one of the bravest fighters I've ever known," adding: "Cancer doesn't know what it's up against. Give it hell, John."
Former President George H.W. Bush also expressed his best wishes, saying in a statement: "The Hanoi Hilton couldn't break John McCain's spirit many years ago, so Barbara and I know — with confidence — he and his family will meet this latest battle in his singular life of service with courage and determination."
Republican Rep. Steve Scalise of Louisiana, meanwhile, tweeted his own best wishes even as he is recovering from injuries suffered in last month's shooting at a Republican congressional baseball practice.
Scalise said he was "praying for my friend" and called the senator "one of the toughest people I know."