Updated at 2:20p.m. ET: President Barack Obama's choice to be secretary of state, Sen. John Kerry, D- Mass, testified Thursday before the Senate Foreign Relations Committee, one day after the same committee conducted a fractious hearing with current Secretary of State Hillary Clinton over last September's attack on the U.S. diplomatic mission in Benghazi, Libya.
Unlike Wednesday's sometimes-contentious hearings, Republicans welcomed Kerry, who is currently the chairman of the same committee, warmly at the outset.
Sen. John McCain R-Ariz. joined Clinton and Sen. Elizabeth Warren D-Mass. in introducing the nominee, with McCain praising him for "exemplary statesmanship" in his work on an accord to allow opening of normal diplomatic relations with Vietnam in 1995.
But while the hearing remained cordial, Kerry came under bipartisan pressure on the question of the civil war in Syria in which more than 60,000 have been killed.
Kerry has met several times over the years with Syrian leader Bashar al-Assad.
Recommended:Hillary's honeymoon with GOP ends
McCain, part of a bipartisan group of senators which just got back from a trip to the Mideast and visited camps where Syrian refugees are living, told Kerry they feel "an anger and frustration" and believe that the United States is indifferent to their suffering.
One Syrian teacher told McCain and the other senators, "This next generation of children will take revenge on those that that did not help them." McCain added, "We are sowing the wind in Syria and we are going to reap the whirlwind."
He said "We can do a lot more, without putting boots on the ground" – such as a no-fly zone – and he complained that "all I get, frankly, from the (Obama) administration is the fall of Assad is, quote, 'inevitable.' I agree, but what about what happens in the meantime?"
Another member of the delegation that toured the Middle East, Sen. Chris Coons, D- Del., complained to Kerry that U.S. humanitarian aid intended for Syrian refugees "has not reached the people on the ground."
In response to both Coons and McCain, Kerry said "if you have a complete implosion of the state" in Syria after Assad's fall, it would greatly increase the risk that Assad's chemical weapons arsenal would fall into the wrong hands.
Kerry also said that "we need to change Bashar Assad's calculation. Right now President Assad doesn't think he's losing -- and the opposition thinks it is winning." Kerry said the goal of U.S. policy is a peaceful transition to a new government. He said he hoped to confer with the Russian government, a major supporter of Assad, and with others and "increase the readiness of President Assad to see that the die is cast, the handwriting is on the wall…."
Coons told Kerry, "We frankly face a very narrow window to make a difference on the ground in support of the opposition."  
"I get it," Kerry answered, saying he did not want to "wind up with them (members of the anti-Saddam Syrian opposition) blaming you" for not doing more to remove Assad from power. But Kerry voiced worry about who would control the country if Assad were forced out of power.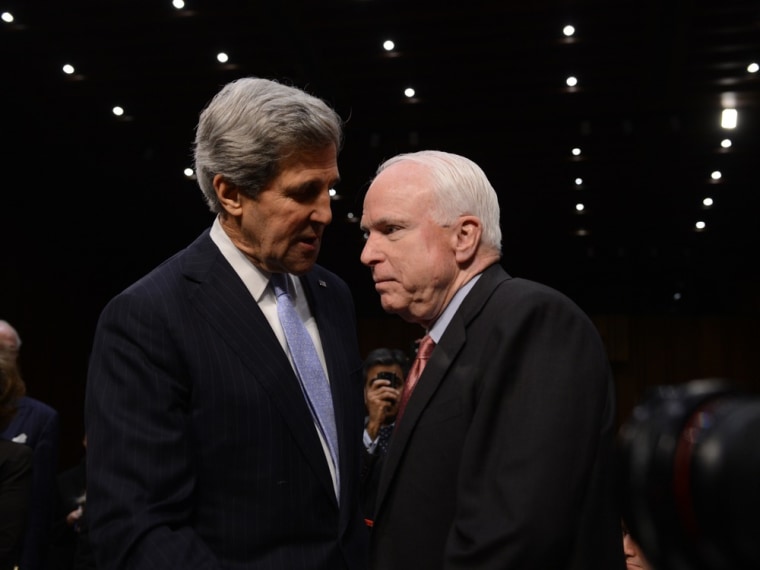 The committee's ranking Republican, Sen. Bob Corker of Tennessee, asked Kerry about Obama's nominee to be defense secretary, former Sen. Chuck Hagel and his support for Global Zero, a group which calls for the total abolition of nuclear weapons.
Kerry said Hagel would be "a strong secretary of defense secretary" and that Hagel would not weaken the U.S. nuclear arsenal which serves as a deterrent to an attack on the United States.
A world without any nuclear weapons, Kerry said, was a goal "worth aspiring to," but "we're not talking about today's world" and it might take "many centuries" to achieve abolition of nuclear weapons.
Recommended: Jindal to warn fellow Republicans of 'obsession' with D.C. battles
Kerry also addressed Iran's nuclear program.
"The president has made it definitive--we will do what we must to prevent Iran from obtaining a nuclear weapon," he said in his opening statement to the committee. "I repeat here today: our policy is not containment. It is prevention and the clock is ticking on our efforts to secure responsible compliance."
He added, "No one should mistake our resolve to reduce the nuclear threat."
He said Obama "knows that American foreign policy is not defined by drones and deployments alone. We cannot allow the extraordinary good we do to save and change lives to be eclipsed entirely by the role we have had to play since September 11th, a role that was thrust upon us."
Referring to the impasse over reducing budget deficits and the growing national debt, Kerry said to the committee members that "the first priority of business which will affect my credibility as a diplomat – and our credibility as nation – as we work to help other countries create order, is whether America at last puts its own fiscal house in order."
In his opening statement, Kerry showed one brief moment of emotion. His voice shook when he referred to his father, who was a Foreign Service officer. Kerry said he was proud that "the Senate is in my blood – but equally proud that so too is the Foreign Service. My father's work under presidents both Democrat and Republican took me and my siblings around the world for a personal journey that brought home the sacrifices" that American diplomats abroad make or their country.