The Senate on Thursday passed a Republican budget resolution that would pave the way to use a special procedural rule to consider tax reform later this year.
The $4 trillion budget blueprint passed 51-49, with all Democrats and one Republican, Sen. Rand Paul of Kentucky, voting against it, saying the budget "simply didn't measure up and spent too much."
The vote sets the stage for debate later this year to dramatically overhaul the U.S. tax code, cutting rates for individuals and corporations while clearing away trillions of dollars' worth of deductions and special-interest tax breaks.
Senate Majority Leader Mitch McConnell said on Twitter with the budget resolution passed "it's time to take advantage of this once-in-a-generation opportunity & pass #TaxReform."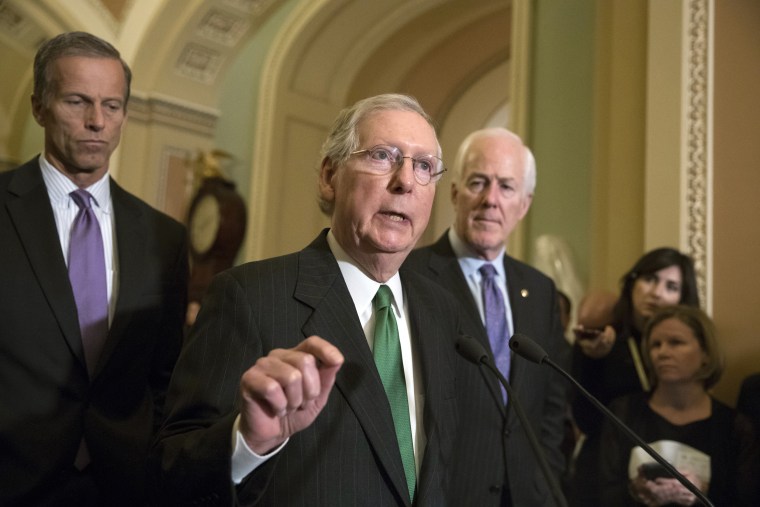 The bill now goes to the House, which is expected to pass it without having to negotiate a compromise bill, a process called "going to conference."
The Senate bill isn't expected to have to go to conference with the House version because "technical changes" were made to the legislation in the Senate to accommodate objections in the House, a senior Senate GOP aide said.
The budget allows for $1.5 trillion in tax reform using the same procedure, called reconciliation, that Republicans tried to use to pass a bill to repeal and replace the Affordable Care Act. The tax cuts would add up to $1.5 trillion to the deficit over the coming decade.
Related: Trump Tax Plan a Boon for the 1 Percent, New Analysis Finds
Reconciliation is a way for the Senate to pass certain budget-related bills with only 50 votes; typical Senate procedure requires 60 votes to bypass a filibuster. The efforts to pass health care reform by reconciliation failed.
House Speaker Paul Ryan, R-Wis., applauded the Senate vote, saying in a statement, "This action keeps us on track to enacting historic tax reform that will mean more jobs, fairer taxes, and bigger paychecks for American families."
"We want Americans to wake up in the new year with a new tax code, one that is simple and fair," Ryan said.
Sen. Bernie Sanders, independent of Vermont, said in the Senate Thursday: "This is not a bad budget bill. It is a horrific budget bill."
"At a time of massive income and wealth inequality, this budget provides $1.9 trillion in tax breaks for the top 1 percent," Sanders added.
President Donald Trump applauded passage of the Senate budget resolution in a statement Thursday, calling it "an important step in advancing the Administration's pro-growth and pro-jobs legislative agenda" that creates a pathway for tax reform.