Many Americans have taken to Twitter and Facebook to charge that Rep. Paul Ryan of Wisconsin, the Republican vice presidential nominee, isn't as conservative as he's made out to be, according to NBCPolitics.com's computer-assisted analysis of social media commentary since his selection as Mitt Romney's running mate this month.
NBCPolitics.com's social media analysis indicates that criticism of his voting record in the House — from both the left and the right — is the leading driver of negative commentary about Ryan, the ranking Republican on the Budget Committee, who has been embraced by many in his party as its leading deficit hawk.
Nearly a third of negative commentary on Twitter and Facebook since Ryan emerged on the ticket notes his support for the Troubled Asset Relief Program — the $700 billion bank bailout that President George W. Bush signed into law in October 2008 — and his votes for federal budgets endorsed by Bush:



Such posts have helped make Ryan's alleged hypocrisy on the budget the No. 1 complaint among social media commenters — more prominent, even, than moderate and liberal objections to his proposals to dramatically cut benefits, including Medicare: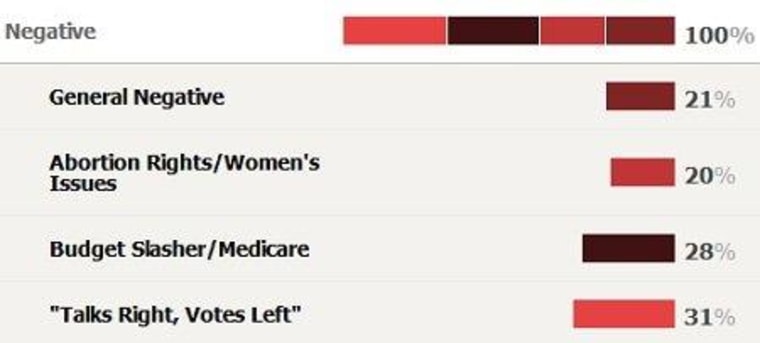 NBCPolitics.com uses a tool called ForSight, a data platform developed by Crimson Hexagon Inc., which many research and business organizations have adopted to gauge public opinion in new media. It isn't the same as traditional surveys, which seek to reflect national opinion; instead, it's a broad, non-predictive snapshot of what's being said by Americans who follow politics and are active on Facebook, Twitter or both at a particular moment in time, and why they're saying it.
NBCPolitics.com social media analysis: At the keyboard, Americans slightly prefer Romney

More social media analysis from NBCPolitics.com

Since Aug. 10, the volume of online commentary about Ryan has dwarfed that about Vice President Joe Biden — by a ratio of nearly 12:1. That stands to reason: The vice presidential data cover only the 18 days since Ryan's selection broke in the media, a period during which he has been in a bright spotlight as Americans get to know him. And as part of the challenger's ticket, Ryan has a more prominent role as a campaign spokesman than Biden does, generating even more disproportionate coverage and commentary.
Overall, Ryan sentiment has swung within a narrow band of 45 percent to 49 percent positive since the day after his selection, when 53 percent of Twitter and Facebook commentary was favorable.
Track the social media discussion on NBCPolitics.com
Commentary about Biden has been not only less prominent but also more critical, running at 65 percent negative since Aug. 10. Biden's reputation for misspeaking is his biggest Achilles' heel:
But a surprising proportion of his negative sentiment has to do with his religion:
In 2008, Biden's Catholicism was discussed and debated, but it wasn't seen as a major factor in the campaign. Indeed, exit polling data indicate that the Obama-Biden ticket won 54 percent of the Catholic vote in 2008 — almost identical to the 53 percent the ticket won as a whole.
Ryan is also Catholic, which means that for the first time, Catholic voters are being asked to consider two national candidates who share their faith. Many of them are siding with Ryan, whose positions on abortion rights and same-sex marriage align much more closely with Vatican doctrine:
A smaller proportion of comment represents the "social justice Catholic" viewpoint, with which Biden has aligned himself:
One thing commenters of all stripes agree on is that they're eagerly awaiting the debate Oct. 11 between Ryan, a polished speaker who is considered a forceful advocate for his positions, and Biden, whose conversational, shoot-from-the-hip style many Democrats find endearing, even when it lands him in hot water: