Bowing to public and Congressional pressure, Deputy U.S. Attorney General Rod Rosenstein appointed former FBI Director Bob Mueller on Wednesday to be a special counsel overseeing the investigation into Russian interference in the 2016 campaign, Justice Department officials said.
Mueller will take command of the prosecutors and FBI agents who are working on the far reaching Russia investigation, which spans multiple FBI field offices on both coasts.
"In my capacity as acting Attorney General, I determined that it is in the public interest for me to exercise my authority and appoint a Special Counsel to assume responsibility for this matter," Rosenstein said in a statement. "My decision is not a finding that crimes have been committed or that any prosecution is warranted. I have made no such determination. What I have determined is that based upon the unique circumstances, the public interest requires me to place this investigation under the authority of a person who exercises a degree of independence from the normal chain of command."
Mueller led the FBI for 12 years under Presidents George W. Bush and Barack Obama. He is second only to J. Edgar Hoover for longest tenure for an FBI chief.
Mueller has agreed to resign from his private law firm in order to avoid any conflicts of interest, the AG's office said.
Related: Manafort, Flynn Are Key Figures in Probe Mueller Will Lead
"I accept this responsibility and will discharge it to the best of my best," Mueller said in a statement.
President Donald Trump, who did not mention Mueller by name, said in a statement Wednesday evening that he looked forward "to this matter concluding quickly."
"As I have stated many times, a thorough investigation will confirm what we already know — there was no collusion between my campaign and any foreign entity," he said in the statement. "I look forward to this matter concluding quickly. In the meantime, I will never stop fighting for the people and the issues that matter most to the future of our country."
A spokesperson for the Department of Justice told NBC News the White House's Counsel's Office was informed of the appointment of a special counsel after the order was signed this afternoon, but did not provide a specific time.
The FBI, with the help of the Treasury Department, the CIA and other agencies, has been examining evidence of possible contacts, money transfers and business relationships between a variety of Trump's associates and Russian officials, sources say.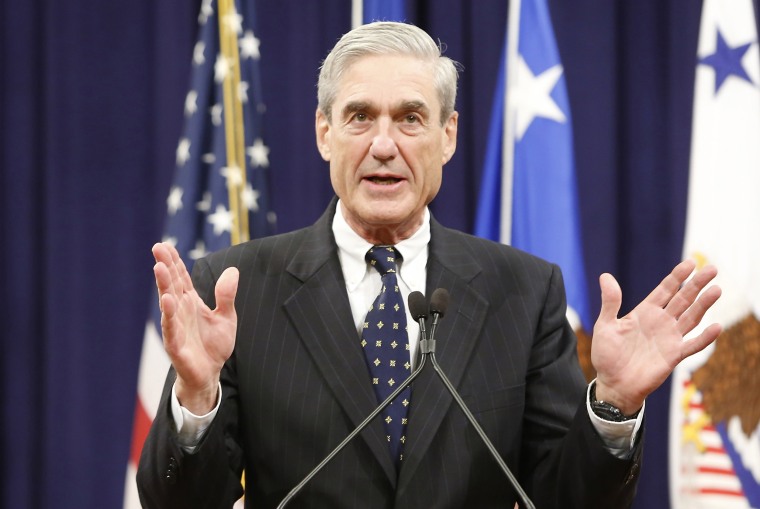 The investigation goes well beyond a possible American connection, to include how Russian intelligence services carried out the campaign of fake news and leaking hacked emails that intelligence officials say was meant to hurt Hillary Clinton and benefit Trump.
But the question of whether Trump associates colluded with Russia is consuming public interest. No evidence has surfaced publicly linking Trump himself to the Russian interference effort.
Senate Majority Leader Mitch McConnell, R-K.Y., said Mueller's appointment "confirms that the investigation into Russian intervention into our election will continue, as stated last week by Acting FBI Director Andrew McCabe.
"The Senate Select Committee on Intelligence will also continue its investigation into this matter," he said in a statement.
Related: Here Are Three Ways to Have an Independent Russia Inquiry
House Speaker Paul Ryan said, "My priority has been to ensure thorough and independent investigations are allowed to follow the facts wherever they may lead.
"The addition of Robert Mueller as special counsel is consistent with this goal, and I welcome his role at the Department of Justice. The important ongoing bipartisan investigation in the House will also continue," he added in a statement.
Rep. Jason Chaffetz, R-Utah and the chairman of the House Oversight Committee, called Mueller a "great selection."
Senate Intelligence Committee Chair Richard Burr, R-N.C., and Vice Chairman Sen. Mark Warner, D-V.A., said in a joint statement that the appointment was "a positive development and will provide some certainty for the American people that the investigation will proceed fairly and free of political influence."
The committee is conducting its own investigation into Russian meddling in the 2016 election,and Burr and Warner said in their statement that it "will continue its own investigation."
Senate Minority Leader Chuck Schumer, D-N.Y., said a special counsel had been "very much needed" and that Rosenstein had "done the right thing."
"Former Director Mueller is exactly the right kind of individual for this job," Schumer said in a statement. "I now have significantly greater confidence that the investigation will follow the facts wherever they lead."
And House Minority Leader Nancy Pelosi, D-Calif., said Mueller was "a respected public servant of the highest integrity," but said more still needed to be done.
"The Trump administration must make clear that Director Mueller will have the resources and independence he needs to execute this critical investigation," she said in a statement.
"A special prosecutor is the first step, but it cannot be the last. Director Mueller will still be in the chain of command under the Trump-appointed leadership of the Justice Department," she said. "He cannot take the place of a truly independent, outside commission that is completely free from the Trump Administration's meddling. "
Former Attorney General Eric Holder said, "As long as his character is appropriately defined and he is properly resourced, this is a good move."
"There is much that warrants investigation involving people at the highest levels of the executive branch," Holder said in a statement. "I'm confident he can and will do that. The country is owed that."
The last special counsel was Patrick Fitzgerald, who was tapped in 2003 to investigate the leaking of a CIA operative's name.
Under Justice Department regulations issued in 1999, a special counsel is not fully independent of the Justice Department.
According to a Congressional Research Service report, the attorney general — or in this case, Rosenstein, since Attorney General Jeff Sessions has recused himself — must be notified of any specific actions the special counsel intends to take, and has the ability to countermand those proposed actions.
Modern special counsels have less independence than the special prosecutors employed during the Watergate investigations of the 1970s, who were appointed under a law that has now expired.