As the chief executive of ExxonMobil, Rex Tillerson presided over a well-oiled corporate machine.
But as secretary of state, Tillerson must now steer a sprawling government bureaucracy that appears to be stuck in place.
Tillerson has vowed to overhaul the State Department to make it more efficient, but, more than four months into his tenure, the department seems gripped by paralysis as candidates for senior positions languish.
All the while, veteran diplomats wait for hints of how the secretary might reshuffle an agency of more than 75,000 employees.
Tillerson is clearly frustrated. Asked by reporters last week whether he was satisfied with the pace of hiring in the main diplomatic wing of the U.S. government, Tillerson said bluntly: "No. I'd like it to go faster."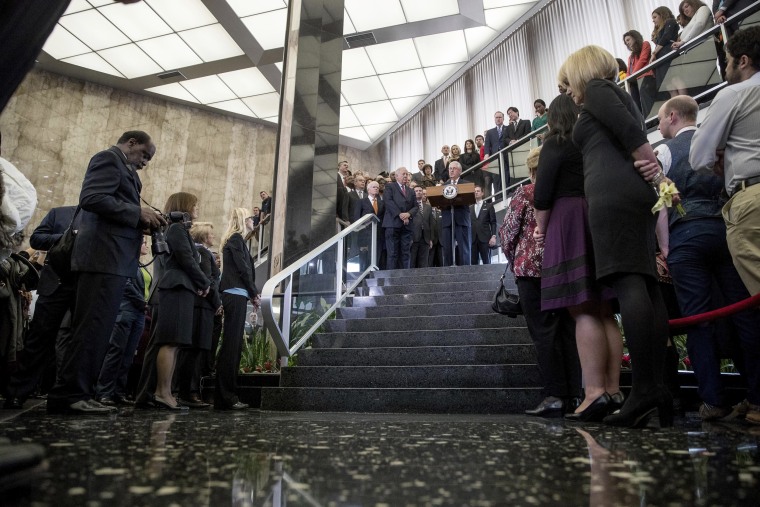 There are scores of key roles that require political appointments — from bureau chiefs to ambassadors — for which the Trump administration has failed to nominate candidates. In many cases, open senior positions are still staffed by career diplomats who lack the authority that would come with having been hand-picked by the current administration.
"There is a deleterious effect on U.S. foreign policy, because these individuals do not have the status that goes with presidential appointment and Senate confirmation," said Thomas Countryman, a veteran diplomat who has served under Democratic and Republican administrations.
Related: Trump's Footloose Foreign Policy Keeps His Own Team Guessing
When it comes to filling key senior jobs at the State Department, the Trump administration lags behind its recent predecessors. At this point in President Barack Obama's first term, more than 70 nominations for key State posts had been sent to the Senate for confirmation; at this point in President George W. Bush's first term, more than 60 nominations had been submitted. The Trump administration has sent fewer than 30.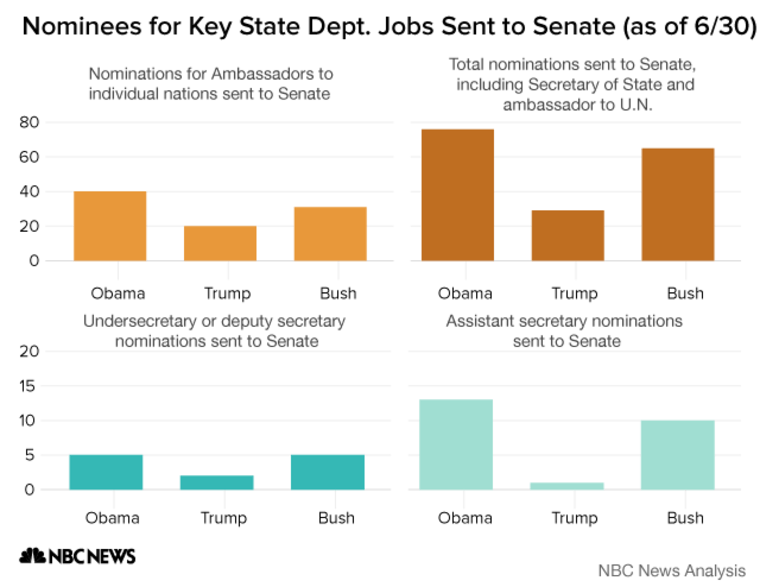 The staffing hold-up appears to be partly by design. Tillerson has kept in place a partial hiring freeze, and he is bracing for a proposed 30 percent budget cut at State and the U.S. Agency for International Development, the agency responsible for administering civilian foreign aid.
But the sluggish pace at which essential roles are being filled also appears to stem from friction between Tillerson and the White House, according to several administration officials.
Tillerson recently lashed out at White House officials, according to Politico, complaining that the Trump team had repeatedly scuttled his choices for senior roles.
In response to the report, R.C. Hammond, a senior adviser to Tillerson, said both sides were working it out and called it a case of "political pressure versus the practicality of diplomacy."
Trump vetoed Tillerson's pick for a deputy, former State Department official Elliott Abrams, because he had criticized Trump during the 2016 presidential campaign. A compromise apparently was reached with the recent confirmation of John J. Sullivan for that role.
Sen. Bob Corker, R-Tenn., chairman of the Foreign Relations Committee, told NBC News that he wasn't sure why the administration hasn't put forward more candidates. In conversations about the process, he said, "the finger goes both ways."
"I'd love to have a full complement of people at the State Department," Corker said. "They're not there. Nothing I can do about it. They haven't made decisions yet about what they wish to do."
Tillerson testified to Congress last month that the reorganization of his department wasn't expected to start in earnest until the end of the year — at the earliest.
"You can't get policy direction from somebody who's got the word 'temporary' on their door."
He praised the career Foreign Service officers who have stepped up to fill senior roles, calling them "remarkably good people, competent, dedicated."
Almost all of the vacant positions at State are currently filled by veteran foreign or civil service officers, many of whom have spent years focused on particular policy issues.
"The acting assistant secretaries are excellent people," said Countryman, who was ousted from State in January. "It's not as if there is nobody there doing those jobs."
But virtually all of those longtime civil and foreign servants joined the federal government under previous Democratic and Republicans administrations — and they don't necessarily have the express backing of the 45th president.
"You can't get policy direction from somebody who's got the word 'temporary' on their door," Rep. Brad Sherman, D-Calif., said at a House Foreign Affairs Committee meeting last week.
There are essentially two types of State Department employees — career Foreign Service officers and political appointees. Career officers, who serve three-year terms, need sign-off from the White House and the Senate, a process that generally goes quickly. Political appointees, who typically serve until the inauguration of the next president, are tapped by the White House and go through a much longer Senate confirmation process.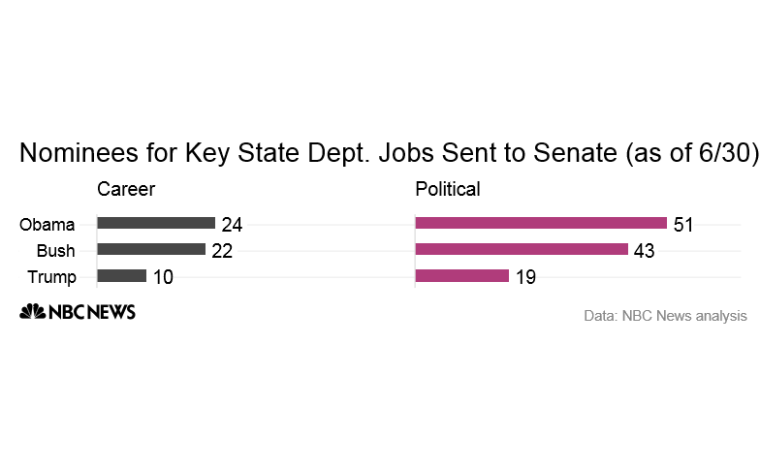 Tillerson, for his part, has signaled his support for incumbent employees.
"I have great confidence in them. They travel with me when I go overseas," Tillerson told the House Foreign Affairs Committee last month. "These are people that help me develop the policy. They are executing the policy, and they're doing an extraordinary job."
Tillerson is known to rely on Acting Assistant Secretary Susan Thornton, a Foreign Service officer who heads the Bureau of East Asian and Pacific Affairs. Thornton, who joined the State Department in 1991, traveled with Tillerson to Beijing and to Mar-a-Lago, Trump's Florida estate, for the president's summit with Chinese President Xi Jinping.
Francisco Palmieri, another career Foreign Service officer and acting head of the bureau largely responsible for U.S. foreign policy in the Western Hemisphere, has received similar access and favor from the secretary.
But in many other instances, the lack of newly confirmed senior staffers has created uncertainty. And the leadership vacuum means many bureaus and offices are disconnected from top brass.
"Reorganization should never be a taboo subject," said Ásgeir Sigfússon, communications director for the American Foreign Service Association, the union that represents Foreign Service officers.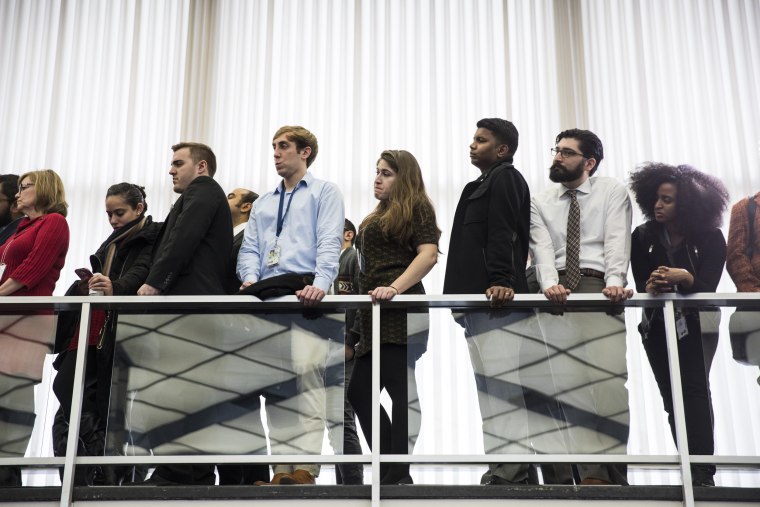 Sen. Ben Cardin of Maryland, the ranking Democrat on the Foreign Relations Committee, told NBC News that regional leadership roles must be filled so U.S. personnel "out in the field doing the missions" can act with confidence and "speak to the people they supervise with authority."
Related: Trump Administration Under Fire for Failing to Appoint Anti-Semitism Envoy
No one has been appointed to lead the Bureau of South and Central Asian Affairs, for example, and no career Foreign Service officer has been designated to fill in in the interim. The future of other important offices in the region is uncertain.
Laurel Miller, the acting special representative for Afghanistan and Pakistan, and Jonathan Carpenter, the office's acting principal deputy assistant, both left their positions recently. It hasn't been decided what will happen to the office under the agency's restructuring.
U.S. ambassadors to dozens of countries have yet to be nominated. Sigfússon, the Foreign Service union spokesman, said that isn't entirely unusual, as the rotation of ambassadors happens in every administration.
In the absence of appointed ambassadors, career diplomats are acting as de facto interim chiefs, known as chargés d'affaires, at U.S. embassies around the world.
"The chargés d'affaires are well-qualified people," Countryman said. "But they don't have the same status, the same connections and the same visibility that an ambassador would have."
Rep. Eliot Engel of New York, the ranking Democrat on the Foreign Affairs Committee, struck a similar chord at a hearing recently.
The "career diplomats keeping the seats warm are capable and devoted public servants," he said. "But they aren't able to direct our foreign policy."