As many as 32 states — and online fantasy sports companies like DraftKings — are already prepared to bet big on sports gambling after Monday's Supreme Court decision opened the door to legalization nationwide. But first they'll have to work with the leagues, most of which opposed allowing betting on their games, to create a set of rules.
Even before the 6-3 decision — striking down the Professional and Amateur Sports Protection Act, or PASPA, which had required states to ban gambling on the outcome of sporting events — state lawmakers across the country had wagered that sports gambling could become legal by summer and had either passed or begun crafting legislation to allow it. (Currently, sports gambling is only allowed in Nevada. The state was grandfathered in to the PASPA.)
"If you look at what states had already written legislation or shown interest in regulating sports betting and how interested other commercial stakeholders are in making this happen, we're looking at legislation allowing this to move forward in at least 32 states," said Chris Grove, the managing director of sports and emerging verticals at Eilers & Krejcik Gaming LLC, a research firm focusing on the gaming sector.
"The X-factor is whether or not, or to what degree, professional sports leagues and gambling industry stakeholders can reach consensus on a way forward," he added. "There remains quite a bit of distance of how these two groups view sports betting."
Following the ruling, many of the major U.S. sports leagues indicated a willingness to work with betting operators to create a regulatory and legal framework — indicating that bridging the gap is possible. But some called for Congress to intervene and create a uniform set of rules, as did at least one lawmaker.
Sen. Orrin Hatch, R-Utah, said in a statement Monday that he would introduce legislation "in the coming weeks" that would "protect honesty and principle in the athletic arena."
The National Basketball Association and National Football League called for a federal framework that would apply to all states moving forward with sports gambling legislation.
"We remain in favor of a federal framework that would provide a uniform approach to sports gambling in states that choose to permit it, but we will remain active in ongoing discussions with state legislatures," NBA Commissioner Adam Silver said in a statement. "Regardless of the particulars of any future sports betting law, the integrity of our game remains our highest priority."
The NFL said in a statement that it would ask Congress to "enact a core regulatory framework for legalized sports betting."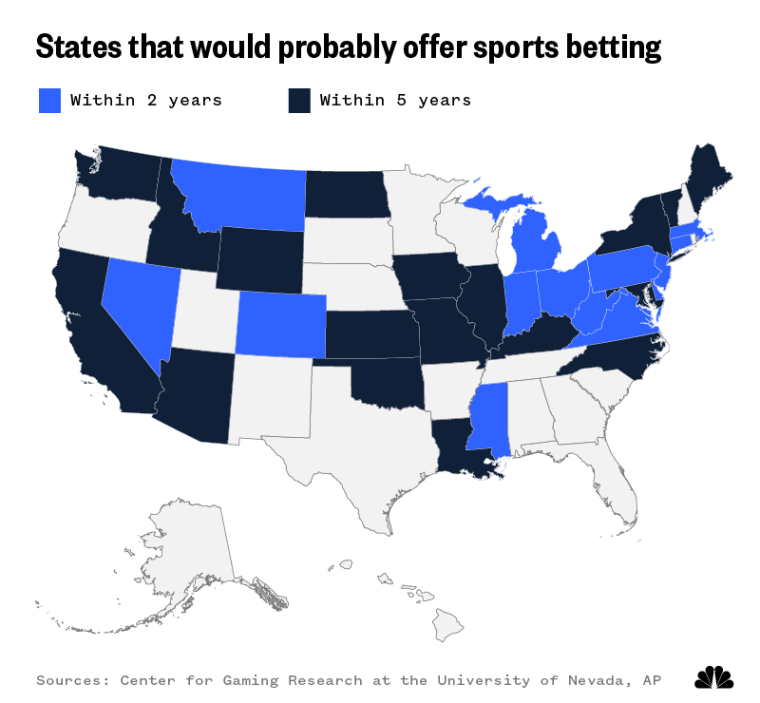 Major League Baseball said it would "continue to support legislation that creates air-tight coordination and partnerships between the state, the casino operators and the governing bodies in sports toward that goal."
In its ruling, the Supreme Court did not specify whether the new landscape should be regulated federally or on a state-by-state basis.
"The legalization of sports gambling requires an important policy choice, but the choice is not ours to make. Congress can regulate sports gambling directly, but if it elects not to do so, each state is free to act on its own," Justice Samuel Alito wrote in the majority opinion.
And while different states have taken, pre-emptively, different approaches in crafting legislation, a federal solution could still be possible.
"The rapid rise of the internet means that sports betting across state lines is now just a click away," Hatch said. "We cannot allow this practice to proliferate amid uneven enforcement and a patchwork race to the regulatory bottom."
Indeed, a number of online fantasy sports companies, and traditional gaming firms, said Monday they had already placed their bets on a favorable court ruling and were taking steps to make sure they cash in — and soon.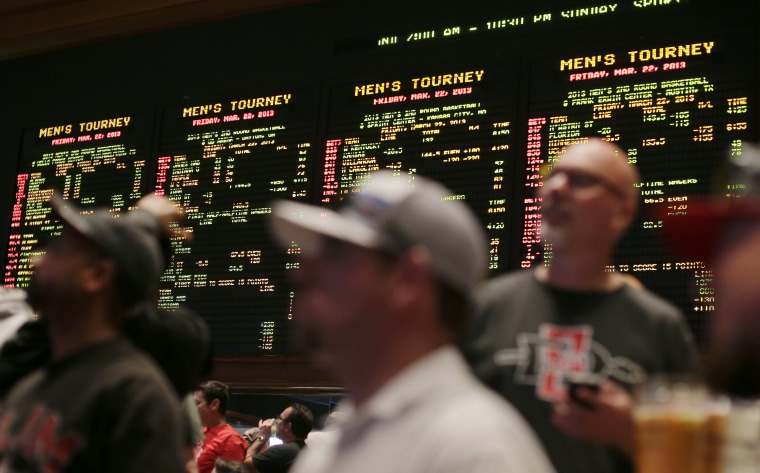 DraftKings said in a statement that the company had been preparing to launch a mobile sports betting platform since 2017 and was already working with state regulatory officials to apply for operating licenses in the states that already passed legislation authorizing sports betting in anticipation of Monday's ruling.
If the platforms follow through, it could give way to an explosion of media companies who could then get in on the bonanza, too, by creating content about sports betting and sports betting advice.
How stakeholders would work together with leagues and lawmakers — either in states or in Washington — to draw up the specific regulatory framework that would satisfy all players, however, remains the million-dollar question.
Leagues are concerned about maintaining the integrity of their games, while most stakeholders have money on their mind, gaming experts told NBC News. Meanwhile, states rake in taxes and team owners stand to gain financially from the heightened interest and viewership that they believe increased betting will foster.
There are still a number of thorny issues to work out.
"Leagues want sports betting operators to be required to use league-approved sources of data for setting lines and bets," Grove explained to NBC News. "And they want the power to be able to stop betting on minor leagues, where players are earning less money and are more vulnerable to bribes."
Grove added that leagues also want the power to not allow certain kinds of in-game bets, "like will the next pitch be a ball or a strike" or "will there be plus or minus 38 free throws in this game."
Enforcement, whether undertaken primarily by leagues or regulators, would likely involve two pillars, according to Andy Cunningham, the director of global strategy integrity services at Sportradar, an integrity monitoring service used by sports leagues in other countries.
The first is the technology to detect fixing and other crimes, while the second is a cooperation framework for investigating possible crimes, Cunningham said.
But making sure leagues and schools are in compliance can be expensive — and ineffective, especially in college sports, said Tom McMillen, the president and CEO of the NCAA Division I Athletic Directors Association, which recently rebranded itself as Lead1.
"These kids are vulnerable," he said, referring to student athletes, who are not paid. "When the fix is more in your face and there's a larger incentive to take it, with all the money that will be floating around, these kids are going to be very vulnerable to things like point-shaving scandals."
"Universities are going to have pay a lot to make sure they're protected," he added, explaining why the NCAA in particular had remained opposed to legalized sports betting. "If they don't find a way to protect them with resources to make sure there is proper compliance, you're going to face some major scandals down the road."
States, teams and leagues, however, all stand to gain financially from the development, which could help the factions work together.
"I think everyone that owns a top four professional sports team saw the value of their team double," Mark Cuban, the billionaire tech mogul who owns the NBA'S Dallas Mavericks, told CNBC.