OGDENSBURG, N.Y. — In the wake of Saturday's mass shooting in Buffalo, Rep. Elise Stefanik, R-N.Y., has drawn national attention for echoing the kind of white nationalist "great replacement" theory rhetoric purportedly embraced by the suspect.
But Stefanik — who recently accused Democrats of conspiring with pedophiles to provide baby formula to immigrants and promoting lax border policies in order to bring about a "permanent election insurrection" — is a prominent advocate for creating a path to citizenship for undocumented farm workers here in her district and across the country.
While Stefanik often says she opposes "mass amnesty," House conservatives say that's exactly what would ensue if the bill she backs becomes law.
The contradiction highlights key tension points in a Trump-era political transformation that has catapulted Stefanik from moderate back-bencher to chair of the House GOP Conference, the party's No. 3 leadership post in the chamber. Now, as she eyes a promotion to party whip if Republicans win control of the House, political insiders are wondering whether she has changed in pursuit of power or if power has revealed her.
"Her rhetoric has certainly changed," said former Rep. Carlos Curbelo, R-Fla., a member of Stefanik's freshman class in the House in 2015. "I don't know if her views have changed."
But here in Stefanik's district— a vast expanse of farmland stretching across 15,000 square miles of northeastern New York — from Glens Falls north to the Canadian border — most Republican voters simply don't care whether she's shifted.
They see a congresswoman focused on the practical needs of New York's 21st Congressional District, including ensuring a stable farm-worker population, and on gaining influence for them.
"She's upfront and honest and she says what she thinks, and not what she thinks you want to hear. She's the same Elise she's always been, she fights for us, for our farms and our hospitals," said Sid Bogart, a 74-year-old retired corrections officer from Lisbon, a small town in St. Lawrence County.
Interviews with nearly a dozen voters and local Republican officials across New York's "North Country" revealed a constituency that largely contends Stefanik hasn't moved to the right. Still, some said their own views had shifted — and applauded Stefanik for keeping pace with them.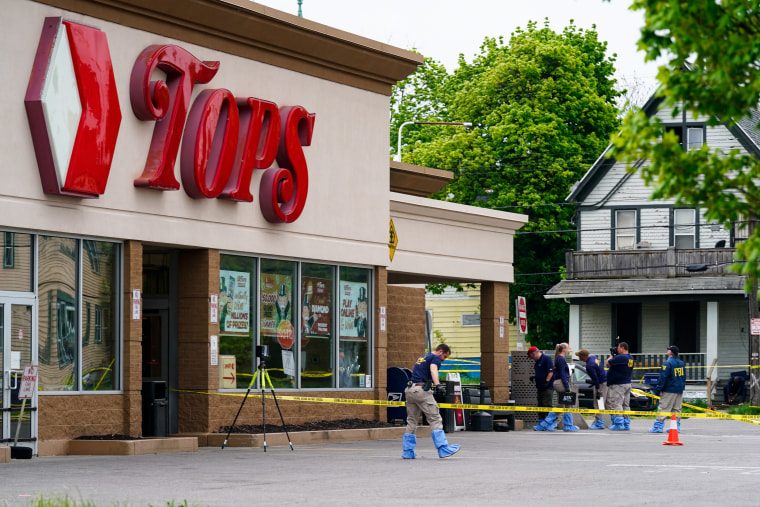 Though Buffalo shooting suspect Payton Gendron is not from her district, Stefanik has become a focal point for critics because she has used her platform as the House GOP's designated chief communicator to articulate incendiary tropes about immigration.
In a Facebook ad last fall, Stefanik accused Democrats of staging a "permanent election insurrection by granting amnesty to millions of illegal immigrants."
That rhetoric plays to Trump's false allegations of election fraud in his 2020 defeat. And it borrows from the "great replacement" theory, which is cited in what appear to be Gendron's writings. That conspiracy theory generally holds that a Jewish-led cabal of liberals is trying to take power by replacing white voters with nonwhites by any means necessary, including immigration and inter-racial marriage.
While the shooter targeted Black citizens, critics in both parties say that Stefanik has been playing with fire by amplifying the grievances of white nationalists.
"The replacement theory [that GOP leaders] are pushing/tolerating is getting people killed," Rep. Adam Kinzinger, R-Ill., a frequent Trump critic, wrote on Twitter this week. He named Stefanik as one of four fellow House Republicans he thought should be "replaced" for promoting the theory.
Her ramped-up rhetoric on immigration, deployed as a political cudgel against Democrats, has coincided with her rise in GOP leadership ranks. That's a stunning turn for a lawmaker long viewed as a moderate in tone and substance who had distanced herself from some of Trump's most brazen immigration policies.
Once a critic of Trump's plan to build a wall along the U.S.-Mexico border — "not the best model," she said — Stefanik now blames an influx of undocumented immigrants in part on President Joe Biden's decision to stop construction.
"ILLEGAL IMMIGRATION has skyrocketed under Joe Biden's watch," she wrote on Twitter in March. "Secure the border now and FINISH THE WALL."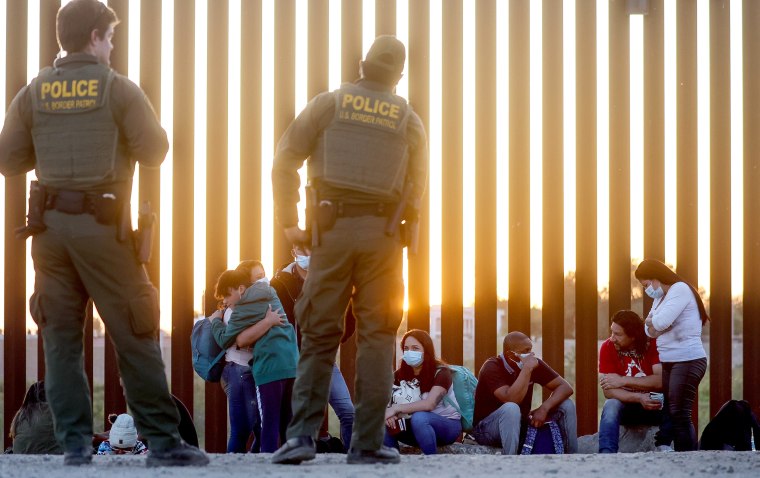 Stefanik declined an NBC News request for an interview, but one of her advisers, Alex deGrasse, said in a statement that "any implication or attempt to blame the heinous shooting on the Congresswoman is a new disgusting low for the Left."
Despite her effort to provide a path to citizenship for undocumented farm workers, Stefanik's camp defines her broader position on immigration in the terms favored by more hard-line lawmakers: anti-"amnesty."
She "opposes mass amnesty for illegal immigrants and Joe Biden's wide open border," deGrasse said.
Evolution: From Bush to Trump
When Stefanik was first elected to Congress in 2014, she appeared to be in the vanguard of the establishment GOP's next generation.
A former policy adviser to President George W. Bush and debate-prep aide for 2012 vice presidential nominee Paul Ryan, Stefanik prevailed easily in what was expected to be a tough swing-district battle. At 30, she became the youngest woman ever elected to the House, and GOP leaders quickly identified the eloquent Harvard grad as a future face of the party.
In her first few years in Washington, she emphasized bipartisanship — becoming a leader of the moderate Republican Tuesday Group — and clashed with the ultra-conservative Freedom Caucus.
But, against the backdrop of former President Donald Trump's domination of the GOP, Stefanik began to transition into a more pugnacious partisan warrior. Her defense of Trump during his first impeachment in 2019 and 2020 drew praise from the then-president and her fellow Republicans.
A "new Republican star," Trump called her at the time.
That helped fast-track her for GOP leadership, even though she had long distanced herself from key parts of Trump's agenda — including the border wall and his effort to ban travel for people from several predominantly Muslim countries.
Still, when Rep. Liz Cheney, R-Wyo., was ousted from the No. 3 post of Conference Chair last year, Stefanik had to overcome objections from immigration hard-liners to win the job.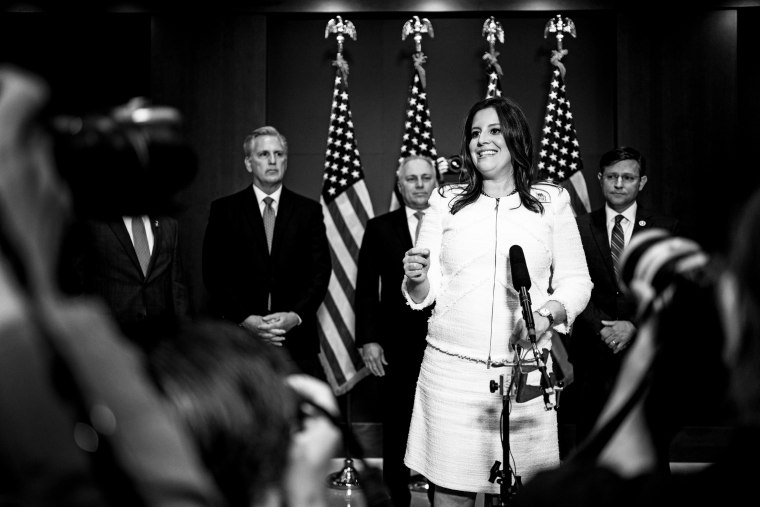 Those hard-liners will be keeping close tabs on her performance as she jockeys with a field of hopefuls for the whip job that is widely perceived to include National Republican Congressional Committee Chairman Tom Emmer, R-Minn., Republican Study Committee Chairman Jim Banks, R-Ind., and Rep. Drew Ferguson, R-Ga.
One House Republican colleague said Stefanik is following two constituencies in adapting her political profile: voters in her district and the GOP lawmakers who cast ballots in leadership elections.
"I would think it's because of her district — it's gotten more conservative, Trumpy," the lawmaker said. "And then I think her leadership position, I would say our conference would be more prevalent toward the conservative Trumpy side than not."
Last week, she accused President Joe Biden of working with pedophiles to help his party politically by denying Americans baby formula, while providing the staple to undocumented immigrants — a possible reference to a QAnon conspiracy theory about a global ring of child sex traffickers. Her office later told The Independent that her "pedo grifters" tweet referred to The Lincoln Project, an anti-Trump political committee that nearly imploded when a founder was accused of sending sexually explicit messages to underage boys.
"She has become such the perfect avatar of modern-day Republican politics — unapologetic, fighting, hip with the latest talking points that the far right is using," said Brendan Buck, a former House GOP leadership aide who worked with Stefanik on the Romney-Ryan campaign.
Pressure on the home front
Russ Finley is one constituent who has celebrated — and possibly helped bring about — Stefanik's transition.
Finley, 57, runs a small beef farm near Lisbon. A Democrat and a member of the U.S. bobsled team earlier in his life, he returned to St. Lawrence County in adulthood, embraced conservative values and took up farming. In 2017, he launched an unsuccessful longshot bid against Stefanik, accusing her of not adequately supporting Trump.
But by early 2020, when Stefanik served as part of the defense team in Trump's first Senate trial, Finley became convinced she had taken the hint from her Republican constituents.
"When she first came in, she was bright and young and hard-working and amiable. But I knew she was going to have to change; she wanted to be a moderate, wanted to be liked by everybody, had some success with being bipartisan," he said. "But over the course of time, she went the way the district has gone. It's not that she got pushed to the right, it's that she followed the wants and needs of the people in the district, as an elected official should do."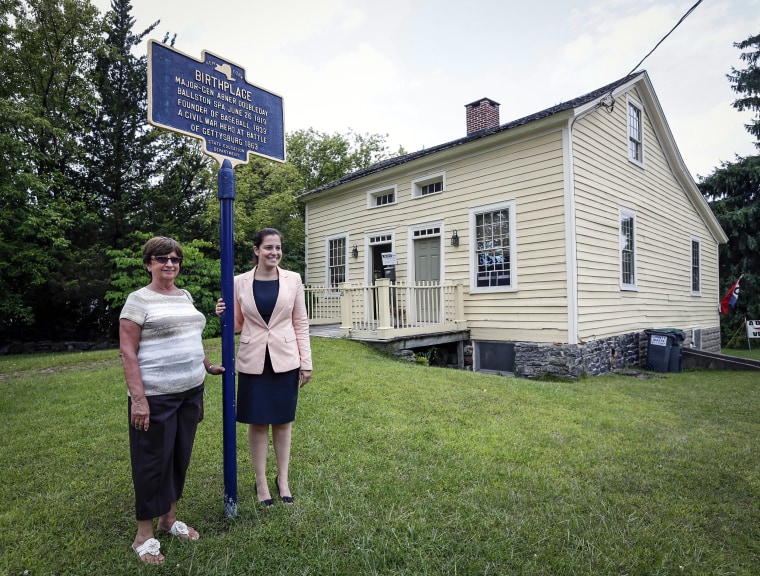 More popular than Trump
Stefanik's shift has been rewarded at the ballot box, where she has handily won re-election four times, each with substantial margins. She outpaced Trump twice, even as he easily carried the district in 2016 and 2020. President Barack Obama won the district in 2008 and 2012.
Some voters made clear their own rightward movement included supporting hard-line immigration positions — but rejected the notion their views relate to race.
"How can you have illegal immigrants come in here, skip the line, not knowing anything about this country?" said Stella Nelson, a retired insurance agent from Ogdensburg. "They keep coming, and it's going to affect us all sooner or later."
Finley, meanwhile, bristled at what he says is as a conflation of immigration policy and racial tension.
"It's not white versus brown or Black. It's legal versus illegal," he said.
Both voters said they were willing to give Stefanik a pass on her support in 2021 of a bill that would ease the pathway to citizenship for undocumented farm workers.
For many Republicans here, illegal immigration — particularly from Latin America — isn't a pressing issue. While the district shares more than 100 miles of border with Canada, it is about 2,000 miles from the closest spot on the U.S.-Mexico line. That helps explain why some of Stefanik's constituents are willing to give her leeway on immigration as she tries to rise in House leadership.
"There's a situation on the southern border. We know that as a mostly white community, it doesn't necessarily affect us. But we are also very aware that she has it on her radar, and I think it's an impressive thing that she is a leader on it in a way that she feel is going to help us all," said Connie Elen, the chair of the St. Lawrence County Republican Committee.
Stefanik's stances on immigration are nuanced. But where she agrees with hard-liners — and when she can try to turn the issue into a partisan attack against Democrats — she has grown more aggressive. That's paying dividends in her district, and it could make conservatives in her conference more comfortable with promoting her next year.
"She's climbing the ranks, she's under the microscope more," said John French, a prison guard from Norwood. "There's pressure on her."