CLEAR LAKE, Iowa — Michael Avenatti, the California lawyer who's built a national profile representing adult film actress Stormy Daniels, urged Democrats Friday to "fight fire with fire" with a no-holds-barred battle with President Donald Trump — one he is considering leading himself as a candidate for president in 2020.
Saying too often Democrats have shirked from the challenge of opposing Trump, Avenatti at one point even struck a clear contrast with arguably the most popular figures in the Democratic Party, Michelle Obama. The president may be the "worst president in history," but he won the office in part because of his fighter's mentality.
"I believe that the Democratic Party must be a party that fights fire with fire," he told hundreds of Iowa Democrats at the annual Wing Ding Dinner. "When they go low, I say we hit harder."
Avenatti's remarks here came midway through a visit to the key nominating state, and on the heels of his announcement that he is exploring a presidential run. With a Democratic field that could number in the dozens but has been slow to take shape, it was Avenatti that was the unlikely headliner of a dinner that has long been a proving ground for White House aspirants — including three others who spoke before him.
Avenatti acknowledged that Democrats might have some doubt about his candidacy, and that he's mainly known simply as "porn star lawyer." He praised his client in the ongoing case against the president and his longtime lawyer, Michael Cohen, calling her "someone with incredible integrity, compassion and a fight for the truth."
And it was in seeking "justice for Stormy," as Avenatti put it, that his mandate grew to fight for others — both in representing other women who accused Trump of assault but also immigrant families separated at the border.
He said politics was hardly a new field for him — having worked for more than 100 campaigns when he was in his 20s — including a Democratic candidate for governor in Iowa in 1994. And his nearly two decades as a trial lawyer also put him in position to defend those "who found themselves on the wrong side of power," who were unable to fight back by themselves.
These were all Davids against Goliaths, as he put it. And so must the Democratic Party be a party of Davids — willing to take the fight directly to Trump.
"I never thought I would address a gathering such as this," he said. "But the Trump presidency has galvanized me, as it has galvanized so many millions of Americans. It has caused me to ask how I can step up."
Rep. Tim Ryan of Ohio, another potential candidate for president, and Rep. John Delaney of Maryland, who has already announced his candidacy, spoke before Avenatti.
Delaney's speech took a different approach, saying Americans were interested in "turning the chapter on decades of hyper-partisan politics." Democrats, he said, should appeal to not only independents but disaffected Republicans , he said.
"We should be the party that brings these people together in a new and exciting coalition. It can win. It can win easily. And it can govern," he said.
Ryan said he was ready for a fight. But he called for a bold progressive agenda as an antidote to Trump and the GOP, rejecting what he said was their strategy to divide the country.
"We need to be the party of 'and.' The party of both. The party of everybody in the United States," he said. "They want us to give up. They want us to sit on the sidelines. They want us to stay down."
Avenatti did say Democrats needed to appeal to Trump voters, seeing them not as "evildoers" but victims of "a terrible con."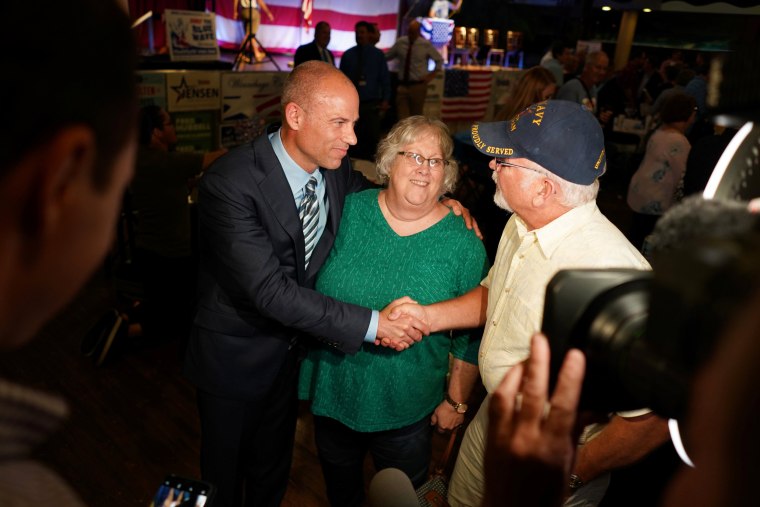 Organizers of the event credited Avenatti's presence for building a crowd for the event at a time when some of the field's higher profile potential candidates — former Vice President Joe Biden, Sen. Elizabeth Warren, Sen. Cory Booker, among others — have been reluctant to travel to early-voting states when the party is hyper-focused on winning back the House, Senate and state offices across the country.
And while he was warmly received Friday night by the local party activists, the party's gubernatorial candidate, Fred Hubbel, was notably absent. Secretary of state candidate Diedre DeJear said she didn't know much about him.
"What he's dealing with in his work capacity is separate. That's my mindset," she said. "I'm really excited about [being at] the Wing Ding so I can meet voters, not necessarily Michael."
Whether Avenatti could broaden his appeal to a narrow slice of the party, let alone beyond the party, is an open question. But at least one self-described Republican, Ed Enright of Garner said he was ready to support the frequent cable television guest.
"I tried to warn those fools about Trump," Enright said after meeting Avenatti before his remarks, showing him a homemade sign: "Mr. Avenatti: Keep the heat on lying Trump."