Cody Nobles hopes to study environmental science or marine biology at a college on a shoreline town, where he can observe ocean life firsthand.
But after his native Florida adopted legislation restricting LGBTQ rights, Nobles, who is gay, is planning to find a similar environment in a different political climate. The 19-year-old says he wouldn't have to worry as much about discrimination or even physical assault in California.
"I came to reality and realized that I might actually have to involve those things into where I go, because you never know where I might be going," Cody said, expressing concern about the possibility of having to attend school in "a place that has a record of hate crimes or a very old-fashioned point of view when it comes to gender."
"For me personally, I just naturally assumed I was going to college down here," he said. "But if things got worse, then I suppose I would have no choice."
Florida state lawmakers have passed laws that block classroom discussion about sexual orientation or gender identity in primary schools and aim to restrict race-based conversation and analysis in business and education. Another recent bill would let the state board that oversees public universities give direction on removing majors and minors in subjects like critical race theory and gender studies and bar spending on programs or activities that support such curricula. 
Cody's mother, Cindy Nobles, who serves as president of the Jacksonville chapter of the LGBTQ advocacy group PFLAG, said Florida's legislation has "changed how I'm looking at every school."
"Now instead of worrying about whether it's going to be a fit for the major he wants to go into, I have to look at the board of trustees. I have to look at the political viewpoints of the people who are in charge of the schools and figure out whether or not they're going to be a good fit before I even worry about his major."
Interviews with students, parents and college counselors suggest LGBTQ young people are striking colleges in states where such legislation is being pushed. Some students worry about having access to hormone therapy while away at school, some want to attend schools with all-gender housing options, and others fear hostile rhetoric puts them at a heightened risk of physical violence.
Across the country, state legislators have moved to restrict LGBTQ rights with hundreds of bills already this year, including in Texas, Alabama, Tennessee and Arizona. Some of the bills would ban transgender students from competing on sports teams consistent with their gender identity, while others would stop people from changing their gender identity on official documents or force teachers to tell parents about any information they learn on a student's gender identity.
Advocates say a shift in college applications from LGBTQ students could lead to diminished diversity at colleges, where part of the learning experience is encountering people of different backgrounds. Others, like Sarah Eckhardt, a Democratic state senator from Texas, also caution that legislation targeting LGBTQ rights could stifle academic research and harm the state economy.
"Our state is home to some of the top universities in the country, yet many GOP lawmakers are set on infringing on the rights and safety of the very students, faculty and staff that make up these world class institutions," a spokesperson for Eckhardt said in a statement to NBC News. "With almost 75 bills filed that would be detrimental to our LGBTQ+ community — and state as a whole — Texans have an uphill battle in advocating for simple equality."
Florida Gov. Ron DeSantis, a potential 2024 presidential candidate, recently asked Florida's state universities to report data on the number of students who sought or received gender dysphoria treatment, including sex reassignment surgery and hormones. And last week, the bill that would direct universities to remove majors and minors on gender studies and other programs dealing with diversity — an issue DeSantis has championed — was introduced in the Florida Legislature. 
"Like DEI and CRT, radical gender ideology has supplanted academics at many institutions of higher education," Jeremy Redfern, DeSantis' deputy press secretary, wrote in a statement, referring to policies on diversity, equity and inclusion and critical race theory, which teaches about structural racism. "We are committed to fully understanding the amount of public funding that is going toward such non-academic pursuits to best assess how to get our colleges and universities refocused on education and truth."
Redfern declined to provide evidence for his claim or comment on whether he thought fewer LGBTQ students would want to attend Florida's public colleges and universities as a result of state actions.
While research on how anti-LGBTQ legislation could affect college applications is limited, college counselors say families are increasingly raising the issue as a factor in their decisions on where to attend. Venkates Swaminathan, the chief executive of LifeLaunchr, a college admissions counseling firm, said between 20 and 30 of the few hundred students he works with each year express concerns about state legislation. Daniel Santos, CEO of Prepory college counseling, echoed the point, adding that one of his gay students struck every college in a red state from their list this year, deleting the University of Florida, the University of Texas at Austin, Washington and Lee University, and Washington University in St. Louis.
Eric Sherman, a counselor at IvyWise, a college admissions counseling company in New York, said between 10% and 15% of the students he works with flag campus climate for LGBTQ students as an issue of concern. LGBTQ students tended to "categorically exclude certain parts of the country," he said.
Brandon Wolf, press secretary for the LGBTQ advocacy group Equality Florida, said fear is driving the issue.
"Sending a kid out of the nest and into the world for the first time is already really scary when you've spent 18 years making sure that they eat three square meals a day and have clothes on their back and take a shower in the morning," Wolf said. "It's scary to send them off into the world for the first time, and that becomes infinitely more terrifying when you are concerned you're sending them to a state where simply the person they are may put them in grave danger because the most powerful leader in that state has placed a target on their back."
Instances of violence targeting LGBTQ people more than tripled in the last year, according to the Armed Conflict Location and Event Data Project. Renan Barker, a 17-year-old Ohio resident who uses they/he pronouns, said they wanted to attend school in California, where they wouldn't fear for their safety. But Barker couldn't afford the out-of-state tuition and will attend Kent State University instead. Barker expressed fear about leaving home, beyond the nervous excitement many students feel before starting college.
"If something were to happen to me, if I am hate-crimed or something like that, I can't just go home and be like, 'Mom, help me.' I don't have that comfort, that net," Barker said.
Stella Keating is refusing to go to school in a state where anti-trans bills have reached the legislative floor, indicating support among lawmakers. She added that politicians' rhetoric about LGBTQ people has adversely affected her mental health. "It excuses the behavior. It allows for transphobia everywhere," Keating said. "It makes it seem, 'Oh well, my senator can do this so so can I. And I can make fun of the trans kids at my school, that's okay.' That seeps into everyday life."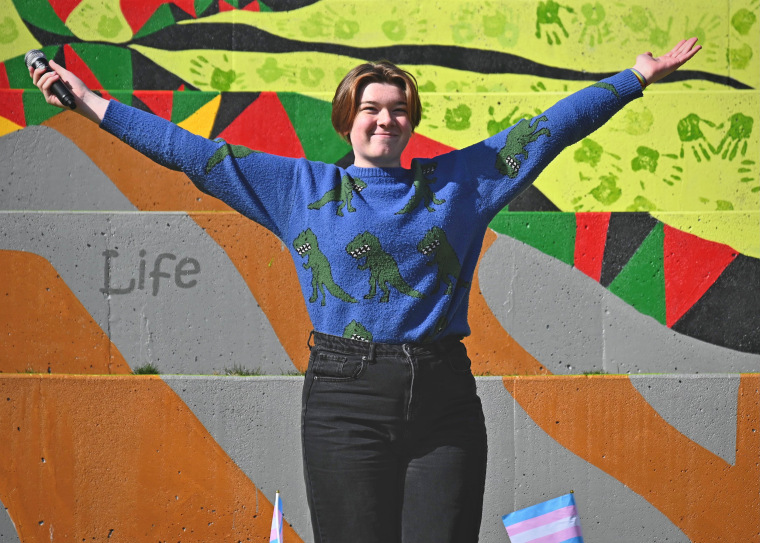 According to a 2021 survey by the Trevor Project, a LGBTQ youth suicide prevention group, 94% of LGBTQ young people said recent politics had negatively affected their mental health.
Parents of LGBTQ students also said that concerns over state politics are influencing how they approach school choices for their children.
Melissa McLaren, an Ohio resident with a transgender daughter, said she scoured college sites to see whether they had LGBTQ-specific housing as an option, health services for LGBTQ students, and mental health programs for LGBTQ young people.
Cindy Nobles researched campus crime rates and anti-LGBTQ violence for schools of interest to Cody. 
"At this point there are so many things that we have to worry about, to be honest I don't even know where to start," Nobles said. "It just made what should be a fun time of his life very scary for me as a parent."
Some colleges in conservative states have taken action to counter the potential influence of anti-LGBTQ legislation, emphasizing their openness to LGBTQ students, said Ellen Kahn, senior director of programs and partnerships at the Human Rights Campaign, an LGBTQ advocacy group. Anti-LGBTQ legislation has been a "clarion call" for higher education leaders, and some colleges and universities have begun to compete to be a school of choice for LGBTQ students, she added.
Duke University, for example, added an option to its application form to allow LGBTQ students to write about their identity and how it affects them, Santos said. Sherman added that students seem more receptive to applying to schools with websites that emphasize an LGBTQ student center and other support mechanisms. 
Shane Windmeyer, founder and executive director of Campus Pride, which helps students identify LGBTQ-friendly campuses, said sympathetic policies are crucial for students who for financial reasons must attend a public university in their state. Some colleges in red states, like the University of North Florida and the University of Texas at Austin, are serving as a "safe haven" for LGBTQ students, Windmeyer said. 
Wolf, of Equality Florida, said that Florida's higher education system loses out on talented students because of the state's legislation, a point that Kahn mirrored, saying she worries about "brain drain."
Cindy Nobles, meanwhile, said she's considering sending Cody to school in Michigan, where his sisters live and she feels he'd be safer. "It has definitely been put on the table," Cindy Nobles said. "As much as I don't want to see him move across the country, for his safety I might have to."