WASHINGTON — Immigrants who face possible deportation can be held by the federal government for months or even years without the chance to go to court and seek bail, a bitterly divided U.S. Supreme Court said Tuesday.
The court rejected an appeals court ruling that said immigrants who've been detained must be allowed a bond hearing every six months. Justice Samuel Alito, who wrote Tuesday's decision, said the appeals court reading of federal law is implausible, amounting to a rewriting of the relevant statutes.
Nothing in the text of those laws "even hints that those provisions restrict detention every six months," he wrote. Instead, the law gives immigration authorities time to determine whether an immigrant presents a danger "without running the risk of the alien's either absconding or engaging in criminal activity before a final decision can be made."
Tuesday's ruling applies to any immigrant, including those who entered the U.S. legally or who are seeking asylum.
In a sign of how passionately the court's liberals disagreed, Justice Stephen Breyer summarized their dissent in the courtroom. "Liberty has included the right of a confined, unconvicted person to seek release on bail," he said.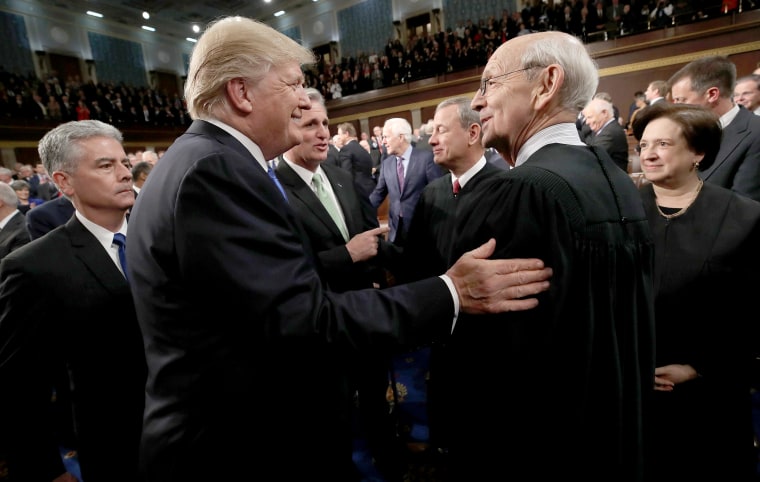 Concluding that the majority interpreted the law mistakenly, Breyer said, "I would find it alarming to believe that Congress wrote these statutory words in order to put thousand of individuals at risk of lengthy confinement all within the United States but all without hope of bail."
He was joined in dissent by Ruth Bader Ginsburg and Sonia Sotomayor. Elena Kagan did not participate in the case because of an undisclosed conflict, most likely stemming from her work on the issue as solicitor general during the Obama administration.
The law was challenged by Alejandro Rodriguez, an immigrant from Mexico who was detained for three years without a bond hearing while the government considered deporting him because of convictions for joyriding and drug possession.
He was ultimately released and allowed to remain in the United States. But the ACLU said thousands of people are held without bond, as he was, in conditions resembling jail confinement at detention centers.
Civil rights groups condemned Tuesday's ruling.
"How can we as a nation, remain a haven for the prosecuted when we lock up asylum seekers — who are in this country legally to escape violence — for prolonged periods of time without access to an immigration court custody hearing?" asked Eleanor Acer of Human Rights First.
While Tuesday's ruling said the appeals court wrongly interpreted the laws at issue, it sent the case back for the court to consider whether the statues, when properly understood, are unconstitutional.
Breyer, in his dissent, said the Supreme Court should have taken the case to decide that very issue.