Former National Security Adviser Susan Rice on Tuesday flatly denied that she sought to improperly "unmask" Trump campaign officials whose conversations were caught on surveillance by U.S. intelligence services.
"The allegation is that somehow the Obama administration officials utilized intelligence for political purposes, " Rice said on MSNBC's "Andrea Mitchell Reports." "That's absolutely false."
Rice added that it's not unusual to request the identities of people caught on intelligence surveillance.
"There were occasions when I would receive a report in which a U.S. person was referred to, name not provided, just a U.S. person, and sometimes in that context in order to understand the importance of that report, and assess its significance, it was necessary to find out or request the information as to who that U.S. official was," she said, without going into specifics.
For example, she said, "if two foreigners were having a conversation" about a possible bombing with an American, they would want to know if that person "was some kook" or a legitimate threat.
"It was not uncommon, it was necessary at times to make those requests," she told Mitchell. "I don't have a particular recollection of doing that more frequently after the election."
Rice also batted away reports that she allegedly had a "spreadsheet" of telephone calls made by Trump campaign officials.
"There was no spreadsheet," she said. "There was nothing of the sort."
Related: What Is Unmasking, and Did Susan Rice Do Anything Wrong?
Rice denied revealing the name of Mike Flynn, President Donald Trump's former national security adviser, who resigned after his communications with Russian officials became public.
"I leaked nothing to nobody and never have and never would," Rice said.
Nor, Rice said, was she aware that Flynn was lobbyist for Turkey.
In her first interview since the story broke, Rice also said she was "surprised" and "shocked" when Trump tweeted a widely discredited claim that former President Obama personally ordered the bugging of Trump Tower and members of his team during the campaign.
"That's a very serious allegation, it had no basis in fact, and it wasn't typical of the way presidents treat their predecessors," Rice said of Trump's tweet.
Long a favorite target of the Republicans, Rice was plunged into controversy after blogger Mike Cernovich, best known for promoting the bogus story that a Washington, D.C. pizza parlor was a nest of pedophiles connected to Hillary Clinton, claimed she had sought to "unmask" Trump campaign aides.
Later Bloomberg View columnist Eli Lake picked up the tale. Citing anonymous "U.S. officials familiar with the matter," Lake reported Monday that the former national security adviser "requested the identities of U.S. persons in raw intelligence reports on dozens of occasions that connect to the Donald Trump transition and campaign."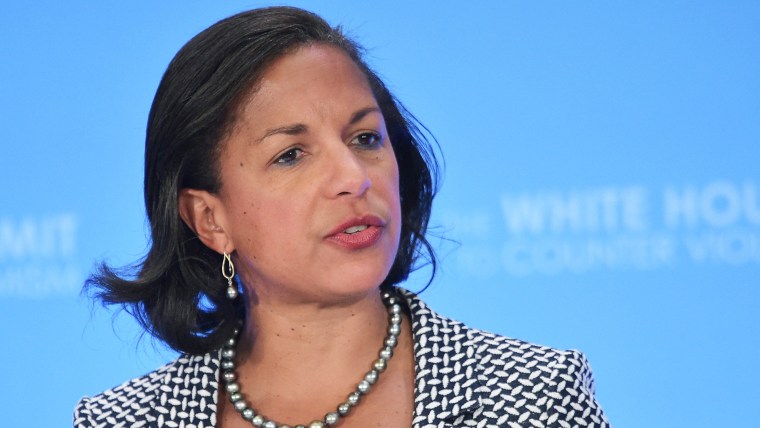 "The pattern of Rice's requests was discovered in a National Security Council review of the government's policy on 'unmasking' the identities of individuals in the U.S. who are not targets of electronic eavesdropping, but whose communications are collected incidentally," Lake wrote.
Trump-friendly news outlets like Fox News and Breitbart quickly jumped on the story as possible evidence to back up the president's "wiretapping" claims.
In an interview with Fox News after the Rice interview, Lake said she "didn't really answer that question about whether she unmasked in many, in dozens of instances, the names of people who would be in the Trump transition."
MSNBC terrorism analyst Malcolm Nance, retired United States Navy Senior Chief Petty Officer in naval cryptology, said Rice said as much as she could. And he dismissed the story as "smoke and mirrors" by the Trump administration to distract from ongoing investigation into Russian interference in the presidential election.
NBC has learned that Rice didn't — and couldn't — "order" the unmasking of any American because only the agencies that gathered the surveillance (usually the NSA or FBI) can make that call and the process is subject to rules and reviewed by lawyers.
The bar is high too because there has to be a legitimate intelligence reason to justify identifying the person or persons.
Also, it's not unusual for administrations to request the identities of people captured on surveillance so they can better understand the intelligence. Former NSA chief Keith Alexander told NBC he routinely turned down unmasking requests by senior officials in the Obama and George W. Bush administrations.
Unmasking does not mean making public. The reports are still highly classified and viewable by just a select group of people with top secret clearance.
Rice stressed that point in her NBC interview.
"The notion that, which some people are trying to suggest, that by asking for the identity of an American person that is the same as leaking it, is completely false," she said. "There's no equivalence between so-called unmasking and leaking. The effort to ask for the identity of an American citizen is necessary to understand the importance of an intelligence report in some instances."