Hillary Clinton and her supporters are laughing to keep from crying.
After an election in which Donald Trump led chants of "Lock her up!" over Clinton's handling of classified material and public transparency and branded her "the most corrupt candidate ever" over ethics conflicts, President Trump's White House is now under bipartisan fire for multiple stories that Democrats argue outstrip any of their 2016 nominee's alleged transgressions.
"Every criticism Trump has made of Hillary Clinton is something he did one hundred times worse," Neera Tanden, president of the Center for American Progress told NBC News, accusing Trump of engaging in "projection" on the trail.
On social media, Clinton and Obama vets are holding a running joint therapy session as they revel in Trump's misfortune, with even the former Democratic nominee herself getting involved on Tuesday. The schadenfreude is cold comfort for Democrats after a devastating election loss to a man they feel has suffered far fewer consequences for far worse scandals.
Allies passed around video of retired Lt. Gen. Michael Flynn, who resigned late Monday, personally leading "Lock her up!" chants at the Republican National Convention last year and complaining if he did "a tenth" of what Clinton did he'd be in jail. Flynn stepped down after admitting to providing "incomplete information" to Vice President Mike Pence about the substance of his pre-inaugural conversation with Russian Ambassador Sergey Kislyak.
"What goes around COMETS around," former Clinton spokesman Philippe Reines tweeted, a reference to Flynn's son, Michael Flynn Jr., who spread a false story linking the Clinton campaign to a nonexistent sex trafficking ring at a Washington, DC pizza place.
Clinton approvingly passed on the Reines tweet, adding "he has a point about the real consequences of fake news."
Related: Flynn Resigns, Clinton Delivers Wry Response
In interviews with NBC, several veterans of the Clinton campaigned stressed that there's a point behind the pile-on: Building momentum for investigations into the Trump administration, especially over potential ties with Russia during the campaign. In addition to Flynn's conversation with Kislyak, he previously faced scrutiny for a 2015 appearance in Russia at an event where he was seated with Vladimir Putin.
That momentum grew late Tuesday with a New York Times report, unconfirmed by NBC News, that intelligence agencies found repeated communication between Trump advisers and Russian intelligence officials during the presidential campaign. While there was no indication of wrongdoing, Trump had previously denied any contact at all between his campaign and Russia.
"Imagine what would be happening on the Hill if the shoe were on the other foot, and a Clinton administration stood credibly accused of potentially treasonous behavior," David Brock, a prominent Democratic operative, told NBC News on Tuesday. "Subpoenas would be flying right and left."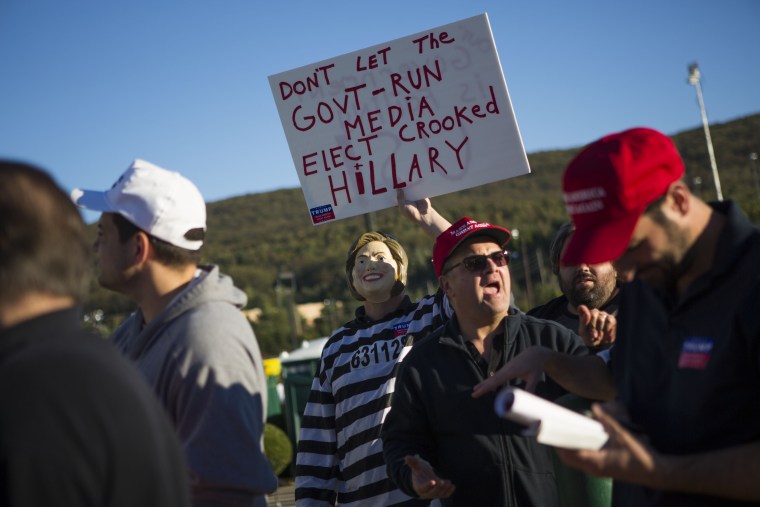 "It's not about the campaign and how people feel watching this," Glen Caplin, a former Clinton campaign aide, said. "Ultimately what this comes down to is ... that a foreign government, as we said over and over again, was actively trying to interfere in an election to help Donald Trump."
Caplin had the unenviable task of managing the campaign's response to hacked emails released by Wikileaks that the intelligence community has publicly blamed on Russia. Trump, who declared "I love Wikileaks!" on the trail, complained on Tuesday that "the real story" amid questions about Flynn's contact with Russia was that government officials had leaked damaging information about his administration.
Trump repeated those attacks on Wednesday morning, calling the latest Russia story "non-sense" on Twitter. Perhaps noticing the outpouring from Clinton and her allies, he dismissed interest in the news as an "attempt to cover-up the many mistakes made in Hillary Clinton's losing campaign."
Clinton's old campaign hands certainly showed an interest in the story. "I'd like the FBI to explain why they sent a letter about Clinton but not this," Clinton's campaign manager, Robby Mook, tweeted. Rob Flaherty, who worked on rapid response for the Clinton campaign, called it "the biggest scandal in American political history."
"Everything we suspected during the campaign is proving true," former Clinton spokesman Brian Fallon tweeted.
The Flynn news isn't the only story that's grabbed their attention and prompted specific accusations of hypocrisy.
Over the weekend, Democrats gawked at reports of Trump introducing members at his Mar-a-Lago club to Japanese Prime Minister Shinzo Abe -- the current membership fee is $200,000 -- and social media posts of the president allegedly responding to a North Korean missile launch in a public dining room the same night.
Trump and other Republicans accused Clinton throughout the campaign of practicing "pay for play" by granting access to donors to her foundation and attacked her for exposing sensitive national security info by using a private email server. Here was Trump engaged in what appeared to be questionable behavior on both fronts simultaneously.
On Tuesday, Office of Government Ethics Director Walter Shaub also recommended the White House investigate Trump adviser Kellyanne Conway for openly promoting Ivanka Trump's fashion company after Nordstrom announced it would no longer carry its products, which would appear to violate federal rules. Trump accused Clinton and her husband, former President Bill Clinton, of using their perch in government to "enrich their family at America's expense" during the campaign.
Adding more insult to injury on the Flynn story, administration officials told NBC News that David Petraeus was being considered as Flynn's replacement. Petraeus, a retired general and former CIA director, pled guilty in 2015 to mishandling classified info -- the same charge that Republicans complained Clinton had avoided -- after providing material to his mistress and lying to investigators. FBI Director Jim Comey said in a Congressional hearing that Petraeus was a "perfect illustration of the kind of cases that get prosecuted" in contrast to Clinton, whose behavior he said did not come anywhere near the same standard.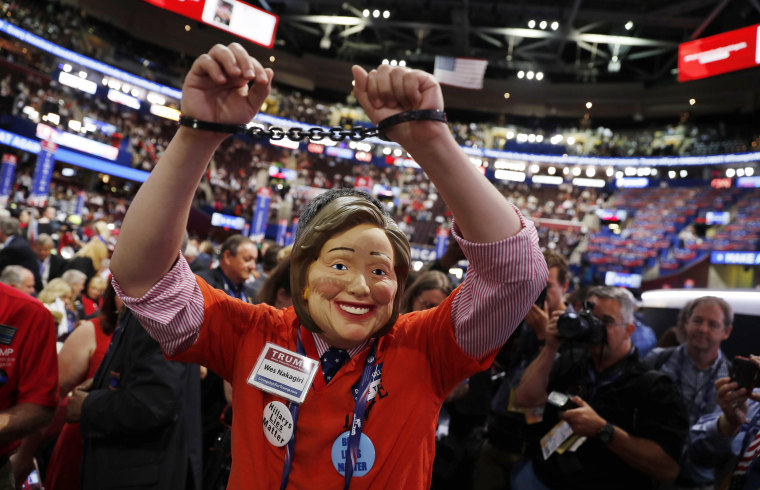 After years of hearings on the September 2012 attack that killed four Americans in Benghazi and numerous speeches by Trump referencing the incident, some also bristled at the administration's dismissal of criticism over a raid in Yemen in which civilians and a Navy SEAL, William "Ryan" Owens, were killed. Press Secretary Sean Spicer told reporters last week that those who questioned the operation's success, including former POW Sen. John McCain (R-AZ), did a "disservice" to Owens' memory.
Efforts to push Republicans to apply tougher scrutiny toward Trump after vigorously investigating Clinton and the Obama administration have so far yielded some fruit.
On Tuesday, House Oversight Chairman Jason Chaffetz (R-UT), asked the White House for an explanation of whether the president discussed and displayed classified information at Mar-a-Lago. Spicer told reporters that the president only discussed "press logistics" in the open and used a secure facility onsite for sensitive discussions.
Chaffetz, who has faced special pressure to look into Trump after leading relentless investigations into Clinton, also joined Rep. Elijah Cummings (D-MD) to criticize Conway's behavior regarding Ivanka Trump last week and request further investigation from OGE.
At the same time, however, Chaffetz has batted away demands for an oversight investigation into the circumstances surrounding Flynn's resignation on Tuesday, telling reporters "that situation has taken care of itself." While some GOP Senators said they would consider questioning Flynn as part of a broader Intelligence Committee probe into Russian interference in the election, top Republicans have so far resisted calls for an independent investigation.
"Hillary Clinton repeatedly admitted her use of personal email was unwise, but the very Republicans who blew that issue completely out of proportion are now looking the other way on conduct by the Trump administration that truly threatens national security," Fallon, Clinton's former campaign press secretary, told NBC News.
Some GOP foes who helped lead efforts to investigate Clinton and Obama, say there's some substance to Democratic complaints of hypocrisy.
Tim Miller, who compiled and publicized opposition research on Clinton early in the campaign and led GOP efforts to stop Trump later on, said it was "a bizarre thing for the Clintons to be spiking the football" given the criticism they've faced themselves on ethics and national security issues. But that didn't excuse what he saw as even more troubling behavior under Trump.
"For me, having someone who at best was sympathetic to the Russians and at worst was compromised by them as the head of the National Security Council was by far the most dangerous thing that either of them did with regards to national security and I'm glad that's been resolved," he said.
Kurt Bardella, who served as spokesman to Rep. Darrell Issa (R-CA) during his own stint as chair of the House Oversight Committee, told NBC News that complaints that Republicans were overlooking behavior they wouldn't tolerate in a Democratic president were "absolutely fair" and that multiple committees should be involved in investigations related to Trump.
"There's zero doubt there is a complete double standard right now being employed that is just embarrassing, " Bardella said.
Others on the right were less convinced. Judicial Watch President Tom Fitton, whose group helped lead legal efforts to unearth information on the Clintons, called comparisons between Trump and Clinton "absurd" and said he was more worried about government officials undermining the president from within.
Fitton said he was especially troubled by the idea that officials publicized a description of intercepted communications between Flynn and a Russian official discussing sanctions, which helped draw attention to the story.
"To me, it's another indication of bureaucrats or politicians or holdovers improperly using federal law enforcement to target their political opposition," he said.