MADISON, Wis. — Thousands of protestors assembled on the state Capitol here Friday, expressing loud opposition to the extended stay-at-home order put in place by Democratic Gov. Tony Evers due to the coronavirus pandemic.
The anti-government protest in Madison was organized by a tapestry of online groups, including a group of Wisconsin business owners, as well as several rightwing Facebook groups, like Wisconsinites Against Excessive Quarantines.
Bob Tarantino, the leader of a group of business owners who helped plan the Madison rally, said his goal was to bring attention to the fact that Wisconsin's "small businesses are suffering unbelievable financial harm."
"The kind of harm that they may not recover from," he told NBC News in an email.
Protests against state stay-at-home orders in various states have attracted a wide range of fringe activists and ardent Trump supporters, NBC News reported earlier this week. Present at the protest in Madison on Friday were anti-abortion activists as well as people carrying pro-Trump signs. According to local media reports, Facebook took down the event page for the protest Thursday because the event did not meet guidelines the social media platform had provided for events calling for protests of stay-at-home orders.
Madison's protest came just days after Evers extended the state's stay-at-home order — which included the closure of all non-essential businesses — through May 26. His initial order had been scheduled to expire Friday. Wisconsin officials have said the order was extended to allow time for more testing to be in place. The extended order, however, also allowed for some non-essential businesses to increase services to provide deliveries and curb-side pickups.
Wisconsin Republicans, earlier this week, filed suit against Evers in the state's Supreme Court to block the extended order.
As of Friday morning, there have been more than 5,000 confirmed cases of COVID-19 and at least 257 deaths from the virus. Since March 14, about 393,000 Wisconsin residents (or about 1 in 8 workers in the state) have lost their jobs.
Organizers of the protest told NBC News they were expecting up to 11,000 people to attend, citing people who had expressed interest in the event on the event's Facebook page. But, as of 3:00 p.m. local time, only a few thousand had so far shown up.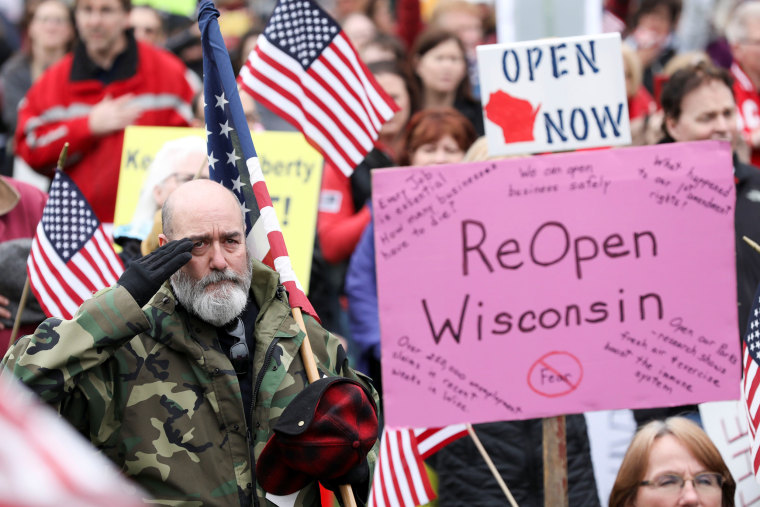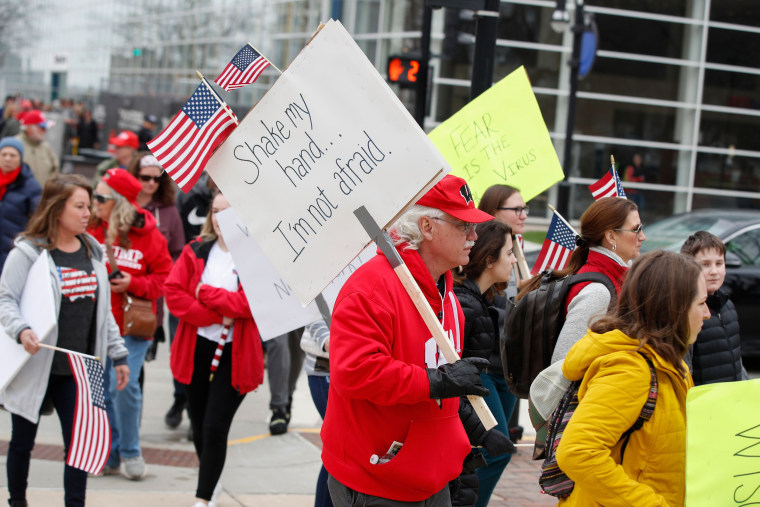 Those who'd already arrived told NBC News they felt strongly that Wisconsin businesses need to be opened up again.
"We need to open up Wisconsin, get businesses back to work, because I think that the fact that nobody's working is going to be far more detrimental to our economy and our families and America in general, than the disease will ever be," Jeff Schmiedel, of Neenah, Wis., told NBC News.
"We were supposed to end, originally, on April 24 which was today, and now it's another month," Schmiedel, who works in real estate, added. "I just don't think our country can survive another month with people staying at home."
Schmiedel said he'd like for Evers to open up the state "like what the governor of Georgia is doing." Earlier this week, Georgia Gov. Brian Kemp, a Republican, granted some businesses across the state permission to reopen Friday — an announcement that even President Donald Trump criticized publicly.
Julie Jardin, a hairdresser from Green Bay, Wis., was close to tears as she described the hardship she's faced because of the pandemic.
"I have no income coming in none whatsoever. I had to close my doors, I still have my rent to pay my utilities everything. And we rely on my income at home," she said.
Jardin said the $1,200 check she received as part of the federal government's massive stimulus package "really helped" her family, but would not be enough to sustain them until May 26.
"My clients are my livelihood," she said. "That's how I feed my family, how my family survives is by my job."
Others, however, expressed questions about whether the coronavirus was even real.
"I'm not afraid of the virus, not even 1 percent," said Rosie Rain, a yoga instructor from Sherwood, Wis.
"I don't even know if I really believe in it, to tell you the truth," added Rain, a self-described anti-vaxxer. "That is the reason I'm here. I'm so afraid that there's gonna be a forced vaccination. That's why I'm here. I will not allow it to happen."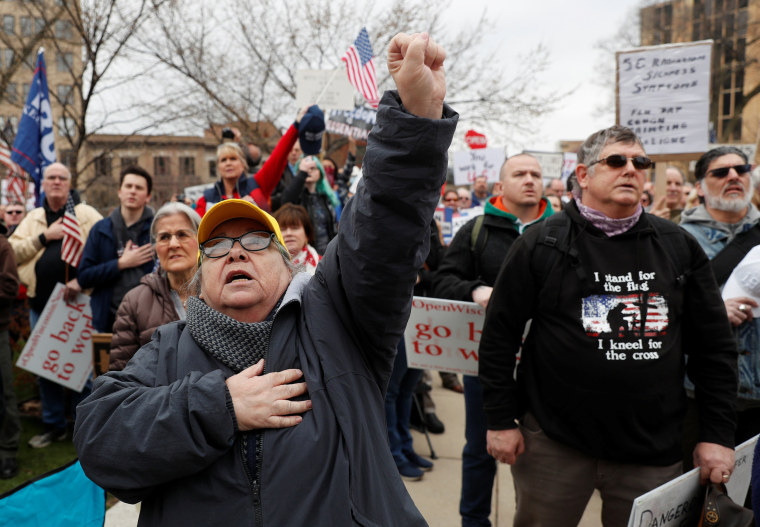 The protests in Madison followed similar demonstrations in recent days in Michigan, Pennsylvania, Ohio and Colorado.
But battle lines over precautions related to the pandemic have been especially fierce in Wisconsin, where in-person voting in the state's April 7 elections went on as scheduled — despite the pandemic — after a bitter partisan fight.
Evers had tried to shift the election to vote-by-mail and postpone it, but he was blocked by the conservative majorities on the Wisconsin Supreme Court and in the Republican-controlled Legislature, prompting the chairman of the state Democratic Party to warn that voters would die as a result. At least 23 people appear to have contracted the coronavirus through activities related to the April 7 election, Milwaukee's health commissioner said Tuesday.
Shaquille Brewster reported from Madison, Wis., Carol Eggers from Chicago, and Adam Edelman from New York.