More than 250 legislators across the U.S. are condemning the proposed expulsion of three Democratic legislators in Tennessee for protesting gun violence on the state House floor.
In a letter organized by the State Innovation Exchange, a progressive legislation advocacy group, legislators blasted what they called an "anti-democratic" attempt by the GOP-led state House to "silence" elected leaders on an important issue.
The letter, which was first shared with NBC News and will be released Thursday, is a response to an extraordinary move by Tennessee Republicans this week to move forward with expulsion proceedings against three Democrats who participated in a gun control protest inside the state Capitol.
The Republican-backed resolutions accuse Reps. Gloria Johnson, Justin Jones and Justin Pearson of engaging in "disorderly behavior" and purposely bringing "disorder and dishonor to the House of Representatives."
The resolution calls for them to be expelled. The vote to approve the resolutions — and their expulsions — is scheduled for Thursday.The accusations stem from their involvement in a protest on the House floor last week, when they led supporters in chants calling for stricter gun safety measures after the mass shooting in a Nashville school that killed six people — including three 9-year-old children.
Johnson, Jones and Pearson used a bullhorn, without being recognized to speak, in violation of rules for the House chamber. House leaders called their actions "an insurrection."
Expulsion proceedings began Monday with the introduction of three resolutions. Over the yells of protesters who'd again filled the chamber, each proposal passed on a 72-23 party-line vote.
The Tennessee Constitution allows either of the state's legislative chambers to expel a member with support from two-thirds of members in that chamber.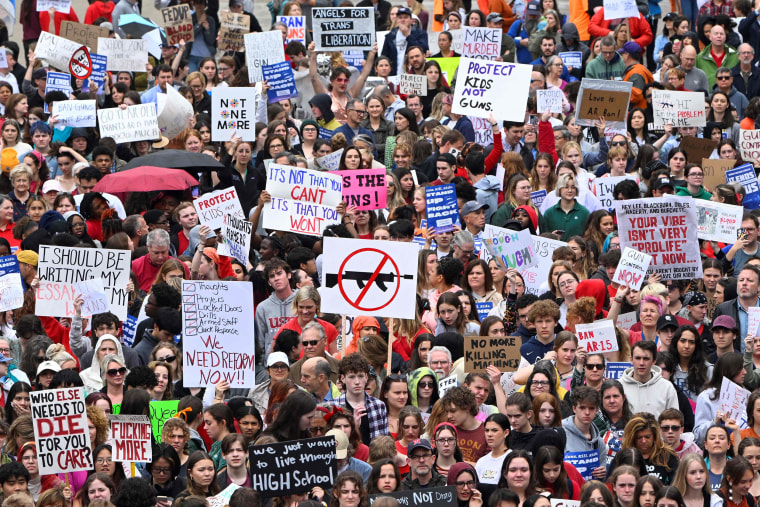 A protester was arrested Monday during the chaos, which, according to reporters at the session, included a physical altercation between Jones and GOP Rep. Justin Lafferty. Jones accused Lafferty of stealing his phone and trying to "incite a riot with his fellow members," The Tennessean newspaper of Nashville reported.
Democratic legislators from 35 states said in the letter that they stand "in solidarity" with the Tennessee Democrats and praised their efforts to stand up for stricter gun safety.
"Calling for gun safety within the people's house exemplifies our democracy in action. Expelling lawmakers is not," they wrote.
The letter also accuses Tennessee Republicans of racist motives. Jones and Pearson are Black.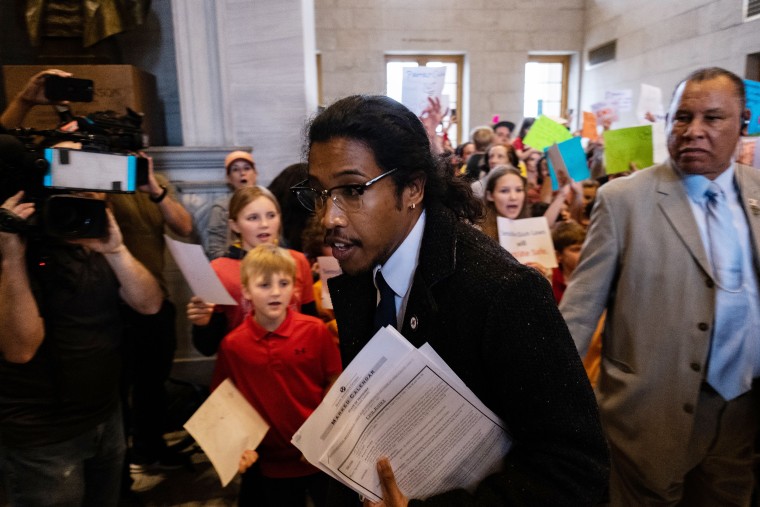 "The attempts to expel Reps. Jones, Johnson, and Pearson show a dark truth in the light of day: there's a robust and racist connection between fighting against gun safety and dismantling our democracy," the letter says.
Neha Patel, a co-executive director of the State Innovation Exchange, said the rarity of such expulsion attempts in Tennessee further bolsters the accusations of racism.
"That this is so rare, we believe, speaks to the fact that race is at play," she said in an interview. "By raising awareness to this in Tennessee, our hope is that this rarity doesn't become more common in other legislatures around the country."
The Tennessee House last voted to expel a sitting member in 2016, when members voted 70-2 to throw out Rep. Jeremy Durham over sexual misconduct allegations.
According to The Tennessean, House members had previously voted to expel a member in 1980 — but they hadn't done so before that since the Civil War. The Tennessee Senate voted last year to expel a sitting member for the first time — Katrina Robinson — after she was convicted of federal wire fraud charges.