WASHINGTON — Former Democratic vice presidential candidate Sen. Tim Kaine ventured to the floor of the Senate Wednesday to deliver his first speech there since he and Hillary Clinton bid goodbye to their 2016 campaign exactly three weeks ago.
The senator from Virginia marked his return not with a broad reflection on the nation's public conversation but rather a more familiar refrain for him: A push for war powers reform by urging Congress to vote on a new Authorization of Military Force in the battles against ISIS.
This is a point where Kaine broke with the Obama Administration the last few years, and at the time, he stressed that he was pressing it under a president who he trusted and supported. Now he will have to continue under a president who Kaine has repeatedly said he's "scared to death" by the idea of him as commander-in-chief.
It's also an issue that will remain a priority for Kaine as he resumes the life he led before Clinton tapped him to join the Democratic ticket in July. Gone is the Secret Service detail, bevy of Clinton campaign staffers, and traveling group of reporters dedicated to documenting his every action. His quiet reemergence in the upper chamber two weeks ago came without the large entourage but with a much higher national profile — and a big agenda for the last two years of his first term.
"It's good to be back," he told NBC News on his return to the Senate. "Obviously, I feel proud that I was on the ticket, feel proud that we won Virginia so handily by a bigger margin than President Obama did in 2012, feel proud for Hillary, especially that she won the popular vote, but it's obviously very disappointing. But the role of the Democratic Senate minority is going to be very, very important."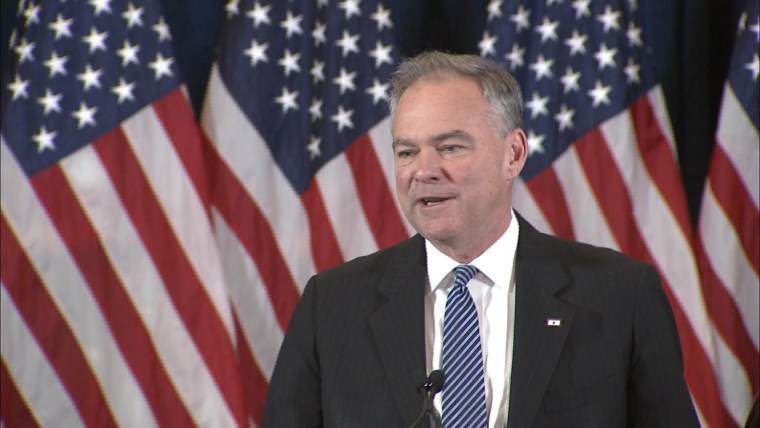 Looking Back
Kaine's time as a vice presidential candidate may be largely remembered for his feisty debate performance against Mike Pence that received tough reviews, or his ability to connect with audiences in Spanish as well as English.
But in his brief few months of extra security and scrutiny, in addition to railing against Trump and calling the Republican nominee a "threat to American democracy," Kaine also gave impassioned speeches to the National Urban League and the Progressive National Baptist Convention on civil rights, paid his respects at the 16th Street Baptist Church in Birmingham, Alabama, made a tearful visit to the Pulse Nightclub in Orlando, worked to highlight issues of poverty in Detroit, Michigan, and rocked his harmonica for a brewery crowd in Asheville, North Carolina.
Yet many of those moments may have been overshadowed by the chaos that marked the 2016 election. "The two nominees for president were the suns of this campaign," said Larry Sabato, a political scientist and professor at the University of Virginia's Center for Politics. "The two VP candidates were moons that were occasionally reflecting light and heat from the suns."
The defeat of his ticket by Republican Donald Trump left Kaine's party scrambling. As prominent Democratic voices wane, Kaine will have to choose what he wants to do with the mantle that has partly fallen upon him.
"Obviously the outcome wasn't what we hoped, but that's what life is," Kaine said. "You know, Thoreau said, 'I love my fate to the very core and rind.' It's not all fruit. You know, there's core and rind to it. So, that's part of life."
Looking Forward
There will be plenty on the national agenda for the senator to weigh in on over the next few years. But Kaine is not exactly expected to transform into a loud and liberal firebrand in the mold of Senators Bernie Sanders and Elizabeth Warren. Nor will he start preparing for a 2020 comeback. He ruled out the idea of another White House run entirely in a recent interview with the Richmond Times-Dispatch, his hometown newspaper.
Kaine represents purple Virginia, not Vermont or Massachusetts, and his priority now is getting back to work and refocusing on his signature issues. Flirting with another White House run could have kept his national megaphone somewhat louder for the next four years, but shutting the door hard was perhaps a necessary one for what could be a tough and competitive fight for re-election just two short years from now.
"I simply assumed that, otherwise he would be running full time for 2018 and then full time from the day he got re-elected — handing his opponent a great issue," Sabato said.
Kaine's spokeswoman, Amy Dudley, said that in addition to running for re-election in 2018, he "will serve out his full term in the Senate — where, at the will of Virginia voters, he hopes to be for a very long time in the model of John Warner." Warner was a Republican senator from Virginia who served in the upper chamber for 30 years, and ultimately endorsed Clinton this fall.
In an era when calls for term limits have increased, including from President-elect Donald Trump, Kaine on the campaign trail mentioned the benefits of having the same lawmakers stay in office, arguing that it allows them to get to know each other and build relationships to better find common ground.
"Here's something about politics that I've noticed," Kaine told a small crowd at the Sun City Macdonald Ranch in Henderson, Nevada on October 7. "In the Senate, if a Republican magically retired today and the governor appointed a new Republican to walk in that chamber that I didn't know, I could guess 10 things where that person and I would have different points of view and I'd be right on 9 out of the 10. But if you said to me, 'Guess 5 things where you have in common,' I would have no idea. You only find the overlap in the Venn diagram if you spend time talking to somebody and listening and finding out what they are interested in."
Issues ahead
Kaine's ability to communicate across the aisle and his commitment to military issues were both on display at the end of his first week back. The senator traveled with Sen. John McCain, R-Ariz., and a bipartisan congressional delegation to Nova Scotia, Canada, where he received an award at the Halifax International Security Forum.
"He is one of the most valued members of the Armed Services Committee," Sen. McCain told NBC News on Kaine's first post-election day on Capitol Hill. "He represents a state with a lot of military and he's been a very effective member of the Armed Services Committee and he works in a very bipartisan fashion."
In addition to his post on the Armed Services committee, Kaine will continue to serve on Foreign Relations and Budget committees as well as the Special Committee on Aging. He would like to try adding on another assignment in the new year, if possible. Though the election turned him into a national political figure, it didn't do much for his seniority in the Senate, and it's doubtful he would end up in leadership any time soon since Virginia's senior Senator Mark Warner is already there.
"This was the country's loss, but there is no one I would rather have as a partner in the Senate than Tim Kaine," said Sen. Warner. "I have no doubt that he will continue to be the conscience of Congress when it comes to a new authorization for the use of military force against ISIL, as well as a strong champion for the issues which have guided his entire career in public service, such as expanding access to career and technical education."
Including signature issues like renewing his call for a Congressional vote on declaring war against ISIS, Kaine is expected to continue focusing on many of the same policy points he was working on before his four-month foray into the heat of the presidential campaign, including foreign affairs and national security, climate change and sea level rise, and career and technical education (another bipartisan effort, with Ohio Republican Sen. Rob Portman).
"He's one of our experts on presidential powers as it relates to our military activities and I think that's going to be really important in the coming months," Sen. Claire McCaskill, D-Mo., told NBC News of Kaine. "And besides that, he's a good guy and he cheers us all up."
Though Kaine has placed a premium on working with the other side, he has also made it clear that since Republicans will have control of the White House, the Senate and the House, Democrats in Congress have a special responsibility to impede what they can as "the work in the Senate on the Democratic side has just gotten even more important."
"Because of the role of the Senate minority, we have an ability to cast a really clear spotlight on things," Kaine said. "We have the ability in some instances to slow things down that should be slowed down, and the ability to stop things. And so my motto is 'Advance everywhere we can, and defend everywhere we must.'"