Labor Secretary Tom Perez on Thursday officially entered the race to be the next chairman of the Democratic National Committee, setting up a potentially divisive struggle with the party's left flank and a test of President Obama's strength as a party leader on his way out of office.
"I'm in this race because I really believe that this is one of those 'where were you?' moments in our nation's journey," Perez said on a conference call for DNC members, who will elect their next chairman in February, which reporters listened in on."We've got a lot of fighting to do, we've got a lot of advocating to do, and I've been doing that all my life."
By entering a race dominated so far Minnesota Rep. Keith Ellison, Perez becomes the de facto candidate of the party's establishment. It's an unusualposition for Perez, the man the Republican National Committee labeled a "left-wing radical," but his support from Obama, valuable as it is, comes with a whiff of the status quo in a party eager for change.
Perez's entry will also force many progressives and labor activists to choose between two candidates they've long admired -- a dilemma they're happy to have. Either way, the next chairman of the Democratic Party will likely be a progressive with a long record of activism, whether it's a black Muslim congressman or a Latino cabinet secretary.
Behind the two frontrunners, the field also includes two well respected, but not well known state party chairmen -- New Hampshire's Ray Buckley and South Carolina's Jaime Harrison -- and could still see another candidate get in.
Perez, the Buffalo-born son of Dominican immigrants, pitches himself as a progressive fighter who can also run a complex organization, pointing to his tenure running the Department of Labor and the Civil Rights Division of the Department of Justice. "You may hear a lot of similar things, but the question is, who can get it done?" Perez said.
He also touted his ability "speak to every stakeholder in the Democratic Party," a nod to the fact that many Democrats are uncomfortable with the idea of Ellison leading the party for a variety of reasons.
That includes the people who fund it. Many expressed concern about Ellison's ability to raise the money necessary to do the kind of organizing everybody wants to see. Perez attended a meeting of major DNC contributors in Washington this week and "every donor was lined up to talk to him," said one attendee, who spoke on condition of anonymity.
What Perez lacks, his opponent points out, is experience in electoral politics, having won just one race for county council in suburban Maryland.
"If this is about electoral success, I'm the one who's been in the most elections. I've stood for election myself. I've gotten people elected up and down the ballot and I've increased turnout," Ellison told NBC News Wednesday. "Tom's a friend and a nice guy. I just think that if the DNC chair is about turning out the vote, then I have a unique skill set that I think matches up very favorably."
Despite Ellison's impressive public endorsements, as of the end of last week, he had secured the support of just 67 of the 447 members of the DNC — the only votes that matter. Perez is expected to perform well, and his announcement call was hosted by 12 state party chairs and vice chairs.
"It is definitely a wide open race," said California DNC member Christine Pelosi.
More than one million people tuned in to a livestream Wednesday night to watch Ellison and his chief backer, Sen. Bernie Sanders, hold a rally together, but it's likely that few are DNC voters.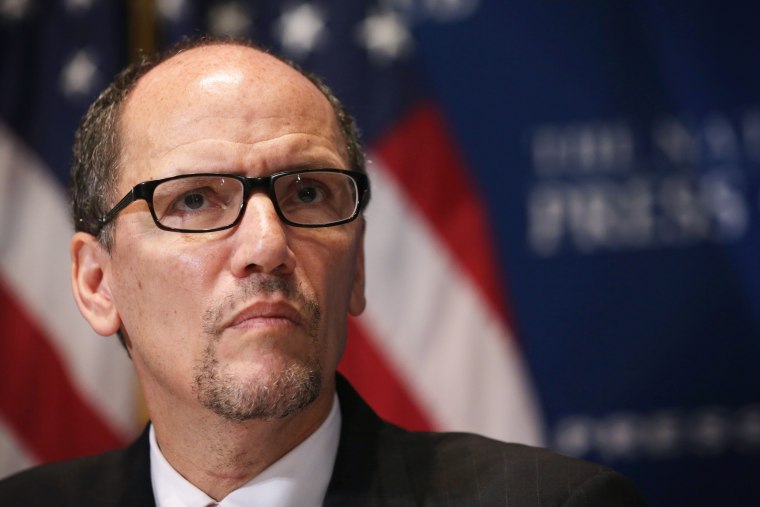 The job of party chairman is more mechanical than ideological, but an ideological fight may be unavoidable now, especially among many of the rank-and-file voters attracted to Ellison's campaign who might be unfamiliar with the party's inside-baseball election process.
Ellison allies blame Perez and his backers in the White House for, as they see it, picking an unnecessary fight. "The real question is why would Tom run against the front-runner, Keith Ellison?" said Larry Cohen, a Sanders ally and former president of the Communications Workers of America union." Cohen decried what he called the "divide-and-conquer politics inside the Democratic Party."
But Perez allies and others chafed Ellison's aggressive early moves, which they viewed as an attempt to clear the field early and force a new chairman on a party still reeling from an unexpected loss. The party has not held an open election for its chair in over a decade.
The only major blemish on Perez' progressive scorecard is his salesmanship of the Trans-Pacific Partnership trade deal on behalf of Obama, which Ellison allies have already been quick to highlight. Otherwise, the career civil rights attorney is a natural fit for Takoma Park, the ultra liberal Maryland suburb where he lives.
Obama remains widely beloved among Democrats and hugely influential on the DNC. But there's widespread displeasure, even among his supporters, with his stewardship of the party, and Ellison backers say it's time for a change.
"The painful truth is that despite President Obama's strong victories in 2008 and 2012, the Democratic Party has lost enormous political ground over the past eight years," Sanders said during the Wednesday night rally with Ellison. "What this election is really about is whether we continue the status quo or whether we bring forth a very different vision for the future of the Democratic Party."
Obama has been blamed for neglecting party building and undercutting the DNC by starting an outside group that controlled his lucrative campaign email list.
The first question on Perez' call Thursday, from Ohio Democratic Chairman David Pepper about why Hillary Clinton lost the state, was a reminder that Perez will repeatedly find himself in the awkward position of either having to defend or criticize the strategy of a candidate and president he's strongly supported.
Still, many Democrats will likely recoil at the anti-Obama message given Ellison's chief messenger. Sanders is, after all, back in the Senate as an Independent, and many in the party think he mortally wounded Clinton in the primary — sins Ellison will likely have to bare.
If the race comes down to Sanders supporters versus Obama supporters, Ellison will lose, which is why the congressman has worked hard to expand his base and touts support from people outside it.
And many in organized labor, which is well represented on the DNC, will likely rally to Perez despite the AFL-CIO's endorsement for Ellison.
Harold Schaitberger, the president of the firefighters union, which has not yet endorsed a candidate, said his members know and trust Perez.
"What he's demonstrated to our union and members is that while he is a strong progressive, he is also committed to a strong economic platform and message that appeals to the broader electorate, rather than narrowly focusing on the identity and cultural messages that shrunk the support for the Democratic party in the last election," Schaitberger said.
R.T. Rybak, the former mayor of Minneapolis who was the first mayor to endorse Obama in 2008, said Ellison's background as an organizer makes him right person for the job because this is no time for traditional politics.
"People tend to look for consensus, but we shouldn't just be about bringing ourselves together, but moving ourselves forward. There's a big difference," he said. "I want to go out into the streets and grab the voters by the neck and tell them if they're not happy with the president, then they need to get the heck into the Democratic Party."