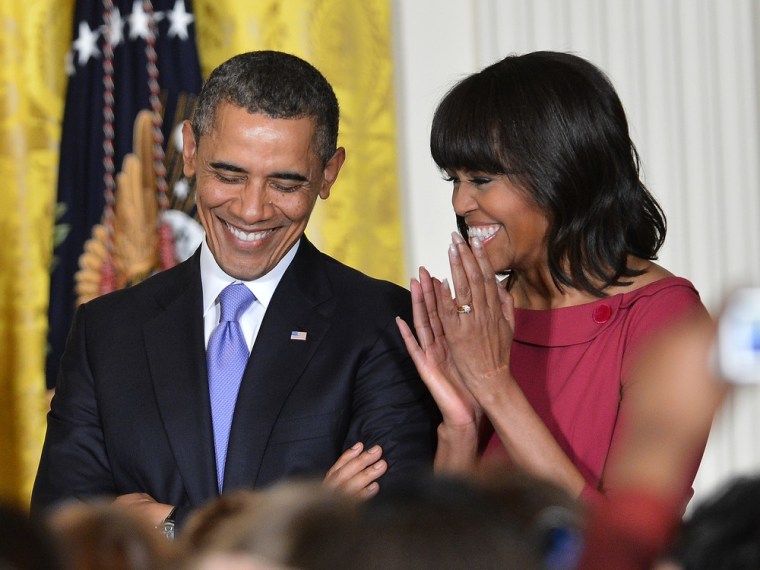 Yes, there was Jimmy Fallon and the "evolution of mom dancing." There was the surprise ball-gown-clad appearance for the final moments of the Academy Awards. There was Big Bird roaming the halls of the White House, and there were all those magazine covers.
And don't forget "the bangs."
But behind the glamour and the occasional – yet always controlled – goofiness, First Lady Michelle Obama has returned to the East Wing for her husband's second term with a sharp focus on the policy causes that she has championed over the past four years.
That means a continuation of her "Let's Move!" campaign against childhood obesity and her work with military families through the "Joining Forces" initiative.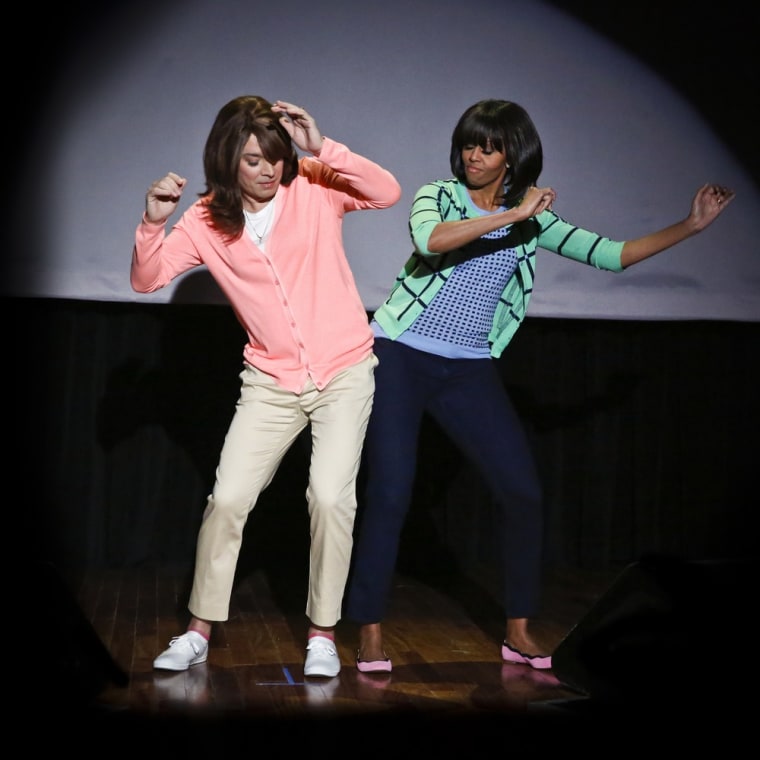 And there are hints of some new endeavors as well.
"We are also working through a strategic planning process to determine how to build upon and expand her work with these initiatives, as well as exploring possible new focus areas," said a White House aide.  
Without a re-election campaign on the horizon, and with a media landscape that increasingly affords almost unlimited opportunities to reach audiences, Mrs. Obama is able to leverage consistently high approval ratings to promote her goals relentlessly.
Second terms have typically afforded opportunities for first ladies to tread outside their highly scripted comfort zones. After her husband's re-election in 2004, Laura Bush spoke out forcefully against human rights abuses in Myanmar, also known as Burma, and even held a press conference after a cyclone hit the Southeast Asian nation in 2008 (Not known for her comedic panache, she also brought the house down during a routine at the annual White House Correspondents' Association dinner in 2005.)  
In Ronald Reagan's second term, his wife's well-known involvement in White House staff struggles was fodder for press coverage about her "obsession" with ousting Chief of Staff Donald T. Regan, who resigned in 1987.
First Lady Hillary Clinton – no political shrinking violet in Bill Clinton's first term – confirmed that she was considering a run for United States Senate well before her husband left office.
For Mrs. Obama, the transition into the second term hasn't been quite that striking, but observers do say that she's showing a renewed energy in pushing her major policy efforts.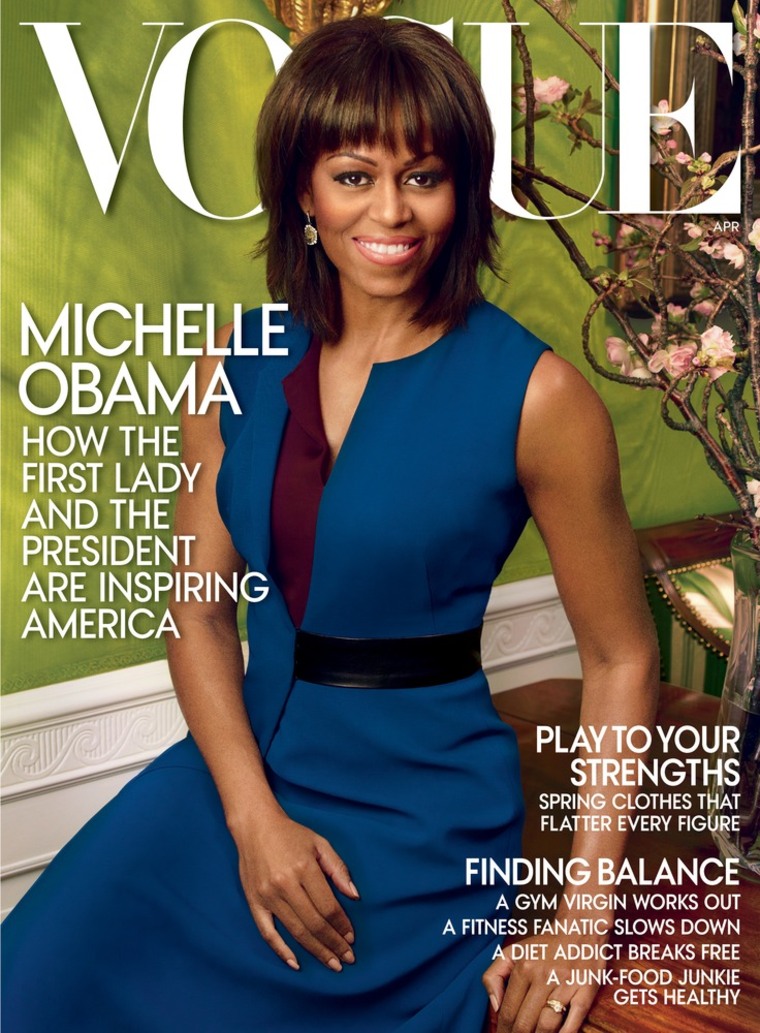 "She's looking forward to making the most of her finite time as First Lady, and while the spotlight's on, doing as much as possible to make a difference," said Olivia Alair, the first lady's 2012 campaign secretary and now a vice president at SKDKnickerbocker.
Since the president's re-election, Michelle Obama is newly free of the pressure of a looming campaign season in which she would be relentlessly described as a valuable piece of political machinery.  
(A search of media reports finds almost 300 hits in the last two years for mentions of "Michelle Obama" and "secret weapon" in the same news article.)
And being off the campaign trail means less risk of encountering the type of political landmines which Mrs. Obama encountered early in her introduction to the country. In 2008, she was heavily criticized for saying that the national response to her husband's run made her proud of her country "for the first time in my adult life."
Dr. Myra Gutin, an expert on first ladies and a professor of communications at Rider University, says that moment largely explained why Mrs. Obama approached her new role so gingerly in 2009, despite having just an eight percent disapproval rating upon coming into office.
"Again and again, she felt she had to prove herself to the country, so she did that in a very cautious way," says Gutin.  "She certainly didn't want to use up [Barack Obama's] political capital trying to clean up any mess that she may have gotten into."
Mrs. Obama is still far from undisciplined, but she appears to be much more accustomed to being the target of criticism.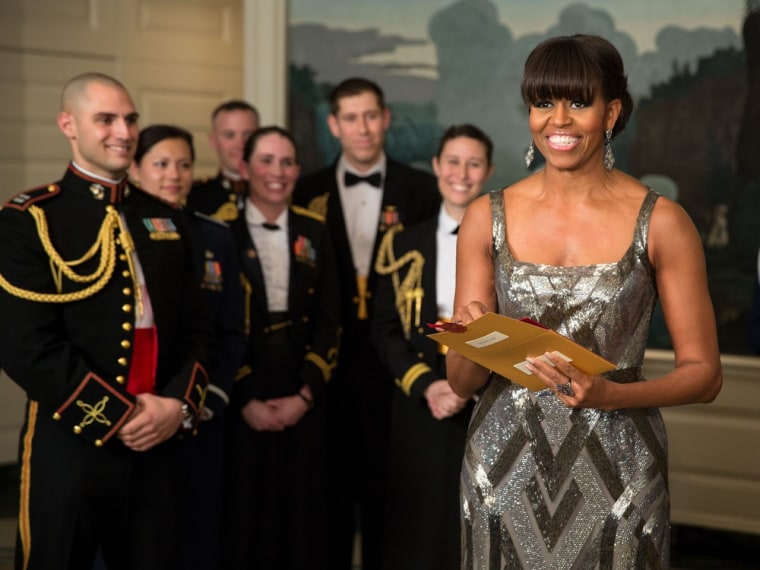 Responding to gripes about her media appearances during a round table with reporters earlier this month, she said, "There's no logic in that," adding, "It doesn't have anything to do with me.  Anyone in this position has a huge spotlight and in modern day media the spotlight just gets more intense. I don't attribute this to me or Barack. The culture has just shifted."
(That's a lesson echoed in her advice to kids active in mentoring program Girls, Inc., whom she advised bluntly last year to "stay away from the haters.")
Observers also note that, with the campaign in the history books, there's simply more time on the schedule.
After spending hundreds of hours on planes en route to more than 100 campaign events in the course of six months, Mrs. Obama's calendar for this week included an appearance to honor female veterans and a playful romp – with dog Bo at her side – with children at Walter Reed Medical Center's lodgings for military families.
And, of course, there are the interviews.
"In terms of media presence, there's just not been anyone like her," said Gutin. "She's shown up on everything from [Nickelodeon TV sitcom] iCarly, to Ellen DeGeneres to David Letterman , and that gives her tremendous exposure.  It shows that the Obamas have a real grasp of what the media can do for them."
Although Mrs. Obama's media appearances are unmatched in scale and diversity by other first ladies, they're not entirely unprecedented.
Nancy Reagan did a lengthy cameo on "Diff'rent Strokes" to warn about the dangers of drug abuse in 1983. Every first lady since Barbara Bush has goofed off with the Muppets on "Sesame Street."
Laura Bush – as supporters of Mrs. Obama swiftly pointed out – participated in the 2002 Academy Awards telecast in the form of a short prerecorded statement that was part of an opening montage about the meaning of films.
During her time at the White House, Mrs. Obama has also come to be regarded as a fashion icon, wearing everything from budget-friendly pieces (which subsequently fly off the shelves) to designer duds (including pricey vacation frocks which have earned the ire of critics).
Slideshow: Michelle Obama's effortless style
But the commercialization connected to a first lady's beauty and style isn't unique to her.
Seventy years before the nation's infatuation with Jackie Kennedy, advertisers were plastering images of President Grover Cleveland's famously pretty young wife Frances on products from perfumes to liver pills. In a telling parallel to the present day, Mrs. Cleveland's unique haircut quickly became a fad.
Regardless of Michelle Obama's media presence, perhaps the most revealing moments about the current first lady come not under the bright lights of a Vogue magazine photo shoot or on the sound stage of a scripted sitcom, but in her everyday interactions at the public (but usually little-covered events) for military families.
"This is one of the best things I do every single day, is work with our service members, our veterans and their tremendous families," she told a group of female veterans at a ceremony at the White House this week. "Because none of you, I know, could do what you do without somebody having your back.  And that's usually a spouse, or a son, or a daughter, or someone else who has sacrificed tremendously so that you could serve"
"And," she added wryly. "I know a little bit about that."