The nation's public transit systems are asking for federal help as ridership plummets because of the coronavirus pandemic.
As more and more states and major urban centers call upon residents to work from home and shelter in place to slow the spread of the virus, public transit systems around the country are taking a major hit, with declines in ridership of up to 90 percent.
In New York, an epicenter of the outbreak in the United States, the Metropolitan Transportation Authority told members of Congress it had seen a 60 percent decline in ridership just on its subways, with similar decreases on buses and Long Island rail lines and a far greater drop in Metro-North riders. On Tuesday, the system announced it was forced to cut some service.
In San Francisco, where residents have been ordered to stay home, the Bay Area Rapid Transit system has seen a decline of almost 90 percent and is losing millions per week, forcing it to reduce service as well.
The steep drops in riders, plus the added costs of safety measures such as disinfecting subway cars and cleaning the stations, could have catastrophic financial consequences for public transit systems even after the crisis is over.
"When, hopefully, the acute emergency is over and people can start getting back to work, we don't want a public transit system that is financially crippled and will have to cut back service and raise fares," Nicole Gelinas, a senior fellow at the conservative think thank Manhattan Institute, said.
Transit systems in New York, San Francisco, New Jersey and Washington, D.C., are among those that have asked for federal aid in the past week, with New York's MTA requesting more than $4 billion and Washington's system asking for help to address monthly losses of over $50 million.
New York City's public transit system made the request citing a loss in revenue from low ridership stemming from the shutdown of restaurants, schools and nonessential businesses, and companies mandating remote work.
Meanwhile, New Jersey Transit Executive Director Kevin Corbett told Congress that his system has lost 88 percent of its ridership because of the pandemic and will need $1.25 billion to make up for the lost revenue.
The toll of the coronavirus on the transit system has been "extraordinary and beyond anything experienced in our company's history," Corbett wrote, adding, "we cannot overcome the unprecedented financial burden this national emergency has created on our own."
On Monday, Corbett joined the leaders of the MTA and several other major transit systems in asking congressional leaders to include $25 billion for public transit companies in the federal relief package under consideration in Congress. In the letter, the transit officials said that "scaling back service isn't enough to keep our operating budgets in the black" and that the systems require "comprehensive, permanent solutions that put public transportation first."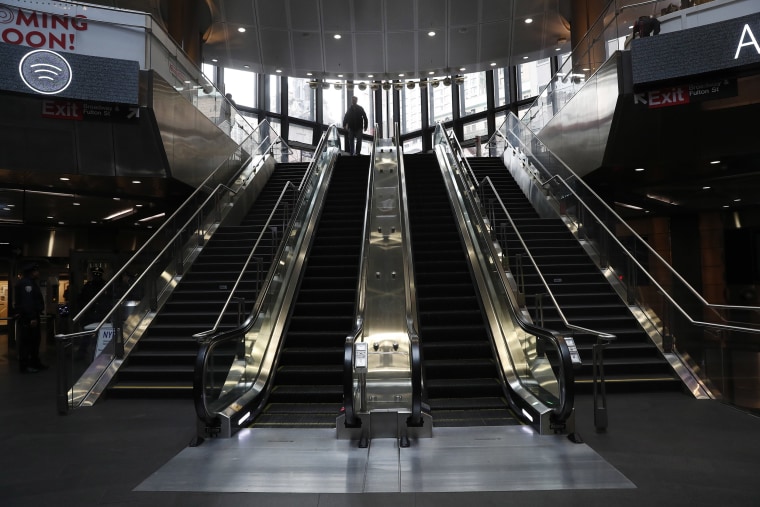 While large transit systems like the MTA and the BART can use reserve funds and lines of credit to help them stay afloat, they and others are asking to be included in the nearly $1 trillion economic stimulus package so that they don't exhaust those backup funds.
New Jersey's transit system and some other major ones are particularly stretched because most of their operating costs come from fares, meaning that any reduction in those fares can jeopardize their ability to operate.
"What New Jersey's transit system and other transit systems are looking for at this time is not necessarily a bailout, but rescue assistance," Janna Chernetz, the deputy director of the Tri-State Transportation Campaign, said. "When you're funding transit with vulnerable funding streams, like ride fares, you can see the consequences."
Transit systems are unlike some other modes of transportation hard hit by the crisis because they're public systems that need to remain open. Gelinas said that while airlines might need federal bailouts as well, train and bus systems may suffer more without proper federal funding.
"It's very important for the federal government to provide a very simple, multibillion-dollar aid package to the transit system — basically give them cash," she said.
While it's unclear whether any transit money will be included in the current aid package being negotiated in Congress, House Democrats have proposed $25 billion for public transit in their own stimulus proposal.
The American Public Transportation Association, a trade group representing about 1,500 industry organizations, is seeking a $16 billion aid package for its members, with COVID-19 expected to cause $14 billion in losses in fares and sales tax revenue and $2 billion needed for cleaning costs.
Its president, Paul Skoutelas, told NBC News that he would like to see an aid package as soon as possible.
"Our hope is that people see the very direct need to support the public transit industry, in communities large and small, all over the country," Skoutelas said. "They give them opportunities to live their life, and while we're in this mode of stay at home, we're still operating to get people to important functions — these are people who depend on us, and who we are fighting for."