A woman who previously accused Donald Trump of unwanted sexual advances has filed a defamation lawsuit against the president elect — just three days before Trump's presidential inauguration.
Summer Zervos, a former contestant on the "The Apprentice," said in a press conference with attorney Gloria Allred in Los Angeles on Tuesday that she filed the lawsuit over allegedly false statements Trump made in response to her accusation.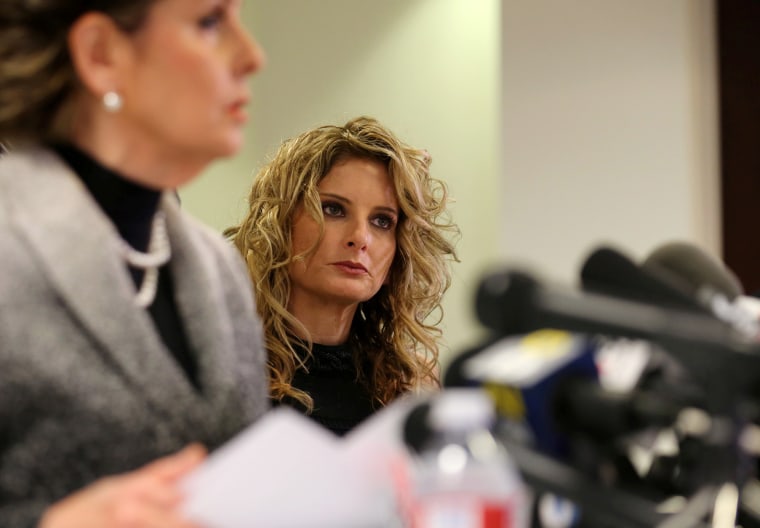 The suit, filed Tuesday morning, claims Trump knew his statements about Zervos and his other accusers would subject them to "threats of violence, economic harm and reputational damage."
Allred said Zervos would be willing to dismiss the lawsuit without any monetary damages if Trump agreed to retract his comments about her and admit that the accusations against him were in fact true.
"Ms. Zervos is willing to dismiss her lawsuit if he will retract his false statements about her and acknowledge that what Summer said about Mr. Trump and his alleged conduct is and was the truth," she said.
Related: The Allegations Women Have Made Against Donald Trump
Zervos claimed in an October press conference that Trump sexually assaulted her on multiple occasions during a 2007 business meeting at the Beverly Hills Hotel.
She said Trump made unwanted sexual advances toward her on multiple occasions during the meeting, kissing her on the lips, pressing himself against her and groping her breast and body without her consent.
Trump has vehemently denied the claims. In response to Tuesday's press conference, Trump's spokeswoman Hope Hicks provided the following statement to NBC News: "More of the same from Gloria Allred. There is no truth to this absurd story."
On the campaign trail, Trump said Zervos and his other accusers were liars, according to the lawsuit, and that she and the other women were motivated to come forward by the promise of "ten minutes of fame."
"In doing so, he used his national and international bully pulpit to make false factual statements to denigrate and verbally attack Ms. Zervos and the other women who publicly reported his sexual assaults in October 2016," the lawsuit said.
Allred said at the press conference on Tuesday that Zervos told friends and family about the incident at the time, but did not go public at the time because she decided her behavior had either been "an aberration or a test" or that Trump felt guilty about his behavior.
That all changed in the wake of the October release of a leaked video from 2005, where Trump bragged about kissing and groping women without their consent. After the video and Trump's statements during the Oct. 9th presidential debate in which he denied he had ever done any of the things he bragged about, Zervos decided to take action, according to the lawsuit.
Related: Ex-'Apprentice' Contestant Summer Zervos Says Trump Made Unwanted Sexual Advances
"For the first time, Summer Zervos saw Mr. Trump's behavior towards her for what it was: that of a sexual predator who had preyed on her and other women," the lawsuit says.
Following Zervos' allegations, Trump released a statement from a man claiming to be her cousin which refuted her claims. But Zervos fought back with another press conference in which a social worker and friend of Zervos said the former "Apprentice" contestant told her about the claims more than five years ago.
Prior to the release of the tape, a handful of women have accused Trump of sexual harassment or assault for decades, including in court filings. The number of women has seen since grown in the wake of the tape's release.
The video prompted a firestorm of controversy during the 2016 presidential campaign and an outcry from women's rights groups.
Trump has since denied that he engaged in the behavior described in the tape and has said all of the accusations against him are false.
Zervos' suit also alleges emotional distress and is seeking financial damages.