This is the second in a two-part series on the successes and failures of public-private partnerships, a funding mechanism that President Donald Trump has proposed to realize his $1 trillion dollar infrastructure plan to rebuild America. On Monday, we examined a Texas toll road deal that went south. Today, we look at a success story.
It's the kind of park that makes other parks jealous.
With a $4.3 million annual operating budget, Dallas' Klyde Warren Park has five acres of green space dotted by a children's playground, food trucks, a restaurant and ample lounging and performance space. And it was built out of thin air, when a community group determined to connect two neighborhoods put a roof on the freeway that divided them. Where exhaust fumes once rose, a butterfly garden now sits.
A few years after its opening, real estate values surrounding the park have skyrocketed, foot traffic between two desirable neighborhoods has increased, and tax dollars from the increased development are rolling in. Meanwhile, the city doesn't pay a dime for the park's operation or maintenance.
It's all thanks to the kind of public-private partnerships that Trump and some conservatives are backing to spur the president's $1 trillion investment plan in America's infrastructure.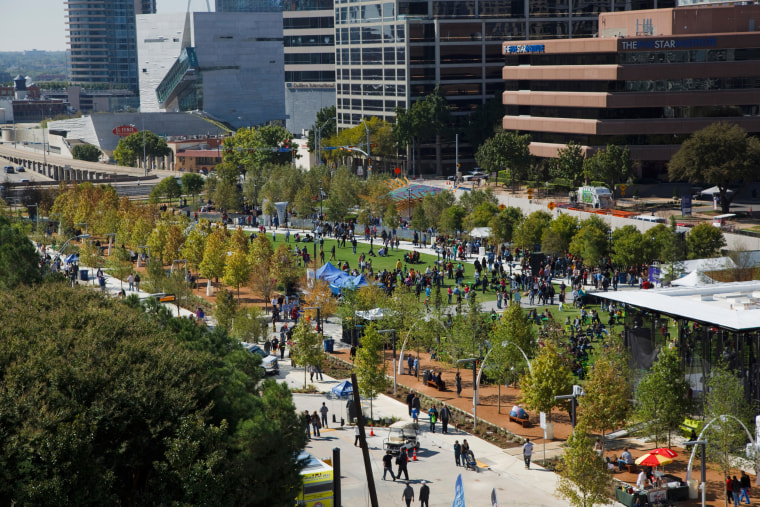 Dallas Mayor Mike Rawlings said it's important to investors not look for an immediate return.
"The return on investment is coming from the increase in tax money," said Rawlings, a Democrat. "The real estate value has skyrocketed, and buildings are going up like crazy. It's not only a quality of life issue for citizens, but it's an economic driver for the city as well."
Why build a park over a highway?
In 2004, Dallas' real estate community was mulling a problem to which an outlandish solution had already been proposed, perhaps as far back as the 1960s. A recessed freeway divided two resurgent neighborhoods, downtown Dallas and an area called Uptown, where people were discovering the perks of a denser urban core — work and housing in walking distance from restaurants, nightlife, museums and the arts.
That solution? Deck the highway and put a public park on top. Then the trick was how to pay for it.
A slew of community members, lead first by The Real Estate Council's Linda Owen and then Texas Capital Bank Chairman Emeritus Jody Grant, banded together to try and make the bold idea a reality. The initial millions in seed money needed for feasibility studies and designs were fronted by the Real Estate Council, Crescent Real Estate Equities, and a personal donation from Sheila and Jody Grant, whose bank's corporate offices happened to overlook the stretch of highway where the park would eventually sit.
"Dallas is built on public-private partnerships"
Eventually, this group brought together federal, state, city, business and philanthropic funds to build a green jewel. It gave the city a green space and an impetus for public life that advocates said was sorely needed in Dallas, and an impressive project that both beautified the city and boosted its real estate values — to the credit of the corporate and individual donors who affixed their names to it.
"Klyde Warren (park) was needed to stitch back together the city, and create green space where there was so much concrete, and create vitality where there was none," explained Dallas lawyer and former city councilwoman Angela Hunt, who represented the park's district during its development and launch.
In total, the private-public partnership raised $112 million. Of that, $55 million came from the private sector — a mix of individual donors, like Dallas energy billionaire Kelcy Warren, who named the park after his son Klyde for an undisclosed amount, and corporate foundations many of whom enjoy naming rights in a city that celebrates its philanthropy. The other half was public money: $20 million in Dallas city bonds, $20 million from the Texas Department of Transportation, and $16.7 million in stimulus funds.
The city owns the park and is responsible for maintaining the tunnel underneath the park, while a private foundation runs the park itself. They pull in money from restaurant leases and other park functions to cover its unusually high operating costs — something the city could not afford.
Is it a model for other projects?
Public-private partnerships are all over Dallas, helping build everything from parks to bridges to convention centers, and many bear the names of the wealthy benefactors who helped make these projects possible.
Dallas is "a philanthropic community," said Tara Green, the park foundation's president. "It's really a unique community, and I think that is one of the things that makes public-private partnerships work in Dallas."
"We have of course a number of very wealthy people … and they have been very generous to the city," Rep. Eddie Bernice Johnson, who helped secure the park's crucial stimulus funds, told NBC News. "It seems where there's a project and an appeal goes out, someone comes forward."
Nationwide, where projects not may have the benefit of attracting charitable donations, public-private partnerships serve a less-philanthropic goal: to make investors solid, steady income. Commonly, investors agree to foot part of the bill when they can make money down the line, through toll roads or payments from the government, and access to government-enabled, low-interest borrowing options. Conservatives have celebrated public-private partnerships as the best way to get costly projects done without adding to the debt and deficit.
Related: Both Parties Say Trump's Infrastructure Plan Needs Repair
Rep. Johnson said public-private partnerships are a boon in a place like Dallas where there's a lot of wealthy donors willing to help get projects off the ground.
But the city's successful public-private partnerships are hardly a model for the nation, she added, where high-need projects may not attract charitable or profit-driven investors.
"I'm not jumping up and down excited about how we can achieve correcting our infrastructure through private and public partnerships. It's just really different animal than a concentrated park that's right there in the Arts District," said Democrat, who sits on the House Transportation and Infrastructure Committee.
"When you start talking about inner-state highways, or even state highways, in areas of the most need — they're not necessarily serving the ones with the most money," she added.
Rawlings, Dallas' mayor, said he believes private money needs to get off the sidelines if the U.S. is going to quickly meet Americans' infrastructure needs.
"Dallas is built on public-private partnerships," the Democrat told NBC News. "We're growing faster than cities across the nation because we've been doing this for some time."